Fresno teenager Orlando Gayles was a picture of health and never dreamed he would have a heart attack at 15. He was an athlete and had played football for years. He had no known preexisting heart conditions.
But one evening last November, something wasn't right.
His first symptom was repeated vomiting. He thought it was something he had eaten at his football banquet dinner earlier that evening. But when he started having trouble breathing, his grandma called 911. An ambulance took him to a nearby children's hospital.
After an assessment, the hospital team determined they were not equipped to handle his case. Due to his age and size, they felt he needed a team of adult cardiac specialists to help. But the adult teams at other hospitals would not take him because he was a child.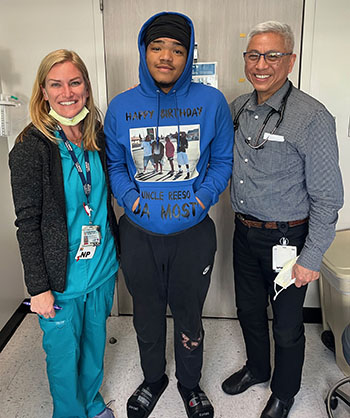 Thankfully for Gayles, UC Davis Medical Center in Sacramento offered a combination of adult and pediatric cardiologists who could collaborate and perform the cardiac catheterization he needed.
"We have the benefit of being a children's hospital within an adult hospital, so we can collaborate with our adult cardiologist colleagues on a case like this," said Frank Ing, chief of pediatric cardiology and director of the UC Davis Pediatric Heart Center. Ing performed the procedure with adult interventional cardiologists Manoj Kesarwani and Jeff Southard.
Gayles had developed an extremely rare coronary problem known as Spontaneous Coronary Artery Dissection (SCAD). It blocked off a major branch (the circumflex artery, one of two branches of the left main coronary artery) of the coronary arterial system and caused the heart attack.
The team performed a complex cardiac catheterization, using a small tube to enter a blood vessel through the groin. Three overlapping stents were placed along the course of the dissection, which restored flow to the heart muscle.
Gayles recalls feeling immediately better after the procedure.
"I just want to say thank you to the UC Davis team that took care of me. They really are the reason I'm still here today," Gayles said.