My water broke at 13 weeks, and told we had no survival chance.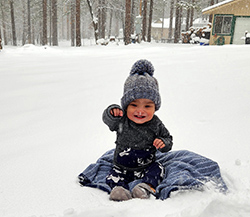 We made it to 27 weeks, 1 day and then I started hemorrhaging. We rushed to the hospital, and I was so scared that I was losing my baby. At our nearby hospital, they couldn't figure out why I was bleeding so much.
I was care flighted out to UC Davis Medical Center. Once I got there, they checked me to see if I was dilated and I wasn't. They monitored me and I was contracting, but the contractions weren't picking up. My son was breached! I was rushed into an emergency C-section. I had never been so scared in my life. I didn't know what the outcome was going to be once I woke up from surgery.
I woke up in the pre-op room and the first question I asked was, "What did I have?" We didn't know if we were having a boy or girl through my pregnancy. The nurse laughed and said I had a little boy, and he is doing great. He is in the NICU. I cried so hard and called everyone.
My son's dad came down to the hospital and we went to see my son in the NICU. He was so beautiful and perfect! That time was rough, but my son overcame all of the challenges.
UC Davis made our experience so welcoming and always reassured us about everything. I cannot say anything negative about this hospital whatsoever.
I would like to shout out my son's two primary nurses. I call them his two other moms, Debbie and Victoria. They were both so amazing to our son. The whole NICU unit was amazing to our son. I especially appreciated how much communication we received.
My son Kashton celebrated his first birthday in November and is doing well!
– Testimonial submitted by Alicia Rodriguez, Kashton's mother