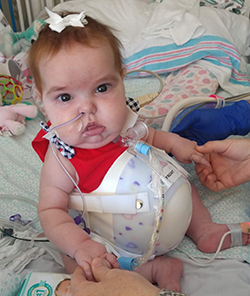 When Redding resident Brianne Jacobsen was 20 weeks pregnant, her ultrasound revealed that her developing baby's internal organs were sticking out of its abdomen. The birth defect, known as an omphalocele, required the higher level of expertise of the UC Davis Fetal Care and Treatment Center team.
Omphaloceles occur in about one out of every 5,000 births. Jacobsen's daughter Everly was that one. Since it cannot be repaired until after the baby's birth, Jacobsen's medical team followed her through her pregnancy and were prepared for her child's delivery.
Everly was born full-term in February 2020. Her organs, covered in a thin, transparent skin, were larger than her head and continued to grow. It was classified as a giant omphalocele. At its peak, it was larger than her entire torso. Giant omphaloceles are associated with high mortality rates and a high risk of severe morbidity.
"Everly had one of the largest omphaloceles that many of us had ever seen," said Robyn Huey Lao, pediatric surgery outpatient nurse practitioner at UC Davis Health. "But Everly's skin tissue was also abnormal."
Huey Lao said for patients with an omphalocele, treatment usually involves the use of silver sulfadiazine cream, which is used to treat second- and third-degree burns and toughens the skin. Then the organs are compressed back into the abdominal cavity. The medical team typically waits until the child is older before planning a surgical closure.
"But hers remained very delicate and pliable. We couldn't safely compress it," she added.