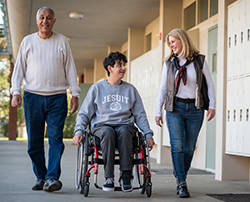 Bassem Mansour went out for a bike ride near his home and as he turned a corner, a pickup truck sideswiped him and dragged him like a rag doll for 50 feet.
He suffered 14 fractures, lost much of the skin on his lower body, and his left leg was nearly severed. Mansour endured a nine-week hospital stay where he had 9 surgeries and faced many complex feelings and emotions.
Bassem and his family were impressed with the care they received for not just Bassem's physical well-being but also his emotional well-being. "I will never forget the support I received, which went far beyond my medical care," said Mansour.