Hana Anderson, Ph.D.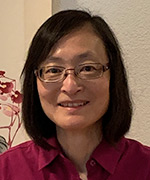 Associate Professor
3205 Tupper Hall
Davis Campus
530-752-0389
e-mail
Research/Academic Interests
Dr. Anderson's academic interest focuses on medical education. She is interested in developing and disseminating undergraduate medical education materials in foundational sciences such as genetics and gross anatomy as well as educational theories and pedagogies.
Specialties / Focus
Human genetics
Medical education research
Anatomy education
Graduate Group Affiliations
Anderson, H, Studer, A., Holm, K.N., Suzuki, A. (2021) A Case-Based Active Learning Session for Medical Genetics Resources . MedEdPORTAL. Apr 1;17:11135. doi: 10.15766/mep_2374-8265.11135.
Anderson, H. and Tucker, R. (2021) Dissection experience and performance on a human gross anatomy written examination: Lessons learned during the Covid-19 pandemic. Anat Sci Educ. 14: 169-170.
Haspel, R.L., Genzen, J.R., Wagner, J., Fong, K., and the Undergraduate Training in Genomics (UTRIG) Working Group, Haspel, R.R., Wilcox, R.L., Adem, P.V., Anderson, H., Atkins, J.B., Burke, L.W., Joseph, L., LeGallo, R.D., Lew, M., Lockwood, C.M., Naeem, R., Rizvi, H., Ortega, J.S., Shane-Carson, K., Sobel, M.E., Suarez, E., Tafe, L.J., Wang, J. (2021) Call for improvement in medical school training in genetics: results of a national survey. Genet Med. 2021 Jun;23(6):1151-1157. doi: 10.1038/s41436-021-01100-5
Anderson, H. and Tucker, R. (2020) A cadaveric analysis of anatomical variations of the anterior belly of the digastric muscle. Folia Morpholo. 2020 Sep 8. doi: 10.5603/FM. a2020.0105.
Anderson, H. Sweeney, C., Perry, R., Vaquero, J., and Ison, H. (2020) Patient-centered team-based learning in pre-clinical curriculum supporting the application of knowledge to real-world clinical experience. Med. Sci. Educ. 30: 65-68.
Hagiwara, N. (2019) Genome Editing for Cardiovascular Disease-A Brief Review for Cardiologists. Am. J. Cardiol. 123: 1002-1006.
Hagiwara, N. (2017) The application of active learning modalities to achieve medical genetics competencies and their learning outcome assessments. Advances in Medical Education and Practice. Dec 14;8:817-829.
An, C., Ichihashi, Y., Peng, J., Shinha, N.R., and Hagiwara, N. (2016) Transcriptome dynamics and potential roles of Sox6 in the postnatal heart. PLoS ONE 11(11): e0166574.
Kawasaki, K., Kawasaki, M., Watanabe, M., EIdrus, E., Nagai T, Oommen, S., Maeda, T., Hagiwara, N., Que, J., Sharpe, P.T., Ohazama, A. (2015) Expression of Sox genes in tooth development. Int. J. Dev. Biol. 59: 471 – 478.
An, C., Ganio, E., and Hagiwara, N. (2013) Trip12, a HECT domain E3 ubiquitin ligase, targets Sox6 for proteasome degradation and affects fiber type-specific gene expression in muscle cells. Skeletal Muscle 3: 11.
An, C., Dong, Y., and Hagiwara, N. (2011) Genome-wide mapping of Sox6 binding sites in skeletal muscle reveals both direct and indirect regulation of muscle terminal differentiation by Sox6. BMC Dev. Biol. 11(1):59.
Hagiwara, N. (2011) Sox6, jack of all trades: A versatile regulatory protein in vertebrate development. Dev. Dyn. 240: 1311-1321
Hagiwara, N., Yeh M, and Liu A. (2007) Sox6 is required for normal fiber type differentiation of fetal skeletal muscle in mice. Dev. Dynamics 236: 2062-2076
Yi, Z., Cohen-Barak, O., Hagiwara, N., Kingsley, P.D., Fuchs, D.A., Erickson, D.T., Epner, E.M., Palis, J., and Brilliant, M.H. (2006) Sox6 directly silences epsilon globin expression in definitive erythropoiesis. PLoS Genetics 2: e14
Hagiwara, N., Ma, B., and Ly, A. (2005) Slow and fast fiber isoform gene expression is systematically altered in skeletal muscle of the Sox6 mutant, p100H. Dev. Dynamics 234:301-311
Hagiwara, N., Katarova, Z., Siracusa, L.D., and Brilliant, M.H. (2003) Non-neuronal expression of the GABAA beta3 subunit gene is required for normal palate development in mice. Dev. Biol. 254:93-101.
Cohen-Barak, O., Yi, Z., Hagiwara, N., Monzen, K., Komuro, I., and Brilliant, M. H. (2003) Sox6 regulation of cardiac myocytes development. Nuc. Acids Res. 31: 5941-5948.
Cohen-Barak, O, N Hagiwara, MF Arlt, JP Horton, and MH Brilliant. (2001) Cloning, characterization and chromosome mapping of the human SOX6 gene. Gene. 265:157-164
Hagiwara, N., SE Klewer, RA Samson, DT Erickson, MF Lyon and MH Brilliant. (2000) SOX6 is a candidate gene for p100H myopathy, heart block and sudden neonatal death. Proc. Natl. Acad. Sci. USA. 97:4180-4185
Kaiser Foundation Hospitals Award for Excellence in the Teaching of the Basic Sciences, UC Davis School of Medicine, 2021
Dean's Team Award for Inclusion Excellence in Education/Teaching: Supporting Education Excellence in Diversity, UC Davis Health, 2019