Paul Knoepfler, Ph.D.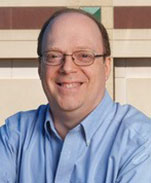 Professor
633A Shriners Hospital
Sacramento Campus
916-453-2289
e-mail
Research Interests
The Knoepfler Lab is interested in epigenetics in stem cells and cancer. We use cutting edge molecular, cellular and developmental biology methods as well as genomic and gene editing technologies to answer key open questions in these areas of research. We are particularly interested now in the roles of three factors normally in stem cells and during tumorigenesis: histone variant H3.3, the MYC family, and DPPA4. How do these factors link the epigenome to cellular behaviors and tissue growth?
Our big picture goal is to impact human health through novel discoveries that catalyze new treatments for cancer and advances in translational stem cell biology.
Graduate Group Affiliations
Leukemia & Lymphoma Society Special Fellowship, 2002-2005
Howard Temin Award, NCI, 2005-2010
Brain Tumor Society Award: 2007-8 Steven C. Higgins Leadership Chair of Research
March of Dimes Basil O'Conner Starter Scholar Award, 2008-9.
CIRM New Faculty Award: 2009-2014
MCB 213, Developmental Biology
CHA 402, Cell and Tissue Biology
CHA 199, Undergraduate Research
NSC 290C, Research Conference in Neuroscience
NSC 299, Graduate Research
National Institute of Health
CA Institute for Regenerative Medicine
National Cancer Institute Howard Temin Award Grant
St. Baldrick's Foundation