Paul Knoepfler, Ph.D.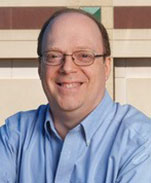 Professor
633A Shriners Hospital
Sacramento Campus
916-453-2289
e-mail
Research Interests
The Knoepfler Lab is interested in epigenetics in stem cells and cancer. We use cutting edge molecular, cellular and developmental biology methods as well as genomic and gene editing technologies to answer key open questions in these areas of research. We are particularly interested now in the roles of three factors normally in stem cells and during tumorigenesis: histone variant H3.3, the MYC family, and DPPA4. How do these factors link the epigenome to cellular behaviors and tissue growth?
Our big picture goal is to impact human health through novel discoveries that catalyze new treatments for cancer and advances in translational stem cell biology.
Graduate Group Affiliations
Bush KM, Cervantes V, Rachel Klein RH, Yee J, and Knoepfler PS, "A knockout-first model of H3f3a gene targeting leads to developmental lethality". Genesis 2023 Jan 19;e23507.
Hishida T, Vazquez-Ferrer E, Hishida-Nozaki Y, Takemoto Y, Hatanaka F, Yoshida K, Prieto J, Sahu SK, Takahashi Y, Reddy P, O'Keefe DD, Rodriguez Esteban C, Knoepfler PS, Nuñez Delicado E, Castells A, Campistol JM, Kato R, Nakagawa H, Izpisua Belmonte JC. "Myc Supports Self-Renewal of Basal Cells in the Esophageal Epithelium". Front Cell Dev Biol. 2022 Mar 4;10:786031. doi: 10.3389/fcell.2022.786031. PMID: 35309931; PMCID: PMC8931341.
Lewis, N.A., Klein, R.H., Kelly, C. et al. "Histone H3.3 K27M chromatin functions implicate a network of neurodevelopmental factors including ASCL1 and NEUROD1 in DIPG". Epigenetics & Chromatin 15, 18 (2022).
Klein RH, Knoepfler PS. "DPPA2, DPPA4, and other DPPA factor epigenomic functions in cell fate and cancer". Stem Cell Reports. 2021 Dec 14; 16 (12):2844-2851. doi: 10.1016/j.stemcr.2021.10.008. Epub 2021 Nov 11. Review. PubMed PMID: 34767751; PubMed Central PMCID: PMC8693620.
Kim M, Knoepfler PS. "Anticipated impact of stem cell and other cellular medicine clinical trials for COVID-19". Regen Med. 2021 Jun;16(6):525-533. doi: 10.2217/rme-2021-0025. Epub 2021 Jun 11. PMID: 34114493; PMCID: PMC8202509.
Klein RH, Knoepfler PS. "Stem cell models help crack regional oncohistone codes driving childhood gliomas". Cell Stem Cell. 2021 May 6;28(5):785-787. doi: 10.1016/j.stem.2021.04.013. PMID: 33961758.
Chen, KY., Bush, K., Klein, R.H. et al. "Reciprocal H3.3 gene editing identifies K27M and G34R mechanisms in pediatric glioma including NOTCH signaling". Commun Biol 3, 363 (2020).
Knoepfler PS. "Rapid change of a cohort of 570 unproven stem cell clinics in the USA over 3 years". Regen Med. 2019 Aug;14(8):735-740. doi: 10.2217/rme-2019-0064. Epub 2019 Aug 28. PMID: 31456478.
Knoepfler P. "Gene editing: sloppy definitions mislead". Nature. 2018 Dec;564(7736):345. doi: 10.1038/d41586-018-07802-2. PMID: 30568213.
Knoepfler PS. "Mapping and driving the stem cell ecosystem". Regen Med. 2018 Oct;13(7):845-858. doi: 10.2217/rme-2018-0056. Epub 2018 Oct 5. PMID: 30289055.
Klein RH, Tung PY, Somanath P, Fehling HJ, Knoepfler PS. "Genomic functions of developmental pluripotency associated factor 4 (Dppa4) in pluripotent stem cells and cancer". Stem Cell Res. 2018 Aug;31:83-94. doi: 10.1016/j.scr.2018.07.009. Epub 2018 Jul 19. PMID: 30031967; PMCID: PMC6133722.
Knoepfler PS. "Too Much Carrot and Not Enough Stick in New Stem Cell Oversight Trends". Cell Stem Cell. 2018 Jul 5;23(1):18-20. doi: 10.1016/j.stem.2018.06.004. Epub 2018 Jun 21. PMID: 29937201.
Knoepfler PS, Turner LG. "The FDA and the US direct-to-consumer marketplace for stem cell interventions: a temporal analysis". Regen Med. 2018 Jan;13(1):19-27. doi: 10.2217/rme-2017-0115. Epub 2018 Jan 12. PMID: 29327974.
Somanath P, Bush KM, Knoepfler PS. "ERBB3-Binding Protein 1 (EBP1) Is a Novel Developmental Pluripotency-Associated-4 (DPPA4) Cofactor in Human Pluripotent Cells". Stem Cells. 2018 May;36(5):671-682. doi: 10.1002/stem.2776. Epub 2018 Jan 29. PMID: 29327467; PMCID: PMC5918234.
Priyanka Somanath, Rachel Herndon Klein, Paul S. Knoepfler. "CRISPR-mediated HDAC2 disruption identifies two distinct classes of target genes in human cells". PLOS. 2017 October 5, https://doi.org/10.1371/journal.pone.0185627
Martinez-Cerdeno V, Barrilleaux B, McDonough A, Ariza J, Yuen B, Somanath P, Le C, Steward C, Horton K, Knoepfler P. "Behavior of xeno-transplanted undifferentiated human induced pluripotent stem cells is impacted by microenvironment without evidence of tumors". Stem Cells Dev. 2017 Jul 10. doi: 10.1089/scd.2017.0059.
Chen KY, Knoepfler PS. "To CRISPR and beyond: the evolution of genome editing in stem cells". Regen Med. 2016 Dec;11(8):801-816. doi: 10.2217/rme-2016-0107. Epub 2016 Dec 1. PMID: 27905217; PMCID: PMC5221123.
Turner L, Knoepfler P. "Selling Stem Cells in the USA: Assessing the Direct-to-Consumer Industry". Cell Stem Cell. 2016 Aug 4;19(2):154-157. doi: 10.1016/j.stem.2016.06.007. Epub 2016 Jun 30. PMID: 27374789.
Knoepfler PS. "Review of Stem Cell Dialogues by Sheldon Krimsky(1)". Am J Bioeth. 2016 Apr;16(4):W12-3. doi: 10.1080/15265161.2016.1145756.
Knoepfler PS. "When patients reach out, scientists should reach back carefully". Nat Med. 2016 Mar;22(3):230. doi: 10.1038/nm0316-230. PMID: 26937614.
Knoepfler P. "Reviewing post-publication peer review". Trends Genet. 2015 May;31(5):221-3. doi: 10.1016/j.tig.2015.03.006. Epub 2015 Apr 4. PMID: 25851694; PMCID: PMC4472664.
Tung PY, Knoepfler PS. "Epigenetic mechanisms of tumorigenicity manifesting in stem cells". Oncogene. 2015 Apr 30;34(18):2288-96. doi: 10.1038/onc.2014.172. Epub 2014 Jun 16. PMID: 24931168; PMCID: PMC4268091.
Knoepfler PS. "From bench to FDA to bedside: US regulatory trends for new stem cell therapies". Adv Drug Deliv Rev. 2015 Mar;82-83:192-6. doi: 10.1016/j.addr.2014.12.001. Epub 2014 Dec 7. PMID: 25489841; PMCID: PMC4398607.
Yuen BT, Bush KM, Barrilleaux BL, Cotterman R, Knoepfler PS. "Histone H3.3 regulates dynamic chromatin states during spermatogenesis". Development. 2014 Sep;141(18):3483-94. doi: 10.1242/dev.106450. Epub 2014 Aug 19. PMID: 25142466; PMCID: PMC4197731.
Barrilleaux BL, Burow D, Lockwood SH, Yu A, Segal DJ, Knoepfler PS. "Miz-1 activates gene expression via a novel consensus DNA binding motif". PLoS One. 2014 Jul 1;9(7):e101151. doi: 10.1371/journal.pone.0101151. Erratum in: PLoS One. 2014;9(9):e108565. PMID: 24983942; PMCID: PMC4077741.
Leukemia and Lymphoma Society Special Fellowship, 2002-2005
Howard Temin Award, NCI, 2005-2010
Brain Tumor Society Award: 2007-2008
Steven C. Higgins Leadership Chair of Research
March of Dimes Basil O'Conner Starter Scholar Award, 2008-2009.
CIRM New Faculty Award: 2009-2014
MCB 213, Developmental Biology
CHA 402, Cell and Tissue Biology
CHA 199, Undergraduate Research
NSC 290C, Research Conference in Neuroscience
NSC 299, Graduate Research
National Institute of Health
CA Institute for Regenerative Medicine
National Cancer Institute Howard Temin Award Grant
St. Baldrick's Foundation