Nursing
Nursing
Nation's highest recognition for nursing excellence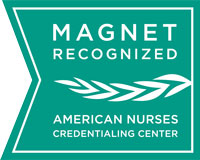 UC Davis Medical Center was granted Magnet® recognition by the American Nurses Credentialing Center (ANCC) again in 2018. The four-year designation is the nation's highest form of recognition for nursing excellence and a benchmark for the quality of care patients receive. Only about 8 percent of U.S. hospitals carry Magnet designation, and UC Davis is currently the only medical center in Sacramento to earn the recognition.
Advanced education and training
UC Davis Children's Hospital has long been identified as a U.S. center of nursing excellence devoted to optimal, collaborative and evidence-based care. For example, we recently marked our 20th year using the primary nursing model to enhance care and comfort for our pediatric patients.
Advanced education and training also continue to be hallmarks of our all-R.N. pediatric nursing staff. Overall, nearly 85 percent of UC Davis registered nurses hold a bachelor's of nursing or higher, and 14 percent an advanced degree. UC Davis pediatric nurse manager Angie Marin launched the area's chapter of the Society of Pediatric Nurses, and our nurses regularly provide scholarly experiences for counterparts from our region and beyond.
The nationally ranked and fast-growing Betty Irene Moore School of Nursing at UC Davis further enhances our ability to conduct research and participate in education, outreach and quality improvement.
First prism award for a California hospital unit
In August 2018 the nursing staff in our Tower 4 ENT/Internal Medicine Pediatric Overflow Unit received the first PRISM Award — short for Premier Recognition in the Specialty of Med-Surg — for a hospital unit in California. The prestigious award from the Academy of Medical-Surgical Nurses (AMSN) and the Medical-Surgical Nursing Certification Board (MSNCB) is granted to acute-care units that show exemplary work in areas such as leadership, evidence-based practice, patient outcomes and lifelong learning.
---
Related Information: