Orthopaedics
Orthopaedics
Treating trauma and complex sports injuries
UC Davis pediatric orthopaedic surgeons perform a high volume of trauma surgery and play an important role in our American College of Surgeons-verified level I pediatric trauma center. We also provide care and research for complex sports injuries and investigate brachial plexus birth palsy.
Pediatric sarcoma leader
Our new orthopaedic surgery chair R. Lor Randall is recognized internationally for his translational research efforts, such as a genetically engineered mouse model (with Nobel co-winner Mario Capecchi) and limb salvage advances. Randall developed the Huntsman-Intermountain Adolescent and Young Adult Cancer Care Program, and is past or future president of several national professional organizations.
Randall is part of the Sacramento region's only multidisciplinary clinic specializing in pediatric, adolescent and young adult sarcoma, launched at UC Davis Comprehensive Cancer Center this past year.
---
Nationally ranked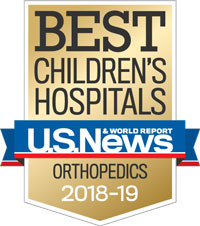 U.S. News & World Report ranked our pediatric orthopaedics program among the nation's best in 2018–2019, in collaboration with Shriners Hospitals for Children – Northern California, our longstanding partner on orthopaedic disorders and spinal injuries.
---
Related Information: