Alumni

Alumni Class Notes
School of Medicine alumni updates
1970s
Rahnea Lee Sunseri Vaiarello – 1976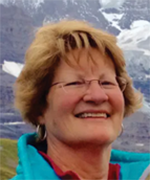 After leaving the front lines practicing internal medicine, I spent the last 6 1/2 years as part of the team founding the University of the Pacific's Master of Physician Assistant Studies. I served as medical director and faculty, teaching pharmacology, medicine, and some behavioral medicine.
In addition, I was the advisor for Capstone projects of 22 students each year. Being involved in every aspect of the program has been fun. I loved teaching eager students. The university has since created the School of Health Sciences, which incorporated the PA program as well as other established programs, and has added new graduate degrees in the health sciences. Because I wanted to spend more time with family and friends, I decided to retire, which I did this last April. Now I can get outdoors more. Teaching is an almost 24/7 job. We Zoomed thru COVID-19. Now I'm faculty emerita, and enjoy retirement.
---
1980s
Nancy Griffith – 1982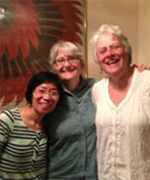 Our UC Davis School of Medicine Class of 1982 Scholarship Fund is now ready for contributions at give.ucdavis.edu/MEDI/325178. Donate in honor of a friend, family member, colleague. Ask for a donation to be made in your name instead of a birthday or Christmas present. If you have to take a required distribution from your retirement account it can be given directly to the fund. No amount too small or large. Please make a contribution today. Thank you.
Caroline Hastings – 1982
I came to Children's Hospital Oakland for my pediatrics residency and never left! I have had a wonderful career here starting with being the inaugural fellow in pediatric hematology oncology and now practicing primarily neurooncology, while serving as the fellowship program director. The community and my colleagues are amazing and have made this a rewarding career. I have been fortunate to be involved in the specialty on a national level and am the president elect for the American Society of Pediatric Hematology Oncology.
Along the way I developed an unexpectedly exciting side interest in lysosomal storage diseases, especially Niemann Pick Type C, and now see patients and conduct trials internationally. Of course, the true highlight of my life is my husband (Ward Hagar, met at UC Davis while he was an IM resident) and our three daughters who are finding their own unique paths around the country and world.
Michelle Jolton Taube – 1987
The COVID-19 pandemic brought some happiness to us among all of the struggles. Our son, daughter and her partner all moved in with us in Eugene from the Bay Area for about 8 months. I loved having family dinners and so much time and laughter with my adult children! I've been semi-retired since January 2021. I work "filling in" for my prior group, working anywhere from zero up to eight days per month depending on the need. I've learned to use Epic since my retirement which is good brain exercise! I now also have more time for physical exercise, volunteering and spending time with friends. We are finally starting to travel a bit more which is one of the things I looked forward to most for my retirement. I would welcome any classmates interested in visiting Eugene!
---
1990s
Robert Tambeaux – 1990
Retired as a diagnostic radiologist last summer at age 66. Now splitting the year with wife Petice between Green Bay and Rancho Mirage. Daughter Cate is an event planner in Seattle. Son Chris is an Air Force fighter pilot (F-15e) and currently doing flight instruction at Laughlin AFB in Texas. Labradors Vinny and Vito round out the family, and spend most of their day trying to convince me that it is time to feed them.
---
2000s
Robert Tambeaux – 2007
Sharing a recently published article about the work my colleagues and I are doing at Mass General Brigham in Boston to decrease health care inequities, " 'So much more to do': A hospital system's campaign to confront racism — and resistance to change — makes early strides" (statnews.com/2022/08/25/mass-general-brigham-campaign-confront-racism-early-progress). We are hoping to share our wins and challenges so that other health care systems can feel encouraged about this work.
---
Residency/Fellowship alumni
Michael Schermer – 1976
(Ophthalmology)
In April 2022 I was able to trek in Nepal to visit Everest Base Camp at 17,500 feet. At age 78 it was a challenge, an adventure, and a dream fulfilled. I'd be happy to share my experience with anyone interested.
Bruce Douglas Noonan – 1978
(Ophthalmology)
Retired. Moved to Post Falls, Idaho two years ago. Home on Prairie Falls Golf Course. This month my article, "Caring for the Faithful" was published on the Doctors for Responsible Gun Ownership website (drgo.us/caring-for-the-faithful).
Editor's note: Information shared in class notes is submitted by individual alumni and reflects their personal views, not those of UC Davis or alumni organizations. Questions or comments about individual class notes should be brought up directly with the note's author through publicly available channels.