Rankings

Rankings
A sampling of recent major achievements and developments from UC Davis Health and the UC Davis School of Medicine. For more listings and news, please visit our newsroom and follow us on social media.
Among the country's best in health care education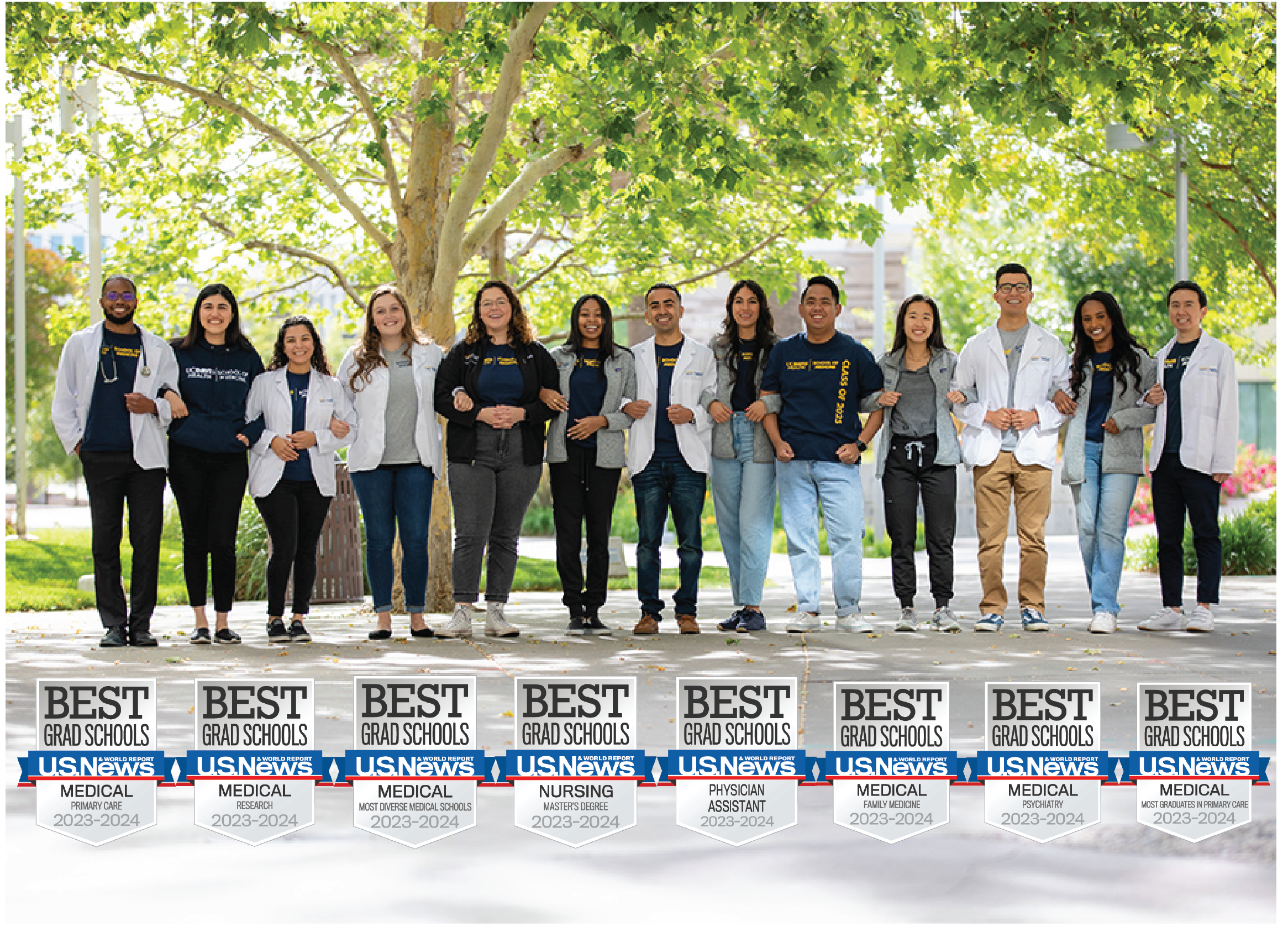 The UC Davis School of Medicine continues its upward trajectory into national prominence, as shown in the latest academic rankings released by U.S. News & World Report.
The 2023–2024 U.S. News Best Graduate Schools released in May placed two of the School of Medicine's medical education programs in the top 10 for all schools: family medicine as fifth (up from seventh last year) and primary care as sixth (up from eighth last year). The publication also ranked psychiatry as the 15th best program nationwide.
UC Davis was also ranked the third most diverse medical school in the country, as it was last year. And it ranked 50th in research (tie), up one spot from the year before. The public health graduate program was ranked 22, tied with five other schools.
The Betty Irene Moore School of Nursing at UC Davis has also seen great strides in its national standing, especially considering it opened to students just 13 years ago.
U.S. News ranked the school's master's-degree programs in nursing as 23rd for the third year, tied with three other schools. The rankings include the Master's Entry Program in Nursing and the master's degree family nurse practitioner (F.N.P.) program.
In addition, for the first time the Master of Health Services — Physician Assistant Studies Degree Program (P.A.) moved up to 40th in the nation, tied with five other programs. The program came in at No. 74 the last time P.A. programs were ranked in 2019.
"UC Davis School of Medicine and Betty Irene Moore School of Nursing continue to distinguish themselves as national leaders in training the next generation of health care providers and research innovators," said David Lubarsky, M.D., M.B.A., F.A.S.A., CEO of UC Davis Health and vice chancellor of human health sciences. "Their commitment to excellence and providing leading-edge health care with compassion is central to our mission at UC Davis Health."
Record School of Medicine research funding helps university top $1 billion
The UC Davis School of Medicine logged a record-high total of $396 million in external research funding for fiscal year 2021–22, an increase of $29 million over the previous year. That helped UC Davis as a whole to reach a major milestone by attracting $1.07 billion in external research funding in fiscal year 2021–22, up $102.9 million from the previous record set last year. UC Davis now joins an exclusive group of fewer than 20 public universities in the nation surpassing $1 billion in research funding.
In its 2022 ranking, the Blue Ridge Institute for Medical Research placed the School of Medicine among the nation's leading medical schools for National Institutes of Health (NIH) funding. It ranked the school 32nd nationally — one spot higher than last year — with nine departments ranking in the top 20 nationally in their respective fields. This comes as the school breaks its previous record for NIH research funding, with more than $200 million in grants.
"Yet again, the UC Davis School of Medicine's extraordinary research teams have achieved record-high NIH funding and increased our school's national ranking," said Susan Murin, M.D., M.Sc., M.B.A., the school's interim dean. "We are grateful to our pioneering researchers across all disciplines who are discovering pathways to new treatments and cures and helping us deliver tomorrow's health care today."
To view the School of Medicine's first annual research impact report, visit health.ucdavis.edu/medresearch.
Among Newsweek's best hospitals
UC Davis Medical Center appears on Newsweek's listing of the World's Best Hospitals 2023. The publication ranks over 2,300 hospitals in 28 countries, and all top 250 global hospitals. UC Davis was ranked #30 among U.S. hospitals.
School of Medicine national award for diversity, inclusion
The UC Davis School of Medicine was named among the nation's top institutions in higher education for its commitment to diversity and inclusion. Last fall INSIGHT Into Diversity announced the school was one of 63 higher education institutions to receive the 2022 Health Professions Higher Education Excellence in Diversity (HEED) Award, which acknowledges multiple U.S. health schools — including medical, pharmacy, nursing, veterinary, allied health, and more — that demonstrate outstanding commitment to diversity and inclusion. Honorees were highlighted in the December issue. The Betty Irene Moore School of Nursing at UC Davis received the award in 2021.
America's Greatest Workplaces for Diversity, Women
UC Davis Health appears in Newsweek's America's Greatest Workplaces for Diversity 2023, a list of 1,000 companies that employees say respect and value different kinds of people. Scoring included a review of publicly available data, interviews with HR professionals, and an anonymous online survey of a diverse pool of employees at companies with 1,000+ workers. UC Davis Health also appears among Newsweek's America's Greatest Workplaces for Women 2023, a list of 600 large American companies that, according to a survey of more 37,000 female employees and other research, ranked highest on criteria like compensation and benefits, work-life balance and proactive management of a diverse workforce.
'Most Wired' recognition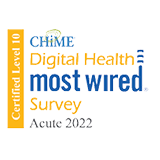 For the 11th consecutive year, UC Davis Health received Digital Health Most Wired recognition from the College of Healthcare Information Management Executives (CHIME) for 2022. The Medical Center earned a certified level 10, the highest level, on both the acute and ambulatory care surveys. UC Davis Health is one of only 17 hospitals in the nation and the only health system in California to achieve level 10 status in both the acute and ambulatory care categories. Level 10 designates the health IT leaders that have displayed the highest and most innovative uses of technology.
HIMSS Stage 6 data analytics designation
Last year UC Davis Health achieved the prestigious Stage 6 Adoption Model for Analytics Maturity (AMAM) from the Healthcare Information and Management Systems Society (HIMSS), the global authority on advancing digital health transformation. UC Davis Health became one of five health care systems in the U.S. and only six worldwide at HIMSS AMAM Stage 6. Only 10 health care systems in the U.S. have achieved Stage 7, the highest level of analytics maturity.