September 24, 2022 marked a dark day for Sacramento. It was on that day 50 years ago that 22 people died — 12 of them children — when a Korean War-vintage Sabre fighter jet taking off from the Sacramento Executive Airport overran the runway and slammed into Farrell's Ice Cream Parlour.
Witness accounts indicate about 100 people were inside the popular eatery when the crash involving an inexperienced pilot who had participated in the Golden West Sport Aviation Show changed their lives forever. Twenty-five people were injured, many with serious burns.
Margie Smith, who lived nearby with her husband and three young children, remembers that Sunday like it was yesterday.
"Our neighbor's daughter told us about the crash. But that's all we knew," she recalled. "It wasn't until the next morning that we learned how close to home it hit.
Smith's neighbors — Warren, Sandy, Jennifer and Brandon Krier — all died while celebrating Warren's birthday at Farrell's. Brandon was two years old, only a few weeks younger than Smith's son, Brian, at the time.
"I distinctly remember watching the news. They carried out a stretcher that was covered, but the outline of a very small child's body could be seen through that cover. I often wonder if it was Brandon," Smith tearfully recounted.
Larry Hopkins, now 80 years old, was a Sacramento City firefighter with nine years under his belt. Though off duty, he witnessed several emergency vehicles heading toward Freeport Boulevard. He followed, saw the flames and rushed to help.
"It was utter devastation. I wasn't a newbie. I was used to that kind of stuff. But this was pushing the envelope as far as a disaster at that time," he said. "There's nothing good to be said about any of it."
But something good ultimately resulted from that day. The crash altered the future of burn care for the Sacramento region and beyond.
A fallen colleague helps spark a quest for better care
Firefighter Gene Levine was off duty that day, dining inside Farrell's with his family. Levine perished along with eight relatives.
Sacramento Fire Capt. Cliff Haskell was on duty downtown. It wasn't until later that he would learn his friend and colleague had died in the blaze. He was distraught by the tragedy. Once the ashes cooled, Haskell realized that specialized burn care was lacking in Sacramento.
Fresh off a fire safety conference in Louisiana, Haskell returned to Sacramento with one goal: to establish a world-class burn unit in Sacramento. By December 1973, he helped create the Firefighters Pacific Burn Institute, now called the Firefighters Burn Institute. A month later the burn unit opened at Sacramento Medical Center, known today as UC Davis Medical Center.
"In the aftermath of the fire, people learned that survivors were backed up in the hallways of the medical center because there was no resource to handle an event like that," said Joe Pick, current executive director of the Firefighters Burn Institute. "I don't think anyone realized our lack of good access to burn care until after that happened."
"We could do better"
A consultant hired by the Sacramento firefighters agreed. According to reports from May 1973, R.A. Kolvoord, director of the Southern Burn Institute in Louisiana, said there was "no doubt about the need for a burn treatment center" in the region. At the time, the only treatment center for burn patients was nearly 400 miles away at UCLA, with a smaller unit 90 miles away at UCSF.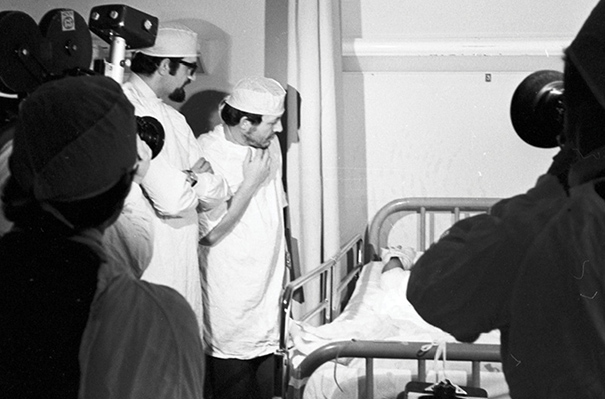 "Cliff knew we could do better. He wanted an organized structure. So, he went to the Firefighters Local 522 union to establish an organization to raise the money to create one," Pick said.
"Cliff had a passion that just wouldn't end," Hopkins added.
Haskell and the team were so devoted to creating a place for specialized burn care that they set up a fund in memory of Levine. They worked with community leaders, physicians and leadership at UC Davis Health. More than $1 million was raised to open the Firefighters Burn Institute Regional Burn Center at UC Davis Medical Center.
The center is located on the second floor of the hospital on the UC Davis Health campus. Specialists treat victims of highway crashes and wildland fires who sometimes arrive by helicopter.
Children's specialized needs usher in pediatric burn program
But all burn patients are not alike. For children, multiple complications can arise from the immune and metabolic changes that result from a severe burn. Young burn patients face more serious risks than adults, in part because toddlers explore with their hands and mouths and get burned. And small children with big burns can be very uncomfortable.
For many of the 25 survivors of the Farrell's crash, especially the burn victims, the specialized care they so greatly needed did not exist. Back then, adults who suffered severe burns would rehabilitate in two to three years. But for children, it could take up to 20 years.
Fortunately, specialized pediatric burn care became a reality in Sacramento, right across the street from UC Davis Medical Center.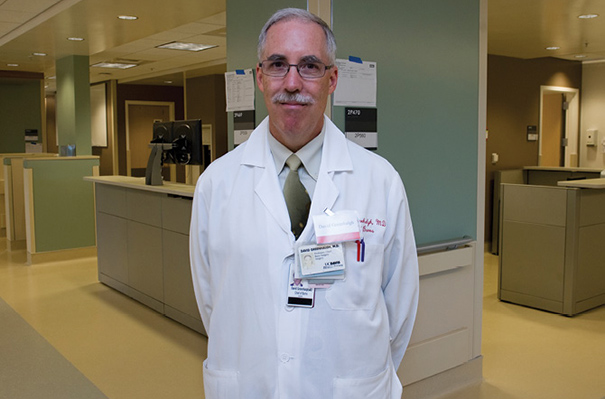 "The collaborative commitment to a comprehensive burn program provided an ideal framework for leaders of Shriners Children's to establish a multidisciplinary specialty pediatric health care facility that focused on burns as one of the main service lines," said Alan Anderson, director of development for Shriners Children's Northern California. "When we opened our doors in 1997, we featured a first-of-its-kind pediatric burn program led by David Greenhalgh."
Greenhalgh (M.D., F.A.C.S.), a renowned burn surgeon was recruited to lead the burn programs at both Shriners Children's and UC Davis Health.
"It was a lot more work than I thought it would be. We had to earn the respect of the community and the doctors and the families," recalled Greenhalgh, who retired from UC Davis Health last year but continues to oversee the program and his patients at Shriners Children's. "Some people were concerned we'd take away from UC Davis by having Shriners Children's locally, but the opposite happened. We focused on providing the best care, and by doing so were able to grow both."
Advances lead to better survival rates, improved quality of life
The institute was a silver lining that resulted from the crash and transformed the regional response to burn care. For more than 48 years, it has offered the highest-quality treatment and recovery for severely burned patients from throughout Northern California, and greater hope for their families.
"Those injured in 1972 were taken to local hospitals, where surgeons did their best to treat them, but unfortunately they had very limited knowledge of burn care," said Tina Palmieri, M.D., a surgeon and chief of the Firefighters Burn Institute Regional Burn Center at UC Davis Medical Center. "Their initial treatment would have been to assess them for traumatic injuries and burns."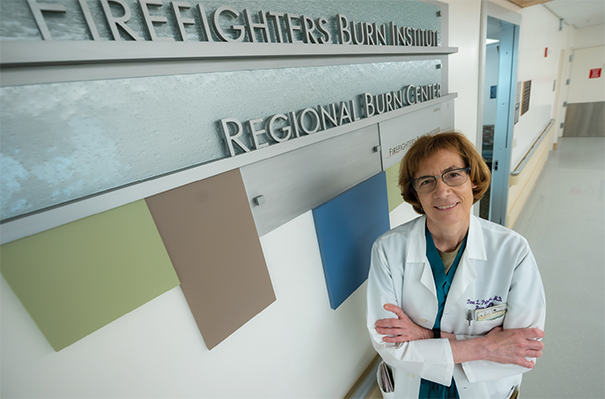 Since its launch in 1974, the UC Davis Burn Center has been one of the nation's top programs for burn care, research and training. Its mission and reputation have greatly expanded over the past four decades. Burn treatment involves many components, from initial first aid and assessment of the degree of the burn to wound excision, grafting and infection control.
According to a national study, "the last 50 years has seen a tremendous improvement in the advancement of burn treatment with a significant reduction in mortality which can be attributed to the developments in early burn excision, early fluid resuscitation, infection control and nutrition."
Palmieri credits mortality reduction to the advent of burn center triage criteria, including burn degree, percentage of body surface area, and patients who require special social, emotional or long-term rehabilitation intervention.
"We also use new methods for mechanical ventilation and resuscitation for those critically injured," she explained. "The burn field continues to expand its knowledge about burn injury, particularly with respect to artificial skin, stem cells and cultured skin."
What has also helped is advances in physical facilities. In 2010, the UC Davis unit moved into its larger current location — triple the size of its former space — consolidating into a single location and accommodating more patients.
The move created individual rooms for patients, which has improved the survival rate, since the leading cause of death among burn victims is infection. Since many survivors require months of care, the new rooms also included windows, which helps with emotional health. And because the improved capabilities were the direct result of an additional $1 million raised by area firefighters, the move ushered in a new name — the Firefighters Burn Institute Regional Burn Center.
"Merely surviving a burn is not good enough," Palmieri said. "Our goal is to return our patients to a meaningful life."
In 2021, the team received re-verification as an Adult Burn Center from the American Burn Association (ABA) for meeting the highest standards of care for burn-injured patients. And for children, whose burns present a unique challenge, the expert care at Shriners Children's is across the street.
Bracing for the next emergency
The UC Davis Burn Center team can quickly leverage resources in burn management, surgery, trauma and intensive care to treat a range of burn-related injuries. And with increased expertise and need, patient volume has increased as well. In 1997 before Shriners Children's opened, the UC Davis Burn Center admitted 180 patients. In 2021, the number of patients admitted for treatment between the two centers quadrupled to approximately 750.
Part of that growth is due to the increasing numbers and size of major wildfires in Northern California. As the only burn center in a vast region, UC Davis Health takes on a mission and responsibility to being prepared for and focused on the needs of burn patients. The next nearest centers are in the Bay Area, Fresno, Las Vegas, Salt Lake City and Portland.
Over the years, the center's surgeons, nurses and rehabilitation specialists have been on the front lines of treating patients injured by wildfires. They regularly practice their response plan for large-scale fires with multiple victims, and collaborate with other burn centers throughout the western U.S.
UC Davis developed the burn disaster triage diagram that is now used in burn disasters across the nation. It has served as the primary center for triage and treatment of Northern California wildfire patients.
We've been affected by so many big fire events in recent years that we have to assume another one is coming," said Len Sterling, R.N., M.B.A., N.E.A.-B.C., the burn center's nurse manager. "We want to be nimble, flexible and treat all patients who need us."
Austin Palmiere knows the risks of the job. A fire captain with CAL FIRE, he's served on the front line for 14 years.
But on Oct. 9, 2022, while at the Placerville Fire Center between calls, his shift was anything but routine.
The company vehicle he was working on caught fire. He and a fellow firefighter rushed to put out the blaze, when an explosion knocked them to the ground. They were rushed to the Firefighters Burn Institute Regional Burn Center at UC Davis.
"At the time I didn't feel a ton of pain because of the shock and adrenaline. I didn't think I was even burned that bad," Palmiere said. "It was surreal arriving at the UC Davis ER, because I've dropped off patients in that room."
Palmiere, 32, had second- and third-degree burns on 26% of his face, hands and upper body. He faced weeks of recovery. He says three things motivated him: support from his family, friends and firefighters; the expertise of the burn center team at UC Davis Health; and the expected arrival of his first son with his wife Lainey, roughly one month away.
Palmiere had two surgeries. He began walking independently three weeks after his injury. Finally, he left the burn intensive care unit 35 days after his arrival — one week before baby Colt's arrival.
"Now, he's holding him, rocking him and doing a bunch of things that weren't imaginable the day Austin came home. I'm so grateful," Lainey Palmiere said.
"I took my time getting here, but I'm changing diapers now," Austin Palmiere added.
Diapers that belong to Colt Davis Palmiere, whose middle name is a tribute to the team that brought his father through the worst trauma of his life.
Remaining challenges, awaiting support
Despite the success of treating burn survivors, many challenges remain, especially as people live longer. The focus of burn care in the future includes treating the elderly, caring for those with extensive burns, increasing the quality of the lives saved by shortening healing times and hospital stays, and finding more ways to reduce scarring.
"It's hard to push the survival of the youngest burn victims any higher. But we've made great strides in the elderly," Greenhalgh said. "When I first started in burns, we wouldn't bother to resuscitate 60-year-olds with 60% burns. But we've made the greatest improvements in this population because of better wound coverage and critical care."
Palmieri added, "Quality of life has become the priority for most people who are burned, as we can save most people. For the very young and the very old, however, improving survival is still a major priority."
Beyond the expertise of the surgery team and UC Davis Health are experts who provide resources and peer support that bring hope and inspiration to burn patients and their families. The institute and its support resources have earned a national reputation for providing critical services to survivors and families, and is a Phoenix Society SOAR-designated facility, recognized for providing peer support and mentoring for burn survivors.
Resources include weekly meetings ranging from half-hour lunch bunch gatherings to hour-long discussions with health professionals. There's even a session devoted to yoga and mindfulness. The institute also offers the week-long Firefighters Kids Camp for young burn survivors; the Youth Firesetter Program for parents and troubled adolescents; the Liaison Response Team for injured firefighters; and scholarships that support survivors and the health professionals who care for them.
"From the ashes, we realized that, as firefighters, we do what we can while we're there and then figure out how can we do something better," Pick explained. "That opened up all the doors for our programs for kids and other support groups so we could connect with this community."
Coleen Gonzalez says when she learned that her 18-year-old son Gabriel was severely burned in a firepit accident last year, "it's the worst call you get." While the care team at the Firefighters Burn Institute Regional Burn Center mapped out his six weeks of physical recovery, she turned to support groups that help survivors and their caregivers deal with emotional healing.
"This is like a marathon you're running. Even when he got home, we were still running that marathon," Gonzalez said. "The group has taught me I'm not the only one. And that, yes, it's going to be different, but we don't have to stop living."
Institute leaders hope to establish additional mental health resources in the future. Pick and his team have begun work with clinical psychologists and the social work department at Sacramento State University. They hope that their expertise, coupled with funds raised through donors and the popular Fill the Boot for Burns campaign, can create a mental health program with lasting benefits.
Service and outreach
Nearly five decades after that tragic day at Farrell's, the UC Davis Burn Center and Firefighters Burn Institute have expanded their programs in burn research, public education, fire and burn prevention, and burn recovery for survivors and their families.
Had a burn center like today's existed 50 years ago, the UC Davis team agrees, the Farrell's victims would have had a greater chance of not only surviving, but living more functional lives.
"I'm grateful that the firefighters long ago had the foresight to support a burn program," Greenhalgh said. "I'm proud to say we were able to work with them — and we have one of the best programs in the country."