Clinical highlights

Clinical highlights
A sampling of recent major achievements and developments from UC Davis Health and the UC Davis School of Medicine. For more listings and news, please visit our newsroom and follow us on social media.
Clinical milestones
Transplant Center reaches milestone: 5,000 kidney transplants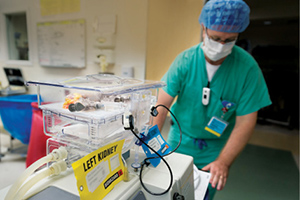 UC Davis Health reached an institutional milestone last August when it surpassed 5,000 kidney transplants performed since its first almost 37 years ago. Established in 1985, the UC Davis Transplant Center performed 282 kidney transplants in 2021, making UC Davis Health one of the top 10 centers in the nation for total kidney transplants. "This is a testament to our dedicated team members who have helped us develop innovative ways to help patients achieve a transplant," said the transplant center's medical director Richard V. Perez, M.D., who has since retired after 30 years with UC Davis Health. "It is that dedication that has led us to be recognized as one of America's top transplant centers." UC Davis Health has also been selected as a model hospital by the United Network for Organ Sharing (UNOS), and chosen to guide national best practices for transplant by the Centers for Medicare & Medicaid Services.
Read more about UC Davis Health's new chief of transplant surgery Sophoclis Alexopoulos.
World-first retrievable leadless pacemaker procedure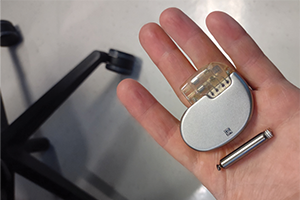 UC Davis Director of Pediatric Electrophysiology Dan Cortez, M.D., Ph.D., is the first physician in the world to implant a retrievable leadless pacemaker in a child. Aveir VR, manufactured by Abbott, is designed to be easily retrievable for battery replacement. Most traditional pacemakers are surgically implanted through the chest to the outside of the heart, then connected to the heart by leads; this retrievable pacemaker was implanted through the internal jugular vein in the Cardiac Catheterization Lab and has no leads — instead, the heart absorbs it. "No incisions. Just a stitch placed in the neck the day of the procedure and removed the following morning," Cortez said. In 2018, he was the first physician in the world to implant a Micra leadless pacemaker through the internal jugular vein in a child.
Initial transcatheter tricuspid valve replacement procedure
Cardiologists at UC Davis Medical Center recently completed their first transcatheter tricuspid valve replacement (TTVR) procedure, becoming the first hospital in the Sacramento region to perform the minimally invasive treatment. The procedure was performed as part of a clinical trial, and treats tricuspid regurgitation with a new option versus medications alone or open-heart surgery. Gagan D. Singh, M.D., M.S., associate professor of cardiovascular medicine, and Structural Heart Team members replaced the valve using a catheter inserted through the major leg vein; they will monitor participants for five years.
A first transfemoral transseptal mitral valve replacement
UC Davis Health cardiologists and cardiovascular surgeons recently performed the institution's first transfemoral transseptal mitral valve replacement (TMVR) procedure, making UC Davis Medical Center the first hospital on the West Coast to perform the procedure with this new valve. Minimally invasive TMVR can be used to treat mitral valve stenosis, regurgitation, or a mix. Transfemoral transseptal access is through the femoral vein of the leg and the least invasive of implantation methods; the vein is exposed surgically, with the remainder of the procedure performed under fluoroscopy and echocardiography. No surgical access through the chest is required. Jason H. Rogers, M.D., F.A.C.C., F.S.C.A.I., professor of cardiovascular medicine, is site principal investigator with co-investigator Gagan D. Singh, M.D., M.S., associate professor of cardiovascular medicine.
Hospital, clinic recognized as age-friendly providers
UC Davis Medical Center has been awarded an Age-Friendly Health Systems Committed to Care Excellence designation from the Institute for Healthcare Improvement (IHI), and UC Davis Health's outpatient Healthy Aging Clinic separate recognition as an Age-Friendly Health System. The designations are an initiative of the IHI and the John A. Hartford Foundation, in partnership with the American Hospital Association (AHA) and Catholic Health Association of the United States (CHA). UC Davis Health's emergency department has earned Age-Friendly Health Systems Committed to Care Excellence as well, plus Geriatric Emergency Department Accreditation from the American College of Emergency Physicians (ACEP); the medical center has earned membership in Nurses Improving Care for Healthsystem Elders (NICHE) at the Senior Friendly level. All contribute to UC Davis Health's Healthy Aging Initiative to create the healthiest, highest-functioning older adult population in Northern California.
New guidance for a chronic liver disease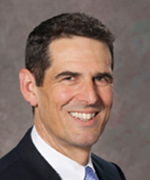 Christopher Bowlus, M.D., chief of Gastroenterology and Hepatology, is lead author of new national guidelines developed by the American Association for the Study of Liver Diseases (AASLD) that provide a data-driven update on the chronic liver disease primary sclerosing cholangitis, as well as the first focused guidance from the AASLD dedicated to the diagnosis and management of the bile duct cancer cholangiocarcinoma.
New pediatric DKA guidelines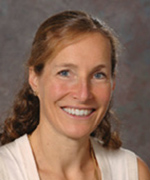 Nicole Glaser, M.D., professor of pediatrics and pediatric endocrinologist at UC Davis Children's Hospital, was the lead author of clinical consensus guidelines on the treatment of diabetic ketoacidosis (DKA) from the International Society for Pediatric and Adolescent Diabetes (ISPAD), published last October in the journal Pediatric Diabetes. The guide includes recommendations for fluid and electrolyte replacement, insulin therapy and monitoring for complications, based on currently available evidence.
Volume milestones for TCAR, robotic-assisted bronchoscopy procedure
UC Davis Health has announced its 100th Transcarotid Artery Revascularization (TCAR) procedure for carotid artery disease and its 100th robotic-assisted bronchoscopy procedure for minimally invasive peripheral lung biopsy, becoming the first hospital in the Sacramento region to reach each milestone.
Re-verified as level I trauma center
UC Davis Medical Center was re-verified last year as a level I trauma center and a level I pediatric trauma center by the American College of Surgeons (ACS). As California's only level I trauma center north of San Francisco, UC Davis Medical Center is one of only three in the state with level I verification for both adult and pediatric trauma. Level I centers provide the highest level of surgical care to trauma patients, with a full range of specialists and equipment available 24 hours a day. UC Davis provides level I trauma care for a region covering six million people in 33 counties, across 65,000 square miles, and admits more than 4,000 trauma patients annually.
Clinical programs
New robot completes region's first comprehensive robotic neurosurgery program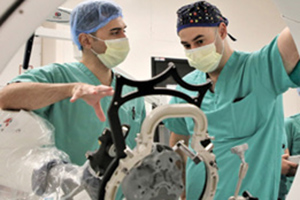 UC Davis Health's robotic neurosurgery program has expanded to include a robot for cranial procedures such as deep brain stimulation implants, enabling the program to employ robotic surgery to treat patients with Parkinson's disease, epilepsy, tremor, and brain tumors. The acquisition makes UC Davis Health the first to offer a comprehensive robotic neurosurgery program in the region — one that spans cranial, spine, and endovascular surgery and can be used for adult and pediatric patients. The program already routinely uses robotics for spine surgery, endovascular treatment of stroke and aneurysms, and delivery of laser interstitial therapy to brain tumors and brain regions causing epilepsy. Program leaders note that robotic technology can increase patient safety; shorten procedure, wait and recovery times; and lead to better outcomes in procedures such as spinal fusions. UC Davis Health also offers comprehensive education in robotic-assisted neurosurgery to residents.
Study takes aim at low lung cancer screening
The UC Davis Comprehensive Cancer Center's Office of Community Outreach and Engagement (COE) is launching a study to investigate why it's challenging to get eligible patients to come in for lung cancer screening. An estimated 80-90% of all lung cancers are caused by tobacco use, and new lung cancer screening guidelines from the U.S. Preventive Services Task Force were rolled out in 2021 to make it easier for smokers and former smokers to qualify. But screening rates remain abysmally low, with only about 1% of those eligible getting screened in California.
New pediatric pulmonary sickle cell clinic
UC Davis Health has launched a comprehensive pulmonary sickle cell clinic for children and young adults up to age 24, designed to address complications such as asthma, exercise intolerance, and sleep disordered breathing. It is the first clinic of its kind in the Sacramento area. By embedding the pediatric pulmonologist into the sickle cell clinic, patients receive continuity from the same team giving their regular sickle cell care. They also receive the added benefit of addressing breathing problems with the help of a lung expert. Highest-risk patients are identified by their hematologist and referred to the clinic, which provides pulmonary function testing and home sleep studies.
Unique pediatric lipid disorders clinic opens
A new, dedicated UC Davis Health clinic for pediatric lipid disorders opened last fall as the only of its kind in inland Northern California. The Roseville-based clinic offers care for children with abnormal cholesterol levels, elevated triglycerides and lipoprotein (a) levels, and other complex lipid disorders, after referral by their primary care physician. Care is also provided for secondary causes of lipid abnormalities, such as diabetes and kidney disease. The clinic team includes a pediatric cardiologist with additional training in lipidology, a cardiac sonographer, and a dietitian; when needed, a pediatric endocrinologist and geneticist are also available for consults. Approximately 1 out of 5 children and adolescents had at least one abnormal cholesterol measure between 2011 and 2014, per the CDC.
New endocrinology clinic for kidney transplant patients
UC Davis Health has established a new one-stop transplant endocrinology clinic to improve care of diabetes and other endocrinology disorders for kidney transplant patients, becoming one of the few hospitals nationwide with a dedicated transplant endocrinology clinic. The clinic team includes two endocrinologists — Prasanth Surampudi, M.D., associate professor of endocrinology, and Aili Guo, M.D., clinical professor of endocrinology — who monitor and manage insulin therapy for patients, since post-transplant medications make insulin and blood sugar levels difficult to control. Patients also work closely with a nutritionist to establish dietary interventions. Post-transplant diabetes mellitus (PTDM) affects up to 50% of kidney transplant patients, and is most commonly diagnosed during the first year after transplant.
New home infusion program
UC Davis Health's new home infusion program consists of 11 home infusion nurses, clinical pharmacists, pharmacy technician navigators and administrators. Most medications are currently for patients with gastrointestinal diseases, but the team plans to expand its services this year to outpatient specialties such as genetics, neurology, immunology, rheumatology, and pulmonology. Members of the Rocklin-based team have already traveled to Truckee, Walnut Grove, Granite Bay, El Dorado Hills, Woodland, Lincoln and Placerville, with an ultimate long-term goal to serve patients within UC Davis Health's 33-county service area. For questions about the program or eligibility requirements, email hs-homeinfusion@ ucdavis.edu.
Clinical technology
UC Davis Health adopts low pressure surgery systemwide
UC Davis Health has adopted low pressure insufflation as the standard for all surgical laparoscopic procedures, utilizing ConMed's AirSeal® System, becoming the first multi-site health system in the nation to implement the practice systemwide. By offering a low-pressure insufflation option for every laparoscopic procedure, surgeons can safely operate at lower intra-abdominal pressures, shown to improve patient outcomes and promote patient safety. UC Davis Health's system delivers stable pneumoperitoneum, the presence of air or gas in the abdominal cavity. It also has a valveless system which maintains optimal exposure of the operative field even with a lower pressure of insufflation and while allowing the continuous emission of surgical smoke.
Orthopaedics first in region to offer weight-bearing CT scan technology
The UC Davis Health Department of Orthopaedic Surgery's Sports, and Foot & Ankle Clinic is home to the first weight-bearing CT scan machine in the Northern California region. Also known as a weight bearing CT scanner, or WBCT, the innovative technology allows a patient to stand for a comprehensive scan of the feet, ankles and knees; arms and hands can also be evaluated in weight-bearing position. Images can take less than 60 seconds, with less radiation exposure than traditional CT scans. WBCT imaging allows for more precise evaluation of anatomy and more accurate image of alignment, and can allow providers to observe movement that causes pain or deformities. The new diagnostic tool is located at UC Davis Sports Medicine on C Street, in the same clinic where patients see orthopaedic providers.
New orthopaedic robotic technology for hip, knee replacements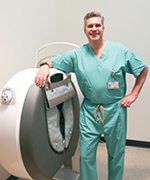 UC Davis Health has added the Stryker Mako SmartRobotics system as a technologically advanced option for hip and knee replacements that offers potential for a higher level of patient-specific implant alignment and positioning. The new approach means surgeons can create individualized 3-D plans and perform joint replacements using a surgeon-controlled robotic arm that helps execute procedures with a high degree of accuracy. Clinical studies have shown the system demonstrated the potential to offer patients several potential benefits, including reductions in pain, need for opiate pain relievers, length of hospital stay, and need for inpatient physical therapy, plus improved knee flexion and greater soft tissue protection.
New endoscopy suite for gastroenterology, pulmonology and colorectal surgery
A new outpatient endoscopy suite is open at UC Davis Medical Center as part of ongoing efforts to improve patient care and enhance technologies that result in superior outcomes and experiences. The University Tower Endoscopy Suite opened last summer and caters to patients from gastroenterology, interventional pulmonology and colorectal surgery. State-of-the-art technology includes interventional gastroenterology procedures visually aided with advanced integrated fluoroscopy suites, a 3-D mobile C-arm system, and minimally invasive biopsy of the lungs utilizing the Ion Endoluminal Robotic-Assisted Platform by Intuitive, which 3-D maps using CT.