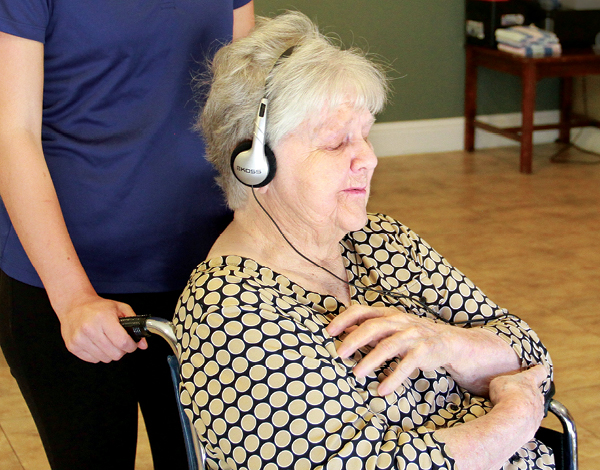 The power of music, the gift of memory

Research proves program reduces dementia medication, improves aggressive behavior

"Music can minister to minds diseased … [and] raze out the written troubles of the brain." William Shakespeare's musings 400 years ago resonate today considering new research into the power of song.

In the most comprehensive study of its kind on the effects of the Music & Memory program, researchers from the Betty Irene Moore School of Nursing at UC Davis found personalized music reduces the amount of medication taken by nursing home residents and lessens their aggressive behaviors.

A three-year study of 4,107 residents in 265 California nursing homes found the use of antipsychotic drugs declined by 13% and anti- anxiety medications declined by 17% each quarter for residents with dementia using the music program. In addition, the number of days on medications declined by 30% and aggressive behaviors reduced by 20%.

"Based on these results, if I were to talk to a family member of a person with dementia, I'd tell them to get a personal music device, put together a playlist and work with the nursing home team to enhance their quality of life," explains Debra Bakerjian, a clinical professor at the School of Nursing and principal investigator of the study.

Bakerjian collaborated with the California Association of Health Facilities (CAHF) on the $1.4 million quality improvement initiative. Researchers used the music program that trains staff to create personalized playlists using MP3 players, so those struggling with Alzheimer's disease, dementia and other cognitive challenges can reconnect with the world through music-triggered memories. On average, residents listened to their playlists two to three times a week for two hours or less each time.

"The results of the study are meaningful and encouraging for our residents and their families," says DeAnn Walters, CAHF's director of Clinical Affairs and Quality Improvement. "In addition, the power of personalized music gives our dedicated caregivers another important resource as they work to comfort and engage residents with dementia and other cognitive disorders."

Even early in the study, family members of participants recounted positive interactions.

"I've walked in and seen mom in a state, of just not there. They put the music on her and she snaps right back," explains Donna Rolufs, whose mother, Ruth, has dementia.

Bakerjian says since California is a microcosm of the rest of the nation in terms of diversity and its population of older adults, the results from this study can have meaningful application to every other state in the country.