UC Davis Good Manufacturing Practice Laboratory
Offering state-of-the-art facilities and expertise to scientists throughout California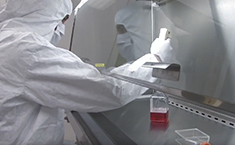 In Spring 2008, CIRM gave $272 million for the construction of twelve stem cell research facilities in California. The University of California, Davis was one of the recipients of this Major Facilities grant.
UC Davis' Good Manufacturing Practice facility in Sacramento features six manufacturing rooms with ISO 7 (Class 10,000) multi-use cleanroom capabilities. It also offers an associated product Quality Control testing lab. Unique features include a GMP-grade FACS sorter, switchable positive-negative room pressurization for gene therapy vector manufacturing, and a hot cell for clinical grade PET reagent manufacturing. This state-of-the-art facility currently manufactures products for university investigators as well as other academic and industry partners. Reasonable hourly rates make it an ideal resource for both campus and external investigators.
Contact: Gerhard Bauer gbauer@ucdavis.edu | 916-703-9305
---
Guiding Principles
Adherence to GMP regulations as required by the FDA
Precisely followed Standard Operating Procedures
Strict Quality Control (QC) and Quality Assurance (QA)
Testing of final products according to FDA guidance and requirements
Rigorous personnel training and proficiency testing
Meticulous documentation and record keeping
---
GMP Laboratory Goal
The manufacture of quality products for clinical application
Gerhard Bauer—GMP Laboratory Director
Gerhard Bauer is a professor of hematology / oncology and the designer and director of the Good Manufacturing Practice (GMP) laboratory at the UC Davis Institute for Regenerative Cures. In addition to GMP facility design and construction expertise, Bauer also has extensive experience in gene and cell therapy, having spent more than two decades developing novel clinical applications in this field to improve medical outcomes for life-threatening illnesses.
He also has investigated potential therapies for HIV, replacing the devastated immune system of HIV-infected patients with cells that have been engineered to resist the virus. Bauer came to the UC Davis Health System in 2006 after designing and directing a state-of-the-art GMP laboratory at Washington University in St. Louis.