A year of discovery, innovation and collaboration closes as we embark on the exciting new year ahead to break barriers to beat cancer. Life-changing science happens every day at UC Davis Comprehensive Cancer Center. Our high-impact and compelling research tests us, transforms us and creates new opportunities to save lives. Such is the theme for this issue of Synthesis.
While cancer research is the hallmark of our reputation, compassionate care is our cornerstone. The cancer center is caring for a record-high volume of cancer patients — expected as the pandemic waned, and cancer screenings, as well as deferred cancer care, resumed. Delays in visiting the doctor, as we anticipated, resulted in an unfortunate number of advanced cases of cancer. We were ready. Our committed teams of oncologists, advanced practice providers, nurses, social workers, navigators, clinical trials staff, and support personnel sprang into action as we did our best to quickly get cancer patients screened, diagnosed and into treatment, leveraging the most advanced therapies and clinical trials.
We are determined to confront cancer from every angle. Read about our new Center for Experimental Therapeutics in Cancer that will serve as an incubator for promising cancer therapies, taking them from the lab to the bedside. A new National Center for Interventional Biophotonic Technologies, part of the new Aggie Square under construction, will advance two optical imaging technologies that were born at UC Davis and make microscopic removal of the smallest of tumors possible.
Wait until you meet Tyson — a canine cancer clinical trial participant on three legs (the fourth was removed due to bone cancer). He is helping to advance immunotherapy that is administered by inhalation rather than ingestion or intravenous delivery. He was given only weeks to live and now, a year later, he is running through life at full speed. Part of our comparative oncology program, Tyson is helping test whether the protein interleukin-15 can stimulate the immune system to fight cancer.
This issue of Synthesis reports on new pilot studies that look into the cancer risk posed by wildfire smoke. We also provide an overview in this issue about how the cancer center is supporting the early careers of oncology researchers through a variety of programs designed to also foster diversity and give researchers from underrepresented backgrounds the resources they need to succeed.
You will get a glimpse of Professor Yoshihiro Izumiya's lab in this issue. His team of scientists uncovered a cell protein that has enabled an HIV-related sarcoma to evade detection. We also introduce a new gene profiling technology that diagnoses melanoma in early stages, when it is more treatable.
Understanding who gets certain cancers and why — and which communities carry heavy cancer burdens — is as important as making strides in medicine and biotechnology. We devote an entire section in the magazine to examining cancers unique to Asian Americans and the role that racism may play in hindering Asian Americans from accessing care and benefiting from cancer research.
Synthesis brings together the vast moving parts of our collective undertaking to heal our communities and shape the future of groundbreaking cancer research and care. See the new vision statement we unveil as 2023 begins. We invite you to consider new philanthropic opportunities to accelerate the progress we are making. As much as we've achieved together, we've only just begun.
We hope you value the magazine. As always, we value your support.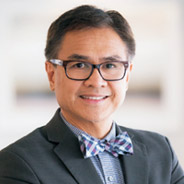 Primo "Lucky" Lara, Jr., M.D.
Director, UC Davis Comprehensive Cancer Center