UC Davis Comprehensive Cancer Center promotes career development through a team-based, patient-oriented program designed to increase the number and diversity of scientists trained in clinical and translational cancer research.
This year, two scholars received the Paul Calabresi Career Development Award for Clinical Oncology. The early career faculty members will receive 75% protected time for research and formal mentoring in clinical cancer research. They'll also receive $100,000 per year (for up to three years) to support salary and benefits, and $13,000 per year (for up to three years) for research and travel expenses.
The program, funded by the National Cancer Institute (NCI), was initiated in 1991 and renamed in 1994 in honor of the late Paul Calabresi, a pioneering oncologist who led the development of cancer drugs.
Scholars are selected through a rigorous process and are expected to develop their own investigator-initiated clinical trial during the training period. The mentored research training plan is supervised by two senior, independently funded faculty members (one basic/translational mentor and one clinical mentor) who guide the scholars' research project development and conduct. Upon successful completion of the curriculum, scholars receive a UC Davis Comprehensive Cancer Center Certificate in Clinical Cancer Research.
Recently awarded scholars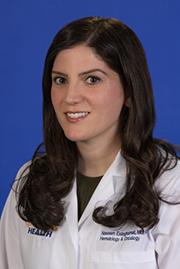 Scholar:
Naseem Shams Esteghamat, assistant professor, Department of Internal Medicine
Research:
Phase I study to evaluate the safety of escalating doses of lymphodepleting conditioning chemotherapy prior to CD19 chimeric antigen receptor T cells in subjects with relapsed/refractory diffuse large B-cell lymphoma
Mentors:
Joseph Tuscano, professor of internal medicine, specialist in malignant hematology, cellular therapy and bone marrow transplantation, deLeuze Endowed Professor of Medicine
Ted Wun, professor and division chief, Division of Hematology and Oncology
Scholar:
Felipe Godinez, assistant professor, Department of Radiology, specializing in radiology physics
Research:
Role of interventional MRI for targeted drug delivery in brain cancer
Mentors:
Elizabeth Morris, professor and chair, Department of Radiology Lorenzo Nardo, associate professor, Department of Radiology and chief, Division of Nuclear Medicine
Aiming Yu, professor, Department of Biochemistry and Molecular Medicine