Singing in the Voice of Overseas Chinese Choir was one of the many pleasures that made the life of Susan Sun Huang fulfilling. She also enjoyed participating in fundraising for her community within Sacramento and she used her cancer story to advocate for the large population of Asian American women diagnosed with non-smoker lung cancer.
Huang, who never smoked, passed away in June from lung cancer. Before she died, Huang participated in a UC Davis Comprehensive Cancer Center clinical trial that allowed her to help with research for a cure and gave her more years with her family.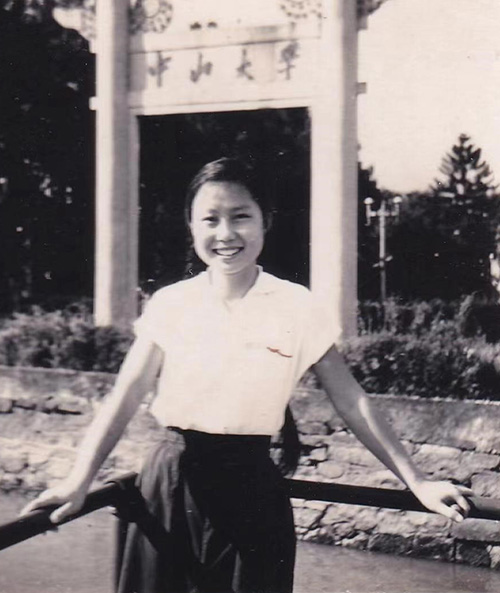 "The independent yet kind and loving spirit of Susan will be missed by the community but continues to thrive through her family's continued advocacy and support for clinical trials and research for Asian American cancer patients," said her UC Davis oncologist, Tianhong Li.
Together, with friends who wished to memorialize Susan, the family raised $15,000 that they presented in July to UC Davis Comprehensive Cancer Center. "Thank you, on behalf of the men and women of the cancer center," said UC Davis Comprehensive Cancer Center Director Primo "Lucky" Lara Jr. during the gift presentation. "This donation shows your commitment to helping us end cancer."
Her story
Huang and her husband Peter immigrated to the U.S. from China in 1986 in search of better access to university educations for their children. Their daughter, Amy Tong, fulfilled her parents' dream of obtaining a college degree in America and went on to earn her MBA before beginning a career in public service. She is currently Secretary of the California Government Operations Agency. Her brother, Jesse Huang, is a UC Davis graduate with degrees in both electrical and computer engineering. Both Amy and Jesse are married and raising their families in Sacramento.
"Our mother instilled in us the importance of hard work, but also humility, kindness and love," Tong said. "She was also very courageous and never afraid to make tough decisions."
Subtle symptoms led to unexpected news
Shortly after completing her performance with the Voice of Overseas Chinese Choir on the steps of the State Capitol one chilly winter day, Huang began to feel what she thought was a chest cold coming on.
"We thought her cough was a result of the damp weather. Little did we know a silent killer was at work," Tong said.
Huang's choice to seek care at UC Davis was an easy decision. "UC Davis has a reputation for cancer care that rivals Stanford and UCSF," added Tong. Chest X-rays that followed a visit to the doctor revealed her mother's grim diagnosis.
"The news of terminal lung cancer was surprising to all of us. And then to learn that she was part of a concerning trend of Asian American women who never smoked succumbing to this cancer was very disturbing," Tong said.
Even second-hand smoke wasn't a factor as her husband also was a non-smoker, and no one else around her smoked.
It is truly mystifying to see the number of Asian American women who have lung cancer," Li said. "At UC Davis Comprehensive Cancer Center, we are determined to find the root cause, conducting the research to move the needle toward early detection and cure."
Stigma follows diagnosis
Huang, typically optimistic, initially was depressed upon hearing her cancer diagnosis. "Not only because it was stage IV lung cancer, but because of the stigma associated with the disease," Tong recalled.
Huang was one of a growing number of Asian American women given the devastating diagnosis of lung cancer — which most often is associated with white male smokers.
"The shock factor was felt by the whole family," Tong said. "With breast cancer, there is less shock and more compassion. Yet, with lung cancer, there is judgement and people wonder, 'well, your life choices caused it,' but my mother didn't smoke. She didn't do anything to cause her lung cancer. She had been perfectly healthy all her life."
Clinical trial led to precision lung cancer treatment
Li submitted Huang's tumor specimen for a comprehensive tumor genomic profiling test to match her specific tumor mutation to a targeted drug. That analysis revealed that her lung cancer exhibited a fusion of two genes that never had been reported in a patient before. This fusion led to high expression of a cancer protein called anaplastic lymphoma kinase or ALK.
Li enrolled Huang in a clinical trial through a congressionally directed medical research program administered by the U. S. Department of Defense called the Lung Cancer Research Program, which involved biospecimen collection. Through this protocol, Huang donated her pleural effusion, the excess fluid that builds around diseased lungs, for research. Her sample was used to confirm the ALK expression and was matched to an oral targeted therapy, alectinib (Alecensa).
Unlike conventional chemotherapy, the targeted treatment did not render her sick or weak. In fact, the 80 year old returned to her walks and tai chi, and she lived nearly five more years, with the loving support of her family.
Continued advocacy and early detection
"What gave my mother hope and what made her fight was the progress being made in precision medicine," Tong said.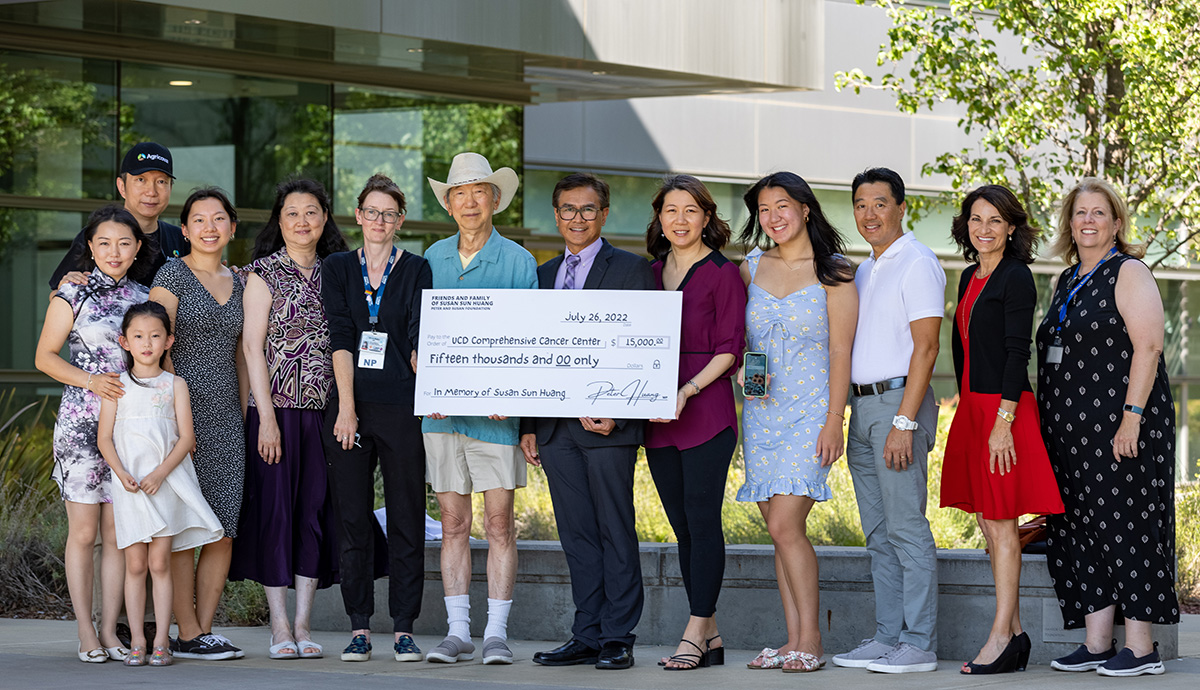 Tong and her family want to help advance the cancer center's pursuit of leading-edge treatments for the benefit of other cancer patients and promote early screenings, so lung cancer is caught when it is treatable. They were touched by the generosity of others in the community who also wanted to contribute to the philanthropic gift in memory of Huang.
"My family is grateful for the care my mother received at UC Davis, and we hope the gift will help raise awareness about this 'silent killer' of Asian American women," Tong said.