Texas-tough, Steve Fox is not a quitter. Decades after surviving stage III oropharynx cancer, the El Paso car dealership owner and motorcycle racing champion was running into complications from a feeding tube in his stomach. He also wished he could return to enjoying a meal with family and friends. The effects of surgery that Fox had undergone years earlier to remove the tumor in his throat, along with subsequent radiation, prevented him from swallowing food safely.
Oncologists in the Lone Star State said nothing could be done — no procedure, no treatment that would enable him to eat normally once again. He was wholly dependent on his feeding tube, a medical device that allows nutrition to be consumed through a flexible tube inserted into the stomach.
"I'm a social person and a lot of socializing is done around a table with good food," Fox said. "All I could do was sit there and watch, feeling demoralized by not being able to share in the meal."
Additionally, his weight was dropping, and he was enduring severe lung infections. The toxicity from the radiation treatment also had damaged his vocal cords, tongue and his upper respiratory system.
"Treatments to cure cancer have come a long way," Fox said. "What has fallen behind are treatments for the side effects caused by eliminating the cancer."
Fox didn't give up seeking relief. Finally, a doctor at MD Anderson Cancer Center in Houston said, "There is a doctor at UC Davis who might be able to help you."
Restoring quality of life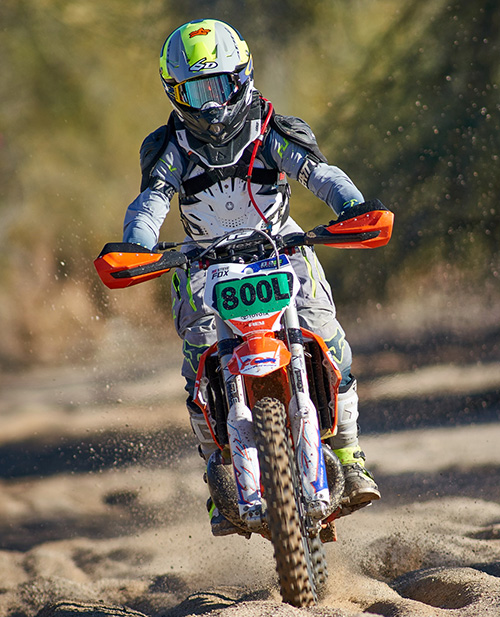 Fox immediately contacted UC Davis head and neck surgeon Peter Belafsky, a professor in the Department of Otolaryngology and chair of the Division of Laryngology, seeking the help no other doctor was able to provide. Belafsky, director of the UC Davis Health Center for Voice and Swallowing, quickly became a hero to Fox.
"I feel so fortunate to have learned about Dr. Belafsky," said Fox. "He is the most courageous doctor I know and has given me back my quality of life."
Through a series of procedures, Belafsky repaired Fox's badly damaged esophagus, throat, vocal cords and tongue. The outcome restored Fox's ability to swallow and speak, but Belafsky is careful to note that the results will not last forever. "Due to its cumulative effect, radiation toxicity cannot be cured," he said.
Although Fox still requires a modified feeding tube with a much smaller profile to consume liquids, he is eating and swallowing food again, thanks to Belafsky and his team. His body gained strength and he resumed what he never thought he would be able to enjoy again — motorcycle racing. In fact, Fox finished first in his age group in the Gasit Off-Road Racing, New Mexico Championship Series in 2021.
"I'm back to doing what I love. Dr. Belafsky is truly an innovator and a compassionate human being," Fox said.
Bringing hope to cancer survivors
Belafsky regards hope as his primary passion, observing that without hope, the quest for leading-edge treatments for profound swallowing disorders is a lost cause.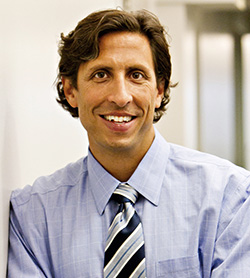 "Traditionally, the medical community has given up on head and neck cancer survivors, including tongue cancer survivors. They are told, 'you're cured, deal with it,'" Belafsky said. "I felt called to do something. These are people who are desperately trying to hold on to their dignity and lead full lives."
Inspired by his patients and their families who struggled to cope with the aftermath of head and neck cancer treatment, Belafsky has dedicated his life and his practice to giving them what they cannot give themselves. Among many of his innovations in the field, he created a medical device that can manually control the upper esophageal sphincter, which cancer treatment commonly damages. Belafsky also is working on a first-of-its kind dilator to treat upper esophageal sphincter stenosis — narrowing of the esophagus caused by radiation.
"The goal is to develop a comprehensive swallow propulsion system and make life better for those who have been 'cured' — and forgotten," Belafsky said.
Stem cell therapy
Belafsky is also pursuing the use of muscle stem cells to help with dysphagia, or swallowing difficulty. After years of promising preliminary research, Belafsky was awarded a grant in May from the California Institute for Regenerative Medicine (CIRM) to fund a phase II clinical trial testing stem cell therapy to help cancer patients heal from the devastating effects of radiation therapy (see the accompanying article).
"We like to say we are 'giving hope to the hopeless as we continue our search for a cure for the cure,'" said Belafsky, who recently held a cancer survivors' retreat for patients and their partners. "Radiation toxicity, which cures the cancer, causes devastating injuries that impact the ability of survivors, and their loved ones, to lead 'normal' lives."
Patients around the world have been seeking treatment from Belafsky. Fox describes him as the only doctor he knows who does not let the emotional toll of working closely with cancer patients prevent him from developing close, interpersonal relationships with the people he is trying to help.
"It takes passion, dedication and innovation to find solutions to the devastating challenges facing these survivors," Belafsky said. "But none of that happens without hope. We approach it as a team, and many patients want to 'pay it forward.' As we continue to enhance survival and make a difference, that hope becomes a living thing — that hope is changing the world."
One technology Belafsky has under development is the evaluation of a wearable advanced biometric device that can measure, among other things, oxygen level, heart rate and skin temperature. The goal is to detect early signs of life-threatening aspiration pneumonia, which results from inhaling food or liquids into the airway or lungs. That condition afflicts many head and neck cancer survivors, including Fox, due to the progressively worsening side effects of radiation.
"It becomes a daily battle of survival for many patients like Steve," said Belafsky. "Radiation is the gift that keeps on giving, robbing survivors over the years of their ability to swallow, speak and even breathe."
Fox is well-aware of the complications that he and other survivors still face and is determined to be part of the effort to forge new breakthroughs. He and his wife, Nancy, recently donated $1.1 million directly to Belafsky's research, and they encourage others to join in the transformative research underway — the cutting edge of hope.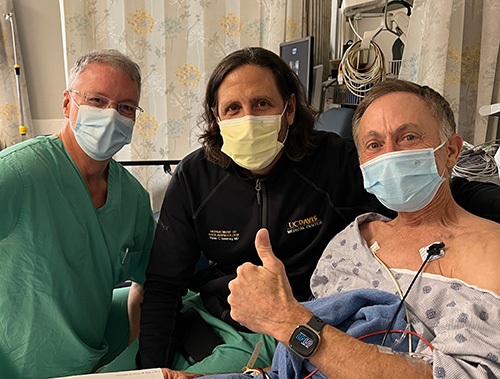 "The university has created an environment for the Peter Belafskys of the world to flourish. We just need to join in this team effort," Fox said.
With 250 employees and an expansive chain of car dealerships, Fox said he knows something about successful entrepreneurship. "Everyone is important on the team, and that includes those who invest in what they believe. This is only the beginning and with the right financial support, all barriers will be removed, and we'll be able to 'find a cure for the cure' because beating cancer also means surviving it in order to live life to its fullest," Fox said.
To contribute to the fund to advance hope for head and neck cancer survivors, go to: give.ucdavis.edu/MOTO/PBVOICE