Canine cancer patient joins clinical trial
Breath Test: Dogs in clinical trial inhale immunotherapy agent to fight cancer.
The study participants included 21 pet dogs of various breeds that had metastatic lung disease resulting from osteosarcoma or melanoma. Although previously recognized for immunotherapy properties, IL-15 has undergone few human clinical trials because of toxicity risks associated with concentrated doses.
"No one previously had administered IL-15 as an inhalational treatment in dogs to deliver it directly to the site of the cancer. We came up with that idea as a means of reducing exposure to the rest of the body, in order to improve the benefit-risk ratio, to improve the immune stimulating effects, and to reduce toxicity," Canter explained. "In this study, we used interleukin-15 to reinvigorate the immune system to make it recognize the cancer cells that had evaded the immune system and eliminate them." Scientists from UC Davis and other institutions believe a new approach may be at hand to trigger responses from the body's defense mechanisms: T-cells and natural killer (NK) cells. A protein that the body naturally produces could become an important new immunotherapy tool to destroy cancer.
In a first-of-its-kind Phase 1 clinical trial, a team of 24 researchers from multiple disciplines demonstrated that amplified concentrations of the protein interleukin-15 (IL-15) can stimulate immune system defenses against some cancers in dogs. IL-15 is one of several types of cytokines — substances that have signaling and regulating functions in immune system activity.
UC Davis Comprehensive Cancer Center surgical oncologist Robert J. Canter and veterinary oncologist Robert B. Rebhun, associate director of the cancer program in the UC Davis Veterinary Medicine Center for Companion Animal Health, were corresponding authors for the study.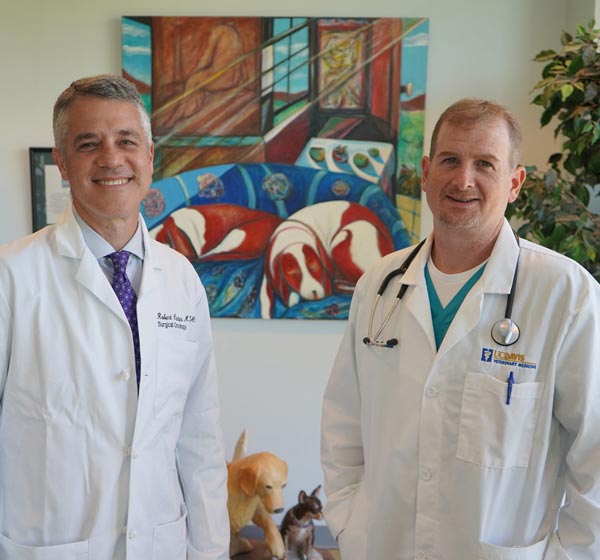 "We are strong advocates of clinical trials in dogs, especially for immunotherapy, as a way to speed bench-to-bedside translation," said Canter, a professor of surgery in the UC Davis Division of Surgical Oncology. "Mouse models have limitations, especially for immunotherapy, which is the new frontier of cancer treatment. In contrast, the cancers that afflict dogs, including sarcomas, brain tumors, lymphoma and melanoma, are incredibly similar to cancers that humans develop."
Osteosarcoma and melanoma that develop elsewhere in the body commonly spread to the lung, in dogs as well as humans.
The researchers' study, titled "Inhaled Recombinant Human IL-15 in Dogs with Naturally Occurring Pulmonary Metastases from Osteosarcoma or Melanoma: A Phase 1 Study of Clinical Activity and Correlates of Response," was published in the Journal for ImmunoTherapy of Cancer.
In the study, dogs inhaled a mist containing IL-15 twice daily. Doses were increased over time, to help determine not only effectiveness, but also tolerable levels and the ceilings above which toxicity would result. Dogs exhibited significant responses within 14 days after they began inhaling the IL-15 mist.
Tumors shrank dramatically in two dogs in the study, including one that went into complete remission for more than a year. Cancer that had been growing rapidly in five other dogs stabilized for several months. "Our overall response rate, the clinical benefit rate, was close to 40%," Canter said.
For that and other reasons, additional studies are needed, noted Rebhun, a professor in the UC Davis School of Veterinary Medicine's Department of Surgical and Radiological Sciences.
"The inhaled IL-15 responses that we've seen in dogs are better than prior human studies, but clinical benefit is seen in less than half of the dogs. Using IL-15 in people has led to potentially favorable immune responses but has not yielded good tumor responses. This indicates that combining IL-15 with other immunotherapies may result in additive or synergistic responses," said Rebhun, who holds the Maxine Adler Endowed Chair in Oncology.
In his view, the study yielded two significant findings: the therapy was well tolerated, and even a short two-week course of inhaled IL-15 could lead to sustained suppression of advanced and diffuse metastatic cancer. Both he and Canter noted that in eventual clinical application, IL-15 likely would be used not as a standalone therapy, but as a reinforcement in combination with other treatments.
"All of the canine patients in this study had advanced metastatic cancer, and the majority already had received prior chemotherapy, radiation therapy and, in some cases, immunotherapy. Studies are ongoing now to see whether we can predict which patients might respond to this therapy based on properties of the tumor or the patient's immune status," Rebhun said.
"This may help us identify patients that might respond to this therapy, as well as help us understand how to potentially combine other immunotherapies to improve response rates. We are grateful to the extremely dedicated clients who sought any and all possible care for their pets, elected to enroll them in this study, and even delivered the inhaled IL-15 to their dogs at home — in hopes that it could benefit their dog, other dogs, or possibly even people with advanced metastatic cancer," said Rebhun.
---
Meet Tyson
It takes a certain type of dog to weather cancer treatment with a smile, but Tyson isn't just any dog. Part English mastiff, part pit bull, he has a huge smile and falls in love with everyone he meets.
As a participant in the IL-15 clinical trial at the UC Davis Veterinary Medicine Center for Companion Animal Health — a comparative oncology study conducted in collaboration with UC Davis Comprehensive Cancer Center — Tyson has been meeting a lot of people. Among them are veterinary oncologist Robert Rebhun and oncology veterinary technician Jacque Young.
"All you have to do is say, 'Where's Jacque?' and Tyson goes crazy with excitement," said his owner, Brianna Fizulic.
Tyson's life had tough beginnings. Born at the Sacramento SPCA, he seems to take defying the odds in stride. Diagnosed in 2020 with osteosarcoma, or bone cancer, the nearly 90-pound Tyson had to undergo a leg amputation. A week later, he was hopping around, wagging his tail and playing with his "little sister," 6-year-old Sophia. "He is my daughter's playmate and constant companion," remarked Fizulic.
Unfortunately, the outlook wasn't good for Tyson. Even with the leg removed, he was likely to live only a month or two.
"I was devastated at the news," said Fizulic, a single mom who said she didn't know how she would pay for further cancer treatment but didn't want to let the dog she calls "my boy" down. "He has helped get me through so many of life's milestones," she said.
"That's when UC Davis suggested that I consider enrolling Tyson in a new clinical trial to test an inhaled immunotherapy using a treatment that might someday be used with humans," Fizulic said.
All of Tyson's expenses were covered in the trial, including conventional chemotherapy, scans and exams. A year later, Tyson can hardly contain his zest for life and his enthusiasm for follow-up visits.
"Not only is he thriving a year after initially being given no hope, it feels so good knowing that Tyson is also contributing to cancer research to save the lives of not just pets, but people, too," Fizulic added.
Tyson, born to a stray, was adopted into a loving home and is now on a special mission.