About Center for Valley Fever
Mission of the California Center for Valley Fever:
The mission of the UC Davis Center for Valley Fever is to innovate and advance the diagnosis and therapy of coccidioidomycosis and to expand educational outreach to all.

Coccidioidomycosis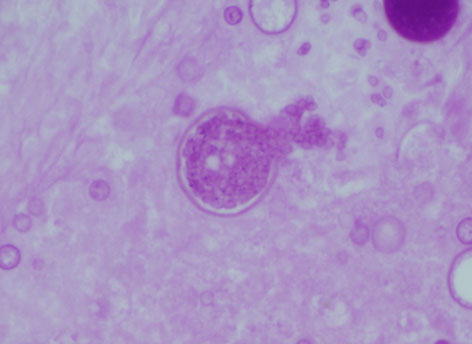 Coccidioidomycosis is an endemic mycosis caused by Coccidioides species (C. immitis or C. posadasii), a dimorphic fungus present in the soil of the southwestern United States, Mexico, and some Central and South American countries. Infection most commonly occurs following inhalation of airborne arthroconidia (spores) from disturbed soil, though serious infections can result from puncture wounds and organ transplantation from infected donors. Chronic infection occurs in a minority of affected patients. Disseminated disease, a life-threatening complication of coccidioidomycosis, occurs in less than 1% of cases in the general population, but at a significantly higher rate among underprivileged and immunocompromised populations including Filipinos, African Americans, pregnant women, patients taking TNF-alpha inhibitors, and other immunosuppressive medications. Some have estimated the annual number of new cases of coccidioidomycosis in the U.S. exceeds 350,000, with many going undiagnosed. Arizona has the highest incidence of newly reported cases with roughly 10,000 cases per year, while in California has had between 2,500 and 5,500 newly reported cases per year over the last decade. However, incidence in California is increasing dramatically, with over 5,372 reported cases in 2016, the highest number of new California cases ever recorded in a single year.
Coccidioidomycosis can be diagnosed by histology, culture, serology, or antigen detection but serology remains the most accurate diagnostic test. The UC Davis Coccidioidomycosis Serology Laboratory remains the gold standard for serologic diagnosis of coccidioidomycosis and continues to research, develop, and streamline more accurate and rapid diagnostics for primary infection, latent infection, and risk stratification for dissemination and reactivation. The serology lab has a heavy clinical mission with substantial outreach and benefit to the state.

Administration of the Center
The UC Davis Center was founded in 2016 following a monetary patient gift to facilitate the establishment of a multi-disciplinary effort to improve research, clinical care, and outreach for coccidioidomycosis. The center is directed by the co-directors: Stuart Cohen, M.D., George Thompson, M.D., and Satya Dandekar, Ph.D., and administered by Bradley Pollock, Ph.D., and Demosthenes Pappagianis, M.D., Ph.D.