Coccidioidomycosis Serology Laboratory
Services for Suspected or Established Cases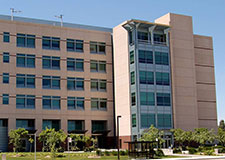 The coccidioidomycosis serology laboratory in the UC Davis Department of Medical Microbiology and Immunology provides serodiagnostic and consultative services for suspected or established cases of coccidioidomycosis, commonly referred to as valley fever or San Joaquin fever.
Serum and other body fluids (cerebrospinal, pleural, joint, peritoneal) can be submitted.
Click the links below for descriptions of the tests offered, interpretations of results and information on the submission of specimens.
Human Cases:
Veterinary Cases:
New (08/2016):

Web-based test results now available on our website:


Federal CLIA#: 05D0644125 (PDF)
California Lab ID#: CLF 00002768 (PDF)

Contact Us
Please direct questions or add-on requests to coccy@ucdavis.edu or FAX 530-752-6813 or Phone 530-752-1757.

Laboratory Director

Clinical Consultant

For Billing or Administrative Services
Kathryn Blaisdell, CAO
530-754-5313