Clinical research program — current studies
Contributing to the science of vascular disease
The UC Davis Vascular Center clinical research program is dedicated to contributing to the science of vascular disease through clinical trials. The center's research program is comprehensive and specifically designed to find better, safer ways to treat patients with peripheral arterial disease, also known as PAD. Offering national and innovative clinical trials is one of the many ways that UC Davis helps advance medicine worldwide.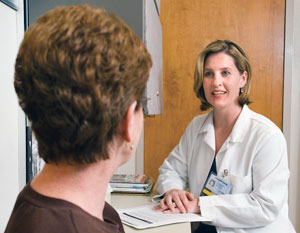 Here are current and upcoming studies focusing on investigational therapies and devices:
Aortic disease and injury
Ovation Study
A pivotal clinical study to evaluate the safety and effectiveness of the Ovation Abdominal Stent Graft System.
Carotid artery disease
SAPPHIRE WW Study
Carotid artery stent registry with the Cordis PRECISE Nitinol Stent System and the Cordis Angioguard XP Emboli Capture Guidewire.
New treatments and novel technologies for arterial disease
MarrowStim Study
Use of the MarrowStim PAD Kit for treating critical limb ischemia in subjects with severe peripheral arterial disease.
FMD Registry
The aim of the fibromuscular dysplasia (FMD) registry is to document important medical details of patients with FMD in order to help understand more about FMD. We believe this information will help improve the treatment of patients with FMD in the future. For more information on FMD visit the Fibromuscular Dysplasia Society of America website: http://fmdsa.prod.cgalvin.com.
For more information
Information about current research studies is available online or by contacting the UC Davis Vascular Center clinical research coordinator, at 916-734-4156. See also general information about UC Davis Health clinical trials.