It was two weeks after Thanksgiving and 17-year-old Joshuah Sanchez had just come home from high school wrestling practice in Galt. He was winding down for the evening when he began to feel dizzy. He assumed it was the beginning of another epileptic seizure, like the ones he'd had before, but seconds later he felt the worst headache of his life.
"That's when I knew something was off, and so I called to my mom to call 9-1-1," Sanchez recalls. "After that it was all kind of a blur, but I remember being transported to a hospital."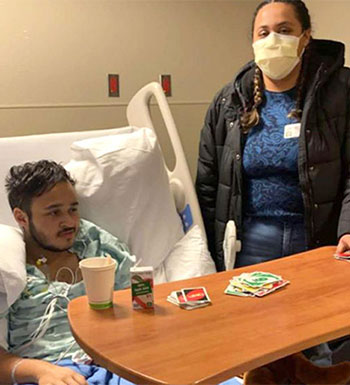 Paramedics administered morphine for the headache with no results. Upon arrival at Lodi Memorial Hospital, the attending physician suspected something abnormal and ordered a CT scan.
The scan confirmed bad news: Sanchez had experienced a subarachnoid hemorrhage. That means there is bleeding due to a ruptured brain aneurysm, specifically in a fluid-filled space between the brain and the skull.
He was quickly transferred to UC Davis Medical Center, a destination hospital for stroke patients from 33 counties.