When Mathew Hipwell's 3-year-old son, Everett, caught RSV (respiratory syncytial virus) — a common respiratory virus that can be dangerous for some infants and young children — in October of 2021, Hipwell urged him to steer clear of baby sister, Ellie. As a pediatric nurse at UC Davis Children's Surgery Center, Hipwell knew his daughter was especially susceptible. Soon she was coughing, too.
Since it happened to be time for Ellie's 2-month-old checkup, her mom, Bethany, took her to the UC Davis Health pediatrics clinic in Roseville. The staff determined Ellie had RSV, was too sick to get her immunizations and gave her a breathing treatment instead. Soon, she was on her way to UC Davis Children's Hospital.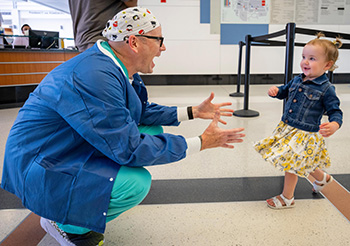 "The next thing I knew, my wife was calling me from the back of an ambulance," Mathew Hipwell said. "I figured they would treat her for a few days, and we'd be good."
That wasn't the case.
When Ellie arrived at the UC Davis Pediatric Emergency Department, doctors heard a heart murmur. A chest X-ray later revealed she had an enlarged heart. Hipwell knew something else was going on. Ellie was immediately admitted to UC Davis Children's Hospital.
When the team performed an echocardiogram the next morning, the Hipwell's got an unexpected and frightening diagnosis: ALCAPA.
"The room started filling with people and I was wondering what was going on," Bethany Hipwell said. "I was looking at Mathew to gauge his reaction. He was trying not to freak me out."