New surgical technique for appendicostomy
The risk of stoma stenosis complications after surgery can be significantly lowered by a new surgical procedure, according to a new UC Davis Health study published in The Journal of Urology. The study led by Eric Kurzrock, chief of pediatric urologic surgery, found that making an opening in the appendix away from the tip and securing it to the fascia above the belly button, preserved blood vessels and blood supply to the stoma. The new technique reduced complications and prevented tension on the stoma during the healing phase.
---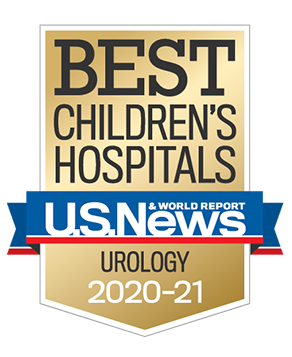 Nationally ranked
U.S. News & World Report consistently ranks the pediatric urology program at UC Davis Children's Hospital among the best in the nation. In the 2020–2021 Best Children's Hospital survey, our program ranked 36th nationally, in collaboration with Shriners Hospitals for Children – Northern California, our longstanding partner in caring for children with urological issues.
---
Urologic device assists in bladder function loss
In addition to serving a busy surgical practice, our clinicians are also evaluating quality of-life issues, outcomes data and new technologies to improve treatments for children.
Eric Kurzrock, chief of pediatric urologic surgery, and UC Davis medical and engineering experts received a grant from the National Science Foundation to continue developing and testing an under-clothing biosensor that can recognize when patients with spinal cord injuries have full bladders. Using ultrasound, resonance sensing and light, the device tracks and analyzes how much light bounces back signaling that the bladder is either full or empty. The team is continuing to refine the prototype and undertake new studies on patients with and without spinal cord injuries or anomalies.