Paul Ashwood, Ph.D.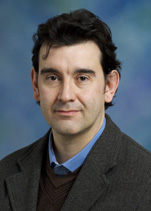 Professor
M.I.N.D. Institute
2805 Wet Lab Building
Sacramento Campus
916-703-0405
e-mail
Fifteen years ago autism was considered a rare condition and was rarely diagnosed before the age of 3 years. However, the last decade has seen a dramatic rise in the number of children diagnosed with autism. The etiology of autism is unknown in the majority of cases and most likely involves a complex interplay of both genetic and environmental factors. Among these factors, differences in immune genetics and immune function have consistently been reported in autism. Dr Ashwood's laboratory has developed a primary focus on understanding the immunological underpinnings of neurodevelopmental disorders such as autism, Fragile X syndrome, Tourette's syndrome, schizophrenia and mood disorders.
Much of his current work is directed at characterizing the role of the immune system in autism and attempting to unravel the highly complex interconnections between the immune and central nervous systems. Ashwood is interested in exploring whether the health of one system is integral to the healthy development of the other. Ashwood's original research in his native England involved identification of a new variant of inflammatory bowel disease found in some cases of autism.