Janine LaSalle, Ph.D.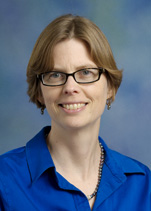 Professor
Tupper Hall
Room 3428
Davis Campus
530-754-7598
e-mail
Our laboratory is interested in the role of epigenetics in human autism-spectrum disorders. Epigenetics is the study of heritable changes in chromosomes that are not encoded in the DNA sequence, including DNA methylation and chromatin organization. The clinical applications of our research include understanding the pathogenesis of the neurodevelopmental disorders autism, Rett syndrome, Prader-Willi syndrome, Angelman syndrome, and Dup15q syndrome. We are also interested in identifying epigenetic biomarkers at the interface of genetic and environmental risk factors in autism-spectrum disorders using tissues accessible from birth, such as placenta and cord blood.
For more information, visit the LaSalle Laboratory website.