Sungjin Kim, Ph.D.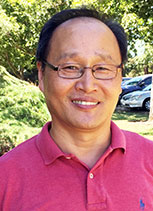 Associate Professor
Center for Immunology and Infectious Diseases
Davis Campus
530-752-5716
e-mail
Innate immune responses to viral infection and malignancy, Development and function of natural killer cells in humans and animal models, Non-human primate model of viral infection.
Kim KH, Yu HT, Hwang I, Park S, Park SH, Kim S, Shin EC. Phenotypic and Functional Analysis of Human NK Cell Subpopulations According to the Expression of FcεRIγ and NKG2C. Front Immunol. 2019;10:2865. doi: 10.3389/fimmu.2019.02865. eCollection 2019. PubMed PMID: 31867015; PubMed Central PMCID: PMC6908468.
Oh JS, Ali AK, Kim S, Corsi DJ, Cooper CL, Lee SH. NK cells lacking FcεRIγ are associated with reduced liver damage in chronic hepatitis C virus infection. Eur J Immunol. 2016 Apr;46(4):1020-9. doi: 10.1002/eji.201546009. Epub 2016 Jan 18. PubMed PMID: 26712042.
Epigenetic modification and antibody-dependent expansion of memory-like NK cells in human cytomegalovirus-infected individuals (2015) Lee J, Zhang T, Hwang I, Kim A, Nitschke L, Kim M, Scott JM, Kamimura Y, Lanier LL, Kim S. Immunity. 42(3):431-442.
Beli E, Duriancik DM, Clinthorne JF, Lee T, Kim S, Gardner EM. (2014) Natural killer cell development and maturation in aged mice. Mech Ageing Dev. 135:33-40.
Zhang T, Scott JM, Hwang I, Kim S. (2013) Antibody-dependent memory-like NK cells distinguished by FcRg-deficiency. J Immunol: Cutting Edge. 190(4):1402-1406.
Hwang I, Zhang T, Scott JM, Kim AR, Lee T, Kakarla T, Kim A, Sunwoo JB, Kim S. (2012) Identification of human NK cells that are deficient for signaling adaptor FcRg and specialized for antibody-dependent immune functions. Int Immunol. 24:793-802.
Hwang, I, Scott, JM, Kakarla, T, Duriancik, DM, Choi, S, Cho, C, Lee, T, Park, H, French, AR, Beli, E, Gardner, E, Kim S. (2012) Activation mechanisms of natural killer cells during influenza virus infection. PLoS One. 2012;7(12):e51858.
Beli E, Clinthorne JF, Duriancik DM, Hwang I, Kim S, Gardner EM. (2011) Natural killer cell function is altered during the primary response of aged mice to influenza infection. Mech Ageing Dev. 2011 Oct;132(10):503-510.
Jonsson AH, Yang L, Kim S, Taffner SM, Yokoyama WM. (2010) Effects of MHC class I alleles on licensing of Ly49A+ NK cells. J Immunol. 184(7):3424-3432.
Kim S, Sunwoo JB, Yang L, Choi T, Song YJ, French AR, Vlahiotis A, Piccirillo JF, Cella M, Colonna M, Mohanakumar T, Hsu KC, Dupont B, Yokoyama WM. (2008) HLA alleles determine differences in human natural killer cell responsiveness and potency. Proc Natl Acad Sci U S A. 105(8):3053-3058.
Kim S, Poursine-Laurent J, Truscott SM, Lybarger L, Song YJ, Yang L, French AR, Sunwoo JB, Lemieux S, Hansen TH, Yokoyama WM. (2005) Licensing of natural killer cells by host MHC class I. Nature. 436:709-713
Kim S, Iizuka K, Kang HS, Dokun A, French AR, Greco S, Yokoyama WM. (2002) In vivo developmental stages in murine natural killer cell maturation. Nature Immunol. 3(6):523-528.
Dokun AO*, Kim S*, Smith HR, Kang HS, Chu DT, Yokoyama WM. (2001) Specific and nonspecific NK cell activation during virus infection. Nature Immunol. 2(10):951-956.
Kim S, Iizuka K, Aguila HL, Weissman IL, Yokoyama WM. (2000) In vivo natural killer cell activities revealed by natural killer cell-deficient mice. Proc Natl Acad Sci U S A. 97(6):2731-2736.