Shared Equipment and Resources
The Host Microbe Systems Biology Core facility oversees the use and maintenance of a number of shared equipment resources for the School of Medicine. This equipment is available to all School of Medicine faculty and their affiliates and there are no fees for equipment use. Interested users must provide their own reagents and must be trained on proper use of the equipment by HMSB Core personnel.
Applied Biosystems Viia7 Real-Time PCR System
The Viia 7 System is ABI's 7th generation real-time PCR system. The system has both 96 and 384-well formats to allow maximum flexibility to our users. Front access makes it simple to change between cycling block formats and the systems touch screen provides one-touch protocols for fast and easy run starts.
Hundreds of customizable and predefined TaqMan Array Micro Fluidic cards are available containing preloaded assays in an easy to use format. Users can analyze 1-8 samples in parallel using your choice of 12-384 TaqMan assays.
Arcturus XT Laser Capture Microdissection System
Laser capture microdissection allows researchers to isolate specific cells of interest from cells or tissues of a given organism. RNA, DNA, and proteins can be isolated from the captured cells for use in a wide range of downstream assays such as gene expression, Real-time PCR, LOH (loss of heterozygosity) studies, Western blotting, and 2D gel analysis.
Leica CM1950 Cryostat
The Leica CM1950 Cryostat houses a fully motorized microtome within a climate controlled cabinet, supporting a broad range of options for sectioning of samples. The CryoZone™ system ensures that a zone of uniformly cold air flows continuously over critical areas of the cryochamber. The cold air flows directly from the evaporator onto the blade/knife holder and anti-roll guide, maintaining the selected temperature and improving section quality.
The disposable blade holder with dovetail mounting plate and knife holder base provides a larger clamping surface and working distance and supports reproducible section quality. The dual purpose vacuum system stretches the sections as they are being cut and removes waste material through a concealed filter system. This minimizes the risk of contamination and makes sectioning easier. UVC disinfection further minimizes the risk of contamination by infectious material.
Leica RM2255 Microtome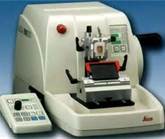 Designed for fully motorized sectioning of both paraffin- and resin-embedded specimens, the Leica RM2255 supports a broad spectrum of applications. Consistent sectioning speed and force of the fully-automated cutting motor supports consistent, high-quality sectioning and the large 70mm vertical stroke allows sectioning of super mega cassettes.
LICOR Odyssey Infrared Imaging System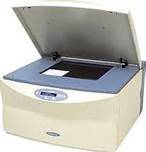 The Odyssey Infrared Imaging System from LICOR uses a fluorescence detection method commonly used in Western Blot Analysis which allows users to accurately quantitate proteins over a wider linear dynamic range than chemiluminescent detection.
Strong and weak bands are accurately detected on the same blot without the uncertainty and inconvenience of multiple exposures or time in the darkroom. The signal is stable and can be detected immediately or months later. Multiple applications have been optimized for the Odyssey System including: Quantitative Western Blot, Coomassie Gels, DNA Gel Staining, ELISA, Northern Blot, Southern Blot and many more.
Qiagen Pyromark Q24 Pyrosequencer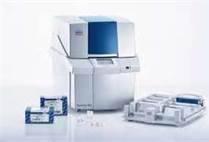 Pyrosequencing technology, which is based on the principle of sequencing by synthesis, provides quantitative data in sequence context within minutes. PyroMark Q24 is a fully integrated system that provides real-time sequence information and is highly suitable for epigenetics research and genetic analysis. The instrument enables sequence-based detection and quantification of CpG sites as well as mutations and the streamlined workflow means faster results.
Genetic Analysis comprises multiple applications to analyze differences in genomic DNA, including mutation detection and SNP typing. PyroMark Q24 facilitates accurate and highly sensitive mutational analysis of any gene of interest and enables quantification of allele representation in mixed cell populations. Pyrosequencing technology offers optimized and validated RUO tests for mutation analysis of genes such as KRAS.
Qiagen QIAcube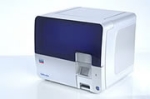 The QIAcube processes QIAGEN spin columns, enabling seamless integration of automated, low-throughput sample prep into your laboratory workflow. No change of purification chemistry is required, assuring fast startup and immediate results. All steps in the purification procedure are fully automated and up to 12 samples can be processed per run.
The system allows purification of DNA, RNA, or proteins from a variety of sources including tissue, cells, and pcr products. Many protocols are available for standard extractions and customizable protocols can be designed to meet user specific needs.