UC Davis Host Microbe Interaction Annual Retreat
The annual UC Davis Research Retreat on Host Microbe Interaction brings together the community of UC Davis researchers interested in any aspect of the interaction of microbes with vertebrate, invertebrate or plant hosts to foster multidisciplinary work, exchanges and collaborations. The scientific program includes oral presentations from faculty, students and postdocs. The venue for this event is the Granlibakken Conference Center & Lodge, Tahoe City, Ca., which is just minutes away from spectacular Lake Tahoe. An overnight stay at this setting ensures ample opportunity for interaction between faculty, postdocs and students during their joint meals and at the evening poster session. The next conference will be scheduled for Fall 2023.
Registration: For registration information, contact Karryn Doyle at kddoyle@ucdavis.edu
5th HMI T-Shirt Logo Design Contest:
The 2018 contest yielded another year of creative designs. Congratulations to Jordan Rixon and Katti Horng for their winning logo designs! Thank you to all who participated in this fun event!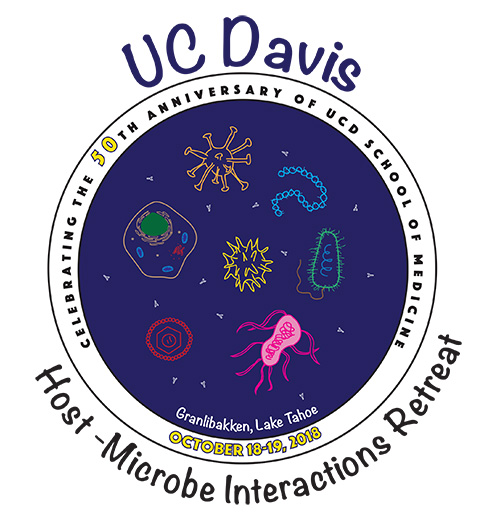 Host-Microbe Research at UC Davis
UC Davis is host to a diverse community of investigators involved in research on microbial pathogenesis, infectious diseases and immunity to infection. The presence of the School of Medicine, the School of Veterinary Medicine, the College of Agricultural and Environmental Sciences, the College of Biological Sciences and the California National Primate Research Center makes the UC Davis campus a vibrant environment for research on host microbe interaction, which is unmatched in the State of California.
Faculty Researching host-microbe interactions at UC Davis »
Host-Microbe Systems Biology Core
The Microarray Core Facility has expanded its services and changed names to the Host-Microbe Systems Biology Core Facility. In addition to gene expression profiling the core will offer library construction, next-generation sequencing and data analysis of microbial genomes.