Newsroom
Division of Pain Medicine celebrates 20 years
Division has big changes, big ideas
A recent celebratory dinner commemorating the 20th anniversary of the UC Davis Division of Pain Medicine also helped mark the official transition in leadership for the division. After two decades as the division's founding chief, Scott Fishman handed over the reins to David Copenhaver.
Fishman, who was recruited by the now-retired chair of the UC Davis Dept. of Anesthesiology and Pain Medicine, Peter Moore, came to Sacramento in 1999. He helped build the division from the ground up, and recalled seeing the Ellison Ambulatory Care Center building and its clinic space before the drywall was even installed. He also noted that UC Davis Health may have had the first formal division of pain medicine of any academic center in the country.
"As I look at where we were when this division began and where we are now, I feel a great deal of gratitude for the opportunities we have had over the past two decades," said Fishman in remarks that also credited the early work at UC Davis of Drs. John Eisele and Steven Richeimer, and others.

He noted how the program achieved international recognition for excellence in clinical care, education and advocacy, as a result of immense efforts by the dedicated and talented group of faculty and staff within the pain medicine division.
Fishman is continuing his clinical work as well as focusing on his other role as director of the Center for Advancing Pain Relief (one of UC Davis' Big Ideas). He added that he is grateful to have been able to pursue a new field that didn't exist much before the division began, and thankful for colleagues who collaborated to ensure its success.
"UC Davis Health and the School of Medicine," said Fishman, "took a big chance more than 20 years ago on committing to a nontraditional [pain medicine] model that challenged the norms of the day. Today, most programs are more and more like ours."
Copenhaver echoed Fishman's remarks about the division's excellence, and added that pain medicine can be a bridge to whole-person care, with a focus on being more proactive rather than reactive to patient needs.
Pain medicine will lead the charge to various novel wellness and self-care strategies for our patients, acting as a paradigm shift in how we deliver medical care," Copenhaver said. "We will continue to build on and develop new collaborative efforts across the health system and community…[where] we are already shepherding the thoughtful use of cutting-edge therapies, from peripheral nerve neuromodulation to regenerative therapies and much more."
Copenhaver added that the division is building partnerships with Silicon Valley firms and others that could engineer more effective and efficient clinical care for larger numbers of patients. At the same time, the division is also poised to develop the first clinical algorithms for many typical pain diagnoses.
So the next 20 years in the Division of Pain Medicine should be equally productive, and beneficial for patient care!

UC Davis' Pain Medicine Fellowship Program has been recognized by the American Academy of Pain Medicine for excellence in clinical care, training and research opportunities. The program is one of just four in the country to have earned a 2016 Pain Medicine Fellowship Excellence Award from the academy.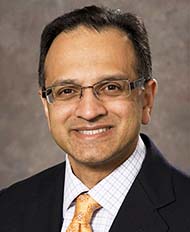 "This is an important honor because it reflects our longstanding commitment to training the next generation of pain management specialists," said Scott Fishman, chief of the Division of Pain Medicine in the Department of Anesthesiology and Pain Medicine. "We have a tradition of providing fellows in training with the broadest experience in pain medicine, including appropriate applications of traditional and novel analgesics and state-of-the-art interventional procedures. Our program directors, Charles Demesa (incoming) and Naileshni Singh (outgoing), as well as our fully committed pain faculty deserve a lot of credit in achieving this national recognition."
In addition to the program award, the academy has honored Gagan Mahajan, medical director of the UC Davis Center for Pain Medicine, with its 2016 Presidential Excellence Award for Education. Mahajan, who directed the Pain Fellowship for 13 years and guided it to national prominence, earned the award for what the academy said were major contributions to the field pain medicine education, including his leadership role in advancing national educational programs, continuing medical education courses, as well as pain medicine presentations at major conferences.
"This award formally recognizes Dr. Mahajan for something those of us here in the Division of Pain Medicine already knew," said Fishman, "that he is formidable leader in education, with a long track record of helping advance the next generation of pain specialists. Dr. Mahajan truly embodies our core mission of linking excellent education with quality clinical services."
UC Davis' Center for Pain Medicine is an advanced center for the evaluation and treatment of all forms of pain. The fellowship program was established to help future leaders in pain medicine by enabling them to advance their careers through leading-edge knowledge and skills development. Fellows engage in a stimulating environment where excellent patient care is emphasized as they work side-by-side with the attending faculty in managing patients in pain. The program was one of the first to adopt a multidisciplinary and interprofessional identity.
"At UC Davis, our pain medicine specialists are part of a diverse workforce in multidisciplinary pain management," added Fishman. "Fellows and faculty clinicians represent many specialties and professions, including anesthesiology, physical medicine and rehabilitation, neurology, internal medicine, psychiatry, psychology, acupuncture, pharmacy, nursing, social work and other fields."
Fishman noted that the clinical experiences offered at UC Davis are exceptionally varied, with patient populations ranging from adults and children, inpatients and outpatients, to individuals with acute to chronic pain, as well as patients suffering from cancer or pain at the end of life.
The UC Davis Center for Pain Medicine was recently designated as a Center of Excellence by the American Pain Society, the highest honor possible for a pain management program. The Pain Medicine Fellowship Program and Dr. Mahajan will formally receive their awards at the academy's 31st Annual Meeting this month in Palm Springs.
Pain Medicine first to enroll in the new Cures 2.0 prescription monitoring system - a historic step for our state. On 8/12/15, the California Department of Justice met with the UCD Pain Center to both give an overview of the system and to enroll faculty.
The Controlled Substance Utilization Review and Evaluation System (CURES) is a database containing information on Schedule II through IV controlled substances dispensed in California. It is a valuable investigative, preventive, and educational tool for the healthcare community, regulatory boards, and law enforcement. Click here to read more about the program on the DOJ website.
Read how Dr. Copenhaver and the UCD Pain Center is helping cancer patients manage pain. Click here for story.
Fishman gives keynote at Federation of State Medical Boards meeting
May 1, 2012 — Scott Fishman, chief of the Division of Pain Medicine and professor of anesthesiology at UC Davis Health System, was the keynote speaker at the annual meeting of the Federation of State Medical Boards (FSMB) on Saturday, April 28, in Fort Worth, Texas.
UC Davis experts to host discussion on chronic pain and the promise of stem cell therapies
February 2, 2012 — Experts from UC Davis Health System will share the latest research about regenerative medicine, with a focus on chronic pain and the promise of stem cell therapies, during a community forum on the university's Sacramento campus.
UC Davis Health System response to ProPublica article on Fishman ties with pharmaceutical industry
January 17, 2012 — UC Davis Health System responds to an inaccurate and misleading representation of Scott Fishman, professor and chief of the Division of Anesthesiology and Pain Medicine, in a recent ProPublica news story.
UC Davis to test stem cell therapy to regenerate lumbar discs
November 29, 2011 — Researchers at UC Davis Health System will be part of a nationwide study to examine whether one single injection of adult stem cells directly into diseased lumbar discs can repair and regenerate them, relieve chronic low-back pain and possibly avert spine surgery.
UC Davis receives grant to develop pain management curriculum
July 14, 2011 — An interprofessional team of UC Davis Health System faculty was recently awarded a $290,000 grant from the Mayday Fund to research and develop an innovative pain-management curriculum for both nursing and medical students as well as current practitioners.
UC Davis Medical Center ranks among top 50 U.S. hospitals, first in Sacramento area
July 19, 2011 — UC Davis Medical Center ranks among the top 50 hospitals in the nation in cancer and orthopaedics and number one in the Sacramento region with nine high-performing specialty areas, according to the results of U.S. News & World Report's 2011-2012 best hospitals survey, published online today. In addition, Scott Fishman is named among the 26 UC Davis physicians on U.S. News' Top Doctors list.
UC Davis Pain Medicine Program recognized with national Clinical Centers of Excellence Award
April 12, 2010 — UC Davis Health System's Division of Pain Medicine has been designated as a Clinical Center of Excellence by the American Pain Society.
Fishman receives distinguished service award from American Academy of Pain Medicine
February 12, 2010 — Scott Fishman, professor and chief of the UC Davis Division of Pain Medicine, has received the Distinguished Service Award from the American Academy of Pain Medicine.
UC Davis research confirms need for new statewide tracking system to combat prescription drug abuse
September 18, 2009 — At a news conference this week in Los Angeles, California Attorney General Edmund G. Brown Jr. unveiled a Web-based prescription-drug database that tracks all controlled substances (Schedule II, III and IV) prescribed in the state and gives doctors and law enforcement a powerful tool to combat prescription-drug abuse. Brown was joined at the event by Scott Fishman, professor of anesthesiology and pain medicine and chief of the UC Davis Division of Pain Medicine, who led a UC Davis study that demonstrated the benefits of the new database.
Study finds few pain doctors face criminal prosecutions - New York Times ... [read more]