Most of the patients were screened at no charge in a "mammovan" that pulled into the parking lot of the Elica Health Center. Uninsured women aged 40 and older who did not have current symp toms were registered ahead of time for the free event.
"I'm so grateful to have these programs that help poor and indigent people. They make women care about themselves because others care about them," screening participant Juanita Wilson said.
To encourage women to be screened, the cancer center provided $10 gas cards to participants.
"Early detection saves lives," Julie Dang, executive director for the cancer center's Office of Community Outreach and Engagement (COE), explained. "We want to reduce barriers to mammog raphy by bringing breast cancer screening services to the community."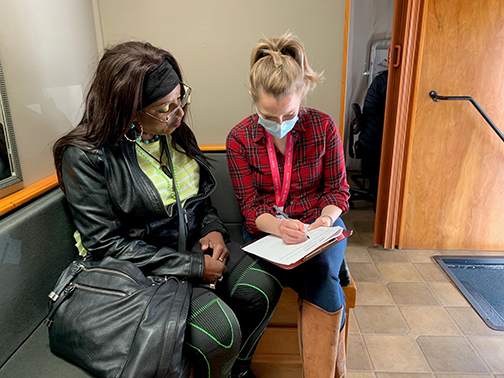 Other collaborators of the event included Elica Health Center, La Familia Counseling Center and UC Davis student run clinics: Imani Clinic and VN CARES.
"This mobile mammography event is so important, because it screens women for breast cancer who otherwise would not have the opportunity because they don't have health insurance or they cannot afford their insurance co-pay," said Laura Fejerman, co-leader of the Women's Cancer Care and Research Program (WeCARE) and associate director of the COE.
The free mammograms were offered for eligible, uninsured patients through California's Every Woman Counts program, which provides clinical breast exams, mammograms, pelvic exams and Pap tests to California's underserved populations.