A pulled muscle, growing pains, a sprain. These are what most parents think of when their child complains of a painful leg. But for Karen and Baron Colbert, hearing their son Darren say he was in pain was unusual.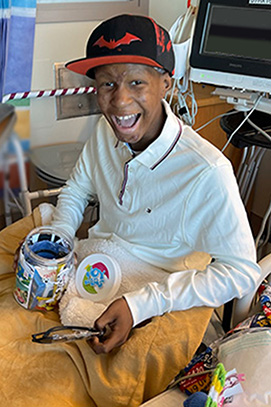 As the fourth of their nine children — all with names that rhyme with their parents' names — Darren was an active kid who loved sports, swimming, and going to the gym. It was just not like him to complain, but he told his parents his left thigh really hurt.
Karen took her son to a clinic in Michigan, where they live. It was late February 2022.
During the exam, the doctor touched Darren's leg here and there, asking if it hurt. His mom vividly recalls that when the doctor squeezed a part of Darren's leg that caused him obvious pain, the doctor spun around and asked her, "Are you in a hurry?"
X-rays revealed a growth in Darren's leg.
Preparing for the worst: Osteosarcoma
Further tests revealed that Darren had osteosarcoma, a type of sarcoma, or cancer, that begins in the cells that form bones. Most osteosarcomas occur in children, teens and young adults. Darren was 11 years old.
With chemotherapy and a bone replacement surgery, Darren could survive and thrive, the care team told them. The Colberts were thrilled. They had caught it in time. It was going to be like it never happened, they told themselves. He's going to grow up, grow tall.
When Darren started chemotherapy, the family breathed a sigh of relief. But two rounds of treatment later, Darren's tumor began to hemorrhage, or bleed. He was taken to an emergency room near their home and stabilized.
Comparing medical opinions: Amputation, or was there another option?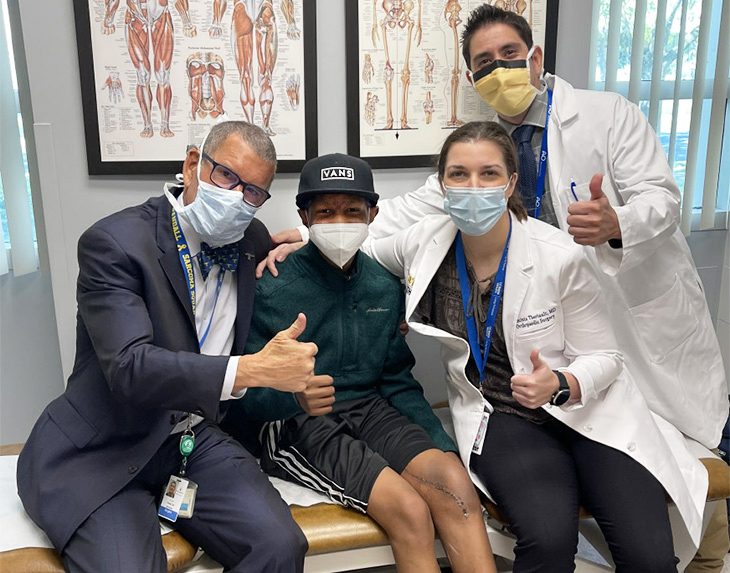 "They told us the bleeding meant Darren was no longer a candidate for a bone replacement because the hemorrhage had contaminated his leg," Baron said. "That's when the long-term prognosis changed, and they started talking about amputation."
Darren's doctors said the tumor was in an area that would require the entire left leg to be removed at the hip.
"There were so many options to begin with and then everything was taken off the table," Karen said. "We didn't want to believe that amputation was the only answer, and that was all they were offering. We wanted a second opinion."
Darren's parents sought a second opinion but got the same answer. That's when they turned to 2nd.MD, a service that connects families with board-certified, leading doctors across the country for an expert second opinion via video or phone. Through 2nd.MD, the Colbert family was introduced to R. Lor Randall at UC Davis Children's Hospital.
Caring: More than just statistics and treatment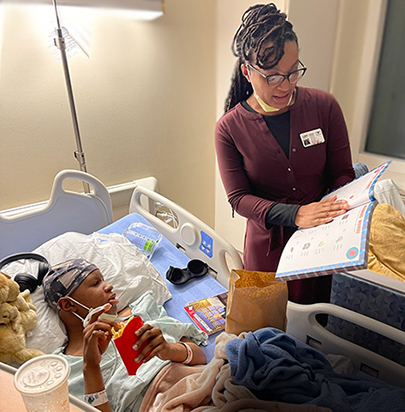 Randall is professor and chair of the UC Davis Health Department of Orthopaedic Surgery and is The David Linn Chair in Orthopaedic Surgery. He also specializes in pediatric oncology, the perfect combination of expertise for Darren's illness. Not only did Randall's training fit the bill, so did his compassion
"Dr. Randall read Darren's records and recognized what a psychological blow it would be to our 11-year-old son if he lost his leg. It was the opposite of what I expected to hear," Baron said.
"In listening and learning from Darren's parents, we started the conversation acknowledging the horror of their journey thus far and their fears for Darren's life," Randall said. "We then talked about how best to remove the cancer surgically, weighing the risk of limb salvage with amputation."
Karen added, "He was the first person who put Darren first. He didn't talk to us about stats," she said. "Dr. Randall brought the humanity back to what a family battling cancer looks like. To me, that was the most important part."
Daring to Save Life — and Limb
Now that Randall had suggested surgery was possible, the family had renewed hope. Perhaps Darren could have surgery and still keep his leg, an outcome the Colberts desperately wanted. Randall passed his notes on to Darren's care team in Michigan.
As their son's chemotherapy continued and the MRIs began to show that the tumor was shrinking, the Colberts kept in touch with Randall. Although Randall felt confident that Darren's leg could be saved, Darren's Grand Rapids care team remained convinced that amputation was the best option. They were not comfortable doing anything else.
The family flew to Sacramento for a consultation. Randall and the UC Davis Children's Hospital team discussed the risks with Karen, Baron, and Darren, and explained that the surgical team would not know whether they could save Darren's leg until they were in the operating room.
"It was the longest day of our lives," said Baron of September 14, 2022, when Darren finally had surgery at UC Davis Children's Surgery Center. "It was a delicate operation with huge risks, including the fact that the tumor was starting to close in on his femoral artery."
The femoral artery is the main blood vessel supplying blood to the lower body. It starts in the upper thigh near the groin and runs down to the back of the knee. The mass in Darren's leg was within two millimeters of the femoral artery. The surgery took 11 hours.
Declaring Victory: California Care Team Delivers
When the moment of truth arrived, Darren's parents — far away from home and their other eight children who were back in Michigan — held their collective breath.
"Dr. Randall came out and told us the surgery had gone well. Nothing was damaged and the margins were good. And then the moment of truth: he was able to save Darren's leg. It was everything we had hoped for," Baron said.
Karen added, "To any family who starts a cancer journey like this, it can be scary to feel like you need a second opinion. But you need to feel supported and have someone who will put you and your family first."