UC Davis Comprehensive Cancer Center continues to grow as a world class institution, with pioneering initiatives that are improving clinical outcomes, empowering innovative research and harnessing the latest breakthroughs.
In this issue of Synthesis, we invite you to travel the new cancer landscape as we drive the latest advances in cancer treatment — all while harnessing genomic, molecular, clinical and patient-centered data to help unlock the mystery of cancer.
Several articles in this issue examine not only genetics but epigenetics of cancer as a way to change outcomes. Based on our heritage, genetics can set us up for greater cancer risk, but how can we lessen that risk by understanding how cancer cells react to our environment? This is part of the science of epigenetics.
Learn about a prestigious National Cancer Institute (NCI) grant to advance immunotherapy in head and neck cancer. It is a first for our cancer center. You'll see why we are so proud to take the lead in creating what we hope will be a clinical trial that will revolutionize treatment for this difficult group of cancers.
A $15 million boost from the NCI will help us use artificial intelligence (AI) to make breast cancer screening more equitable and accurate. AI will never replace oncologists, but it gives us a high-tech tool for accessing medical data immediately, identifying patterns and recommending interventions.
We devote a special section of the magazine to ovarian cancer, also benefiting from AI. Brave women are facing down this disease and a new clinical trial may help head off a form of ovarian cancer that tends to run in families.
This issue also contains exciting news about the launch of our Women's Cancer Care and Research Program (or WeCARE), a new research and clinical care hub that will share scientific findings to help fight breast and gynecologic cancers.
Many stories in this issue report on an array of private and public sector grant funding now pouring into our cancer center. For instance, a new academic-industry partnership is investigating a unique approach to treating lethal pancreatic cancer.
Find out how we are prioritizing patient-partnered cancer research in the community. With a focus on underserved populations, we are dispatching free mobile screenings that also survey women to find ways to break barriers. We are hiring Spanish-speaking health educators known as "promotores," and community ambassadors known as "embajadoras" to advance breast cancer health equity.
Another section of our magazine focuses on the exciting progress we are making to understand and treat sarcoma, a relatively uncommon type of cancer that typically strikes young people but also can cause life to take a detour for adults. We are using 3D technology to guide precision surgical techniques that help get patients back on the road to normalcy.
Within this issue, glance at the various ways you can get involved with the cancer center, including a new program to bring peace of mind to pet-owning hospice patients.
Finally, preview the state-of-the-art California Tower under construction. It is rising up to meet the needs of our patients with a unit encompassing two floors solely dedicated to acute oncology care.
We hope you enjoy the summer issue of Synthesis. Thank you for reading about how we are leading a new era of cancer care. Your support is helping us save lives.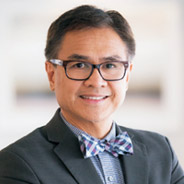 Primo "Lucky" Lara, Jr., M.D.
Director, UC Davis Comprehensive Cancer Center