Our Mission
Our mission at the National Center for a Diverse Healthcare Workforce at UC Davis is to promote best practices and advance diversity in the workforce by:
Leading research focused on recruiting, training, and retaining a diverse healthcare workforce to advance health equity;
Sharing research and engaging in meaningful conversations to increase diversity in the healthcare workforce;
Creating partnerships and collective impact to advance educational opportunity, equity, and diversity within the healthcare workforce.
Our Purpose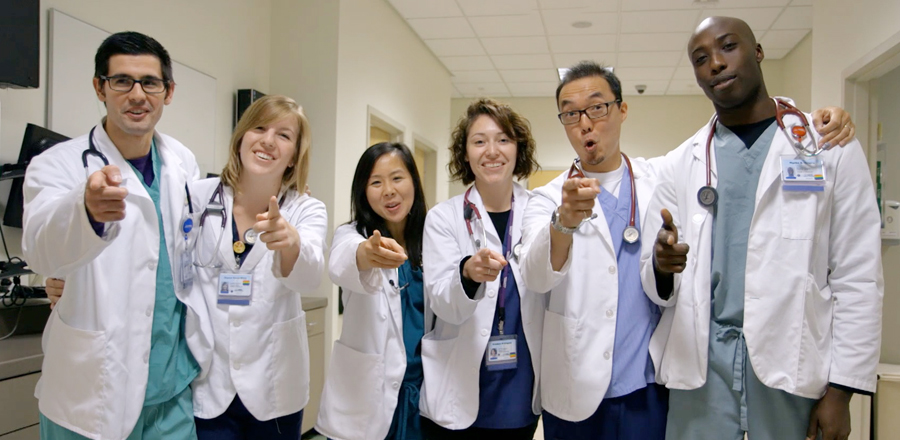 Students in the 3-year accelerated primary care pathway, ACE-PC class of 2017.
The Need
Despite increasing demand, the U.S. healthcare workforce does not meet the needs of an increasingly diverse society, in part due to the cultural and language disparities between patients and their providers.
Background
In July of 2016, the Health Resources and Services Administration (HRSA) of the US Department of Health and Human Services awarded UC Davis School of Medicine an Academic Unit for Primary Care Training and Enhancement (AU-PCTE) grant to improve clinical teaching and research in primary care training in order to strengthen the primary care workforce.
The Center for a Diverse Healthcare Workforce was established through the AU-PCTE program as a joint collaboration between UC Davis Schools of Medicine and Nursing, and UC San Diego School of Medicine.
Our Vision
Our vision is to live in a world where healthcare providers reflect the communities they serve, provide exceptional care, and achieve health equity.
About UC Davis
UC Davis School of Medicine is a leader in training diverse and culturally competent primary care physicians. In 2015, 41% of the entering medical student class was underrepresented minorities, and over half report economic or educational disadvantages. UC Davis' pre-medical enrichment programs, holistic admissions process and Multiple Mini Interviews, academic support services, and rural and urban underserved education pathways successfully engage and inspire students to practice primary care in underserved settings. Thirty-five percent of 2011 graduates are currently practicing in primary care and 54% are working in medically underserved settings. UC Davis is recognized by the American Association of Family Physicians as one of the nation's top 10 schools for graduating students who go on to family medicine.
UC Davis ranks in the top 20 in rural medicine and primary care according to US News and World Report and the UC Davis Health received its second honor for achievements in promoting diversity by the Institute for Diversity in Health Management.
The development of innovative programs that enhance diversity in the healthcare workforce will ensure there is a primary care workforce that will provide high quality care to medically underserved communities.