Luis G. Carvajal Carmona, Ph.D.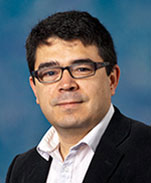 Associate Professor
451 Health Sciences Drive
Davis Campus
Ph: 530-752-9654
e-mail
For more details on our research, please visit our research group website »
Our research group, based at the Genome Center, is interested in the study of cancer genetic susceptibility. We use genetic and genomic approaches to identify novel cancer-causing gene and mutations in human populations and in multi-case cancer families. We are also interested in investigating somatic genetic pathways and clonal architecture of common cancer types. An important number of our studies focus on the genetics and epidemiology of cancer in Hispanics, for which we have developed long-standing collaborations with researchers in Latin America and Europe. At the UC Davis School of Medicine, we are active members of our Comprehensive Cancer Center and have collaborations with physicians and scientists in the Pathology, GI and GYN/OBG departments. In the main UC Davis campus, we collaborate with researchers in the Schools of Biological Sciences and of Agriculture, with whom we are developing large animal disease models and investigate the genetics and function of DNA repair genes that are involved in cancer risk in humans. We also participate actively in several graduate groups on campus.
See: A complete and updated list of publications »
Hoffman J, Fejerman L, Hu D, Huntsman S, Li M, John EM, Torres-Mejia G, Kushi L, Ding YC, Weitzel J, Neuhausen SL, Lott P; COLUMBUS Consortium, Echeverry M, Carvajal-Carmona L, Burchard E, Eng C, Long J, Zheng W, Olopade O, Huo D, Haiman C, Ziv E. Identification of novel common breast cancer risk variants at the 6q25 locus among Latinas. Breast Cancer Res. 2019 Jan 14;21(1):3. doi:10.1186/s13058-018-1085-9. PubMed PMID: 30642363; PubMed Central PMCID:PMC6332913.
Estrada-Florez AP, Bohorquez M, Velez A, Duque CS, Donado J, Mateus G, Panqueba-Tarazona C, Polanco-Echeverry G, Sahasrabudhe RM, Echeverry M, Carvajal-Carmona LG. BRAF and TERT mutations in papillary thyroid cancer patients of Latino ancestry. Endocr Connect. 2019 Aug 1. pii: EC-19-0376. doi:10.1530/EC-19-0376. [Epub ahead of print] PubMed PMID: 31454788; PubMed Central PMCID: PMC6765322.
Chong-Xian Pan, Hongyong Zhang, Ai-Hong Ma, Shuxiong Zeng, Maike Zimmermann, Clifford Tepper, Paul Henderson, Luis Carvajal-Carmona, Regina Gandour-Edwards, Moon Chen, Susan Airhart, Ralph de Vere Whtie. A patient-derived xenograft (PDX) platform for cancer translational, precision medicine and health disparity research. Cancer Research 79 (13 Supplement), 1067-1067. 2019
H Chen, A Shepherd-Littlejohn, E Girda, G Polanco-Echeverry, R Sahasrabudhe, T Toal, L Carvajal-Carmona, G Leiserowitz, L Smith. Drug efficacy testing of targeted therapies in endometrial cancer organoids is partially predicted by cancer gene mutation data (Correct). Gynecologic Oncology 154 (1), e12. 2019
Klapheke AK, Carvajal-Carmona LG, Cress RD. Racial/ethnic differences in survival among gastric cancer patients in california. Cancer Causes Control. 2019 Jul;30(7):687-696. doi: 10.1007/s10552-019-01184-0. Epub 2019 May 17. PubMed PMID: 31102083.
Brewster P, Barnes L, Haan M, Johnson JK, Manly JJ, Nápoles AM, Whitmer RA, Carvajal-Carmona L, Early D, Farias S, Mayeda ER, Melrose R, Meyer OL, Zeki Al Hazzouri A, Hinton L, Mungas D. Progress and future challenges in aging and diversity research in the United States. Alzheimers Dement. 2019 Jul;15(7):995-1003. doi: 10.1016/j.jalz.2018.07.221. Epub 2018 Sep 19. PubMed PMID: 30240574.
Peterlongo P, Carvajal-Carmona LG. Accomplishments, Collaborative Projects and Future Initiatives in Breast Cancer Genetic Predisposition. Front Oncol. 2019 Aug 28;9:841. doi: 10.3389/fonc.2019.00841. eCollection 2019. PubMed PMID: 31555594; PubMed Central PMCID: PMC6722187.
Shieh Y, Fejerman L, Lott PC, Marker K, Sawyer SD, Hu D, Huntsman S, Torres J, Echeverry M, Bohorquez ME, Martínez-Chéquer JC, Polanco-Echeverry G, Estrada-Florez AP; COLUMBUS Consortium , Haiman CA, John EM, Kushi LH, Torres-Mejía G, Vidaurre T, Weitzel JN, Zambrano SC, Carvajal-Carmona LG, Ziv E, Neuhausen SL. A polygenic risk score for breast cancer in U.S. Latinas and Latin-American women. J Natl Cancer Inst. 2019 Sep 25. pii: djz174. doi:10.1093/jnci/djz174. [Epub ahead of print] PubMed PMID: 31553449.
Filshtein TJ, Dugger BN, Jin LW, Olichney JM, Farias ST, Carvajal-Carmona L, Lott P, Mungas D, Reed B, Beckett LA, DeCarli C. Neuropathological Diagnoses of Demented Hispanic, Black, and Non-Hispanic White Decedents Seen at an Alzheimer's Disease Center. J Alzheimers Dis. 2019;68(1):145-158. doi: 10.3233/JAD-180992. PubMed PMID: 30775996.
Lott PC, Carvajal-Carmona LG. Resolving gastric cancer aetiology: an update in genetic predisposition. Lancet Gastroenterol Hepatol. 2018 Dec;3(12):874-883. doi: 10.1016/S2468-1253(18)30237-1. Review. PubMed PMID: 30507471; PubMed Central PMCID: PMC6500447.
Carvajal-Carmona LG. Moving the needle on colorectal cancer genetics: it takes more than two to TANGO. Br J Cancer. 2018 Oct;119(8):913-914. doi:10.1038/s41416-018-0219-2. Epub 2018 Oct 4. PubMed PMID: 30283142; PubMed Central PMCID: PMC6203804.
Criollo-Rayo AA, Bohórquez M, Prieto R, Howarth K, Culma C, Carracedo A, Tomlinson I, Echeverry de Polnaco MM, Carvajal Carmona LG; CHIBCHA Consortium. Native American gene continuity to the modern admixed population from the Colombian Andes: Implication for biomedical, population and forensic studies. Forensic Sci Int Genet. 2018 Sep;36:e1-e7. doi: 10.1016/j.fsigen.2018.06.006. Epub 2018 Jun 7. PubMed PMID: 29909140.
Carvajal-Carmona LG. PALB2 as a familial gastric cancer gene: is the wait over? Lancet Gastroenterol Hepatol. 2018 Jul;3(7):451-452. doi:10.1016/S2468-1253(18)30120-1. Epub 2018 Apr 27. PubMed PMID: 29706559; PubMed Central PMCID: PMC6474236.
Coggins NB, Stultz J, O'Geen H, Carvajal-Carmona LG, Segal DJ. Methods for Scarless, Selection-Free Generation of Human Cells and Allele-Specific Functional Analysis of Disease-Associated SNPs and Variants of Uncertain Significance. Sci Rep. 2017 Nov 8;7(1):15044. doi: 10.1038/s41598-017-15407-4. Erratum in: Sci Rep. 2018 Apr 12;8(1):6140. PubMed PMID: 29118424; PubMed Central PMCID: PMC5678142.
Alvarez C, Tapia T, Perez-Moreno E, Gajardo-Meneses P, Ruiz C, Rios M, Missarelli C, Silva M, Cruz A, Matamala L, Carvajal-Carmona L, Camus M, Carvallo P. BRCA1 and BRCA2 founder mutations account for 78% of germline carriers among hereditary breast cancer families in Chile. Oncotarget. 2017 Jun 29;8(43):74233-74243. doi: 10.18632/oncotarget.18815. eCollection 2017 Sep 26. PubMed PMID: 29088781; PubMed Central PMCID: PMC5650336.
Sahasrabudhe R, Lott P, Bohorquez M, Toal T, Estrada AP, Suarez JJ, Brea-Fernández A, Cameselle-Teijeiro J, Pinto C, Ramos I, Mantilla A, Prieto R, Corvalan A, Norero E, Alvarez C, Tapia T, Carvallo P, Gonzalez LM, Cock-Rada A, Solano A, Neffa F, Della Valle A, Yau C, Soares G, Borowsky A, Hu N, He LJ, Han XY; Latin American Gastric Cancer Genetics Collaborative Group, Taylor PR, Goldstein AM, Torres J, Echeverry M, Ruiz-Ponte C, Teixeira MR, Carvajal-Carmona LG. Germline Mutations in PALB2, BRCA1, and RAD51C, Which Regulate DNA Recombination Repair, in Patients With Gastric Cancer. Gastroenterology. 2017 Apr;152(5):983-986.e6. doi: 10.1053/j.gastro.2016.12.010. Epub 2016 Dec 23. PubMed PMID: 28024868; PubMed Central PMCID: PMC5367981.
Bohorquez M, Sahasrabudhe R, Criollo A, Sanabria-Salas MC, Vélez A, Castro JM, Marquez JR, Mateus G, Bolaños F, Panqueva C, Restrepo JI, Puerta JD, Murillo R, Bravo MM, Hernández G, Rios A, Prieto R, Tomlinson I, Echeverry M, Carvajal-Carmona LG. Clinical manifestations of colorectal cancer patients from a large multicenter study in Colombia. Medicine (Baltimore). 2016 Oct;95(40):e4883. PubMed PMID: 27749544; PubMed Central PMCID: PMC5059046.
Montazeri Z, Theodoratou E, Nyiraneza C, Timofeeva M, Chen W, Svinti V, Sivakumaran S, Gresham G, Cubitt L, Carvajal-Carmona L, Bertagnolli MM, Zauber AG, Tomlinson I, Farrington SM, Dunlop MG, Campbell H, Little J. Systematic meta-analyses and field synopsis of genetic association studies in colorectal adenomas. Int J Epidemiol. 2016 Feb;45(1):186-205. doi: 10.1093/ije/dyv185. Epub 2015 Oct 7. Review. PubMed PMID: 26451011; PubMed Central PMCID: PMC5860727.
Weren RD, Venkatachalam R, Cazier JB, Farin HF, Kets CM, de Voer RM, Vreede L, Verwiel ET, van Asseldonk M, Kamping EJ, Kiemeney LA, Neveling K, Aben KK, Carvajal-Carmona L, Nagtegaal ID, Schackert HK, Clevers H, van de Wetering M, Tomlinson IP, Ligtenberg MJ, Hoogerbrugge N, Geurts van Kessel A, Kuiper RP. Germline deletions in the tumour suppressor gene FOCAD are associated with polyposis and colorectal cancer development. J Pathol. 2015 Jun;236(2):155-64. doi: 10.1002/path.4520. Epub 2015 Mar 26. PubMed PMID: 25712196; PubMed Central PMCID: PMC6681464.
Fejerman L, Ahmadiyeh N, Hu D, Huntsman S, Beckman KB, Caswell JL, Tsung K, John EM, Torres-Mejia G, Carvajal-Carmona L, Echeverry MM, Tuazon AM, Ramirez C; COLUMBUS Consortium, Gignoux CR, Eng C, Gonzalez-Burchard E, Henderson B, Le Marchand L, Kooperberg C, Hou L, Agalliu I, Kraft P, Lindström S, Perez-Stable EJ, Haiman CA, Ziv E. Genome-wide association study of breast cancer in Latinas identifies novel protective variants on 6q25. Nat Commun. 2014 Oct 20;5:5260. doi: 10.1038/ncomms6260. PubMed PMID: 25327703; PubMed Central PMCID: PMC4204111.
Fernandez-Rozadilla C, Cazier JB, Tomlinson IP, Carvajal-Carmona LG, Palles C, Lamas MJ, Baiget M, López-Fernández LA, Brea-Fernández A, Abulí A, Bujanda L, Clofent J, Gonzalez D, Xicola R, Andreu M, Bessa X, Jover R, Llor X; EPICOLON Consortium, Moreno V, Castells A, Carracedo Á, Castellvi-Bel S, Ruiz-Ponte C. A colorectal cancer genome-wide association study in a Spanish cohort identifies two variants associated with colorectal cancer risk at 1p33 and 8p12. BMC Genomics. 2013 Jan 26;14:55. doi: 10.1186/1471-2164-14-55. PubMed PMID: 23350875; PubMed Central PMCID: PMC3616862.
Dunlop MG, Tenesa A, Farrington SM, Ballereau S, Brewster DH, Koessler T, Pharoah P, Schafmayer C, Hampe J, Völzke H, Chang-Claude J, Hoffmeister M, Brenner H, von Holst S, Picelli S, Lindblom A, Jenkins MA, Hopper JL, Casey G, Duggan D, Newcomb PA, Abulí A, Bessa X, Ruiz-Ponte C, Castellví-Bel S, Niittymäki I, Tuupanen S, Karhu A, Aaltonen L, Zanke B, Hudson T, Gallinger S, Barclay E, Martin L, Gorman M, Carvajal-Carmona L, Walther A, Kerr D, Lubbe S, Broderick P, Chandler I, Pittman A, Penegar S, Campbell H, Tomlinson I, Houlston RS. Cumulative impact of common genetic variants and other risk factors on colorectal cancer risk in 42,103 individuals. Gut. 2013 Jun;62(6):871-81. doi:10.1136/gutjnl-2011-300537. Epub 2012 Apr 5. PubMed PMID: 22490517; PubMed Central PMCID: PMC5105590.
Carvajal-Carmona LG, Zauber AG, Jones AM, Howarth K, Wang J, Cheng T; APC Trial Collaborators; APPROVe Trial Collaborators; CORGI Study Collaborators; Colon Cancer Family Registry Collaborators; CGEMS Collaborators, Riddell R, Lanas A, Morton D, Bertagnolli MM, Tomlinson I. Much of the genetic risk of colorectal cancer is likely to be mediated through susceptibility to adenomas. Gastroenterology. 2013 Jan;144(1):53-5. doi: 10.1053/j.gastro.2012.09.016. Epub 2012 Sep 19. PubMed PMID: 22999960; PubMed Central PMCID: PMC3572711.
Jones AM, Howarth KM, Martin L, Gorman M, Mihai R, Moss L, Auton A, Lemon C, Mehanna H, Mohan H, Clarke SE, Wadsley J, Macias E, Coatesworth A, Beasley M, Roques T, Martin C, Ryan P, Gerrard G, Power D, Bremmer C; TCUKIN Consortium, Tomlinson I, Carvajal-Carmona LG. Thyroid cancer susceptibility polymorphisms: confirmation of loci on chromosomes 9q22 and 14q13, validation of a recessive 8q24 locus and failure to replicate a locus on 5q24. J Med Genet. 2012 Mar;49(3):158-63. doi: 10.1136/jmedgenet-2011-100586. Epub 2012 Jan 25. PubMed PMID: 22282540; PubMed Central PMCID: PMC3286794.
Jones AM, Beggs AD, Carvajal-Carmona L, Farrington S, Tenesa A, Walker M, Howarth K, Ballereau S, Hodgson SV, Zauber A, Bertagnolli M, Midgley R, Campbell H, Kerr D, Dunlop MG, Tomlinson IP. TERC polymorphisms are associated both with susceptibility to colorectal cancer and with longer telomeres. Gut. 2012 Feb;61(2):248-54. doi: 10.1136/gut.2011.239772. Epub 2011 Jun 27. PubMed PMID: 21708826; PubMed Central PMCID: PMC3245900.
(2014) K12 Paul Calabresi in Clinical Oncology
(2014) Latino Aging Research Resource Center Scholar
(2013) Outstanding Alumni Award. BSc Animal Science, Universidad Nacional de Colombia.
(2013) V Foundation Scholar
(2011) Semi-finalist. Trainee Research Award, American Society for Human Genetics for abstract submission to the 12th International Congress of Human Genetics. Montreal, Canada
(2009) Winner of the Divisional Research Prize. Medical Sciences Division, University of Oxford.
(2009) Finalist. Neel Award for Young Investigators. International Genetic Epidemiology Society.
(2008) Winner of the European Association for Cancer Research 40th Anniversary Research Award.
(2004) Research Fellowship. London Research Institute, United Kingdom
National Institutes of Health