Jeremy Chien, Ph.D.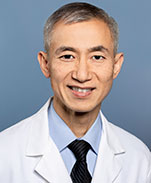 Associate Professor
2700 Stockton Blvd.,
Room 2354
Sacramento Campus
Ph: 916-734-4766
e-mail
Lab Website
Research Interests
The primary focus of the Chien Laboratory in Applied Genomics & Cancer Therapeutics (AGCT) is to:
understand fundamental biological pathways contributing to the molecular carcinogenesis of ovarian cancer, and
to develop effective therapies that target critical vulnerabilities/dependencies in ovarian cancer.
Applied Genomics
We are interested in applying genomic and functional genomic approaches to understand critical driver genes, synthetic lethalities, and biological pathways contributing to cancer evolution and drug resistance in ovarian cancer
Driver genes: TP53 is the most frequently mutated gene in high-grade serous ovarian cancer, the most common subtype of ovarian cancer. We are developing pan-cancer analyses to understand how germline, inherited variations in the coding region of TP53 affect the function of mutant p53 and to develop cancer therapies that target specific p53 mutants.
Synthetic lethality: Synthetic lethality concept now allows a rational development of therapies that exploit functional deficiencies and dependencies caused by tumor suppressor mutations and epigenetic/genetic rewiring of cancer genomes. We used CRIPSR-based genome-scale screens and identified genetic vulnerabilities in ovarian cancer cells that enhance PARP inhibitor sensitivity. We are currently focusing on vulnerabilities in cancer cell metabolism to cause DNA replication stress and oxidative stress to enhance sensitivity to PARP inhibitors.
Biological pathways: The FOXM1/MYC nexus represent a critical biological pathway in high-grade serous ovarian cancer. This cooperation between FOXM1 and MYC facilitates cell growth, DNA replication, and resistance to oxidative stress caused by altered cancer cell metabolism. We are focusing on how epigenetic changes caused by FOXM1/MYC nexus can be exploited for therapies in ovarian cancer. TGF-β pathway represents another critical biological pathway that promote adaptive resistance to chemotherapy by facilitating epithelial-mesenchymal plasticity, "stemness", and cancer cell dormancy. We are currently investigating the TGF-β/HTRA1 nexus and how epigenetic changes in HTRA1 in cancer cells alters the cellular response to TGF-β signaling with regard to epithelial-mesenchymal plasticity, "stemness", and cancer cell dormancy.
Cancer Therapeutics
Targeting TP53 mutants: We are developing new strategies to develop new chemical entities to restore wildtype function of p53 or to inhibit the gain-of-function properties of specific p53 mutants.
Inducing "BRCAness": Inherited and acquired mutations in BRCA1 and BRCA2 in cancer cells create synthetic lethality in cancer cells when these cells are treated with PARP inhibitors. In some cases where BRCA1 or BRCA2 are not mutated but the homology recombination (HR) repair pathway that they regulate is deficient in cancer due to alterations in other genes involved in HR repair pathway, these cells are characterized as having "BRCAness" because they are also sensitive to PARP inhibitors. We are developing new strategies cause tissue-specific "BRCAness" in cancer cells so that they become sensitive to PARP inhibitors.
Protein quality control (PQC): Due to alterations in cancer genomes and altered metabolism, cancer cells are highly reliant on protein quality control pathway to rid of damaged, misfolded, and mutated proteins. Recent genome-wide synthetic lethal screens in ovarian cancer also identified components of PQC as new vulnerability targets in ovarian cancer. We are developing combination strategies to target PQC in ovarian cancer.
Graduate Group Affiliations
Complete List of Published Work: My Bibliography | Google Scholar
Selected:
De Souza C, Madden J, Koestler DC, Minn D, Montoya DJ, Minn K, Raetz AG, Zhu Z, Xiao WW, Tahmassebi N, Reddy H, Nelson N, Karnezis AN, Chien J. Effect of the p53 P72R Polymorphism on Mutant TP53 Allele Selection in Human Cancer. J Natl Cancer Inst. 2021 Feb 8;. doi: 10.1093/jnci/djab019. [Epub ahead of print] PubMed PMID: 33555293.
Zhang W, Petegrosso R, Chang JW, Sun J, Yong J, Chien J, Kuang R. A large-scale comparative study of isoform expressions measured on four platforms. BMC Genomics. 2020 Mar 30;21(1):272. doi: 10.1186/s12864-020-6643-8. PubMed PMID: 32228441; PubMed Central PMCID: PMC7106849.
Pan-cancer analysis of whole genomes. Nature. 2020 Feb;578(7793):82-93. doi: 10.1038/s41586-020-1969-6. Epub 2020 Feb 5. PubMed PMID: 32025007; PubMed Central PMCID: PMC7025898.
Fang P, De Souza C, Minn K, Chien J. Genome-scale CRISPR knockout screen identifies TIGAR as a modifier of PARP inhibitor sensitivity. Commun Biol. 2019 Sep 9;2:335. doi: 10.1038/s42003-019-0580-6. eCollection 2019.PMID:31508509
Fang P, Madden JA, Neums L, Moulder RK, Forrest ML, Chien J. Olaparib-induced Adaptive Response Is Disrupted by FOXM1 Targeting that Enhances Sensitivity to PARP Inhibition. Mol Cancer Res. 2018 Jun;16(6):961-973. PubMed PMID: 29545475.
Bastola P, Wang F, Schaich MA, Gan T, Freudenthal BD, Chou TF, Chien J. Specific mutations in the D1-D2 linker region of VCP/p97 enhance ATPase activity and confer resistance to VCP inhibitors. Cell Death Discov. 2017;3:17065. PubMed PMID: 29367883; PubMed Central PMCID: PMC5672561.
Bastola P, Neums L, Schoenen FJ, Chien J. VCP inhibitors induce endoplasmic reticulum stress, cause cell cycle arrest, trigger caspase-mediated cell death and synergistically kill ovarian cancer cells in combination with Salubrinal. Mol Oncol. 2016 Dec;10(10):1559-1574. PubMed PMID: 27729194; PubMed Central PMCID: PMC5423134.
Zhang X, Cheng L, Minn K, Madan R, Godwin AK, Shridhar V, Chien J. Targeting of mutant p53-induced FoxM1 with thiostrepton induces cytotoxicity and enhances carboplatin sensitivity in cancer cells. Oncotarget. 2014 Nov 30;5(22):11365-80. PubMed PMID: 25426548; PubMed Central PMCID: PMC4294351.
Neums L, Suenaga S, Beyerlein P, Anders S, Koestler D, Mariani A, Chien J. VaDiR: an integrated approach to Variant Detection in RNA. Gigascience. 2018 Feb 1;7(2)PubMed PMID: 29267927; PubMed Central PMCID: PMC5827345.
Meier R, Graw S, Beyerlein P, Koestler D, Molina JR, Chien J. digit-a tool for detection and identification of genomic interchromosomal translocations. Nucleic Acids Res. 2017 May 19;45(9):e72. PubMed PMID: 28132028; PubMed Central PMCID: PMC5435966.
Munchel S, Hoang Y, Zhao Y, Cottrell J, Klotzle B, Godwin AK, Koestler D, Beyerlein P, Fan JB, Bibikova M, Chien J. Targeted or whole genome sequencing of formalin fixed tissue samples: potential applications in cancer genomics. Oncotarget. 2015 Sep 22;6(28):25943-61. PubMed PMID: 26305677; PubMed Central PMCID: PMC4694877.
Graw S, Meier R, Minn K, Bloomer C, Godwin AK, Fridley B, Vlad A, Beyerlein P, Chien J. Robust gene expression and mutation analyses of RNA-sequencing of formalin-fixed diagnostic tumor samples. Sci Rep. 2015 Jul 23;5:12335. PubMed PMID: 26202458; PubMed Central PMCID: PMC4511951.
Chien J, Sicotte H, Fan JB, Humphray S, Cunningham JM, Kalli KR, Oberg AL, Hart SN, Li Y, Davila JI, Baheti S, Wang C, Dietmann S, Atkinson EJ, Asmann YW, Bell DA, Ota T, Tarabishy Y, Kuang R, Bibikova M, Cheetham RK, Grocock RJ, Swisher EM, Peden J, Bentley D, Kocher JP, Kaufmann SH, Hartmann LC, Shridhar V, Goode EL. TP53 mutations, tetraploidy and homologous recombination repair defects in early stage high-grade serous ovarian cancer. Nucleic Acids Res. 2015 Aug 18;43(14):6945-58. PubMed PMID: 25916844; PubMed Central PMCID: PMC4538798.
Integrated genomic analyses of ovarian carcinoma. Nature. 2011 Jun 29;474(7353):609-15. PubMed PMID: 21720365; PubMed Central PMCID: PMC3163504.
Yang Z, Camp NJ, Sun H, Tong Z, Gibbs D, Cameron DJ, Chen H, Zhao Y, Pearson E, Li X, Chien J, Dewan A, Harmon J, Bernstein PS, Shridhar V, Zabriskie NA, Hoh J, Howes K, Zhang K. A variant of the HTRA1 gene increases susceptibility to age-related macular degeneration. Science. 2006 Nov 10;314(5801):992-3. PubMed PMID: 17053109.
Chien J, Aletti G, Baldi A, Catalano V, Muretto P, Keeney GL, Kalli KR, Staub J, Ehrmann M, Cliby WA, Lee YK, Bible KC, Hartmann LC, Kaufmann SH, Shridhar V. Serine protease HtrA1 modulates chemotherapy-induced cytotoxicity. J Clin Invest. 2006 Jul;116(7):1994-2004. PubMed PMID: 16767218; PubMed Central PMCID: PMC1474818.
Chien J, Narita K, Rattan R, Giri S, Shridhar R, Staub J, Beleford D, Lai J, Roberts LR, Molina J, Kaufmann SH, Prendergast GC, Shridhar V. A role for candidate tumor-suppressor gene TCEAL7 in the regulation of c-Myc activity, cyclin D1 levels and cellular transformation. Oncogene. 2008 Dec 11;27(58):7223-34. PubMed PMID: 18806825; PubMed Central PMCID: PMC2754286.
Chien J, Staub J, Hu SI, Erickson-Johnson MR, Couch FJ, Smith DI, Crowl RM, Kaufmann SH, Shridhar V. A candidate tumor suppressor HtrA1 is downregulated in ovarian cancer. Oncogene. 2004 Feb 26;23(8):1636-44. PubMed PMID: 14716297.
Lai JP, Chien J, Strome SE, Staub J, Montoya DP, Greene EL, Smith DI, Roberts LR, Shridhar V. HSulf-1 modulates HGF-mediated tumor cell invasion and signaling in head and neck squamous carcinoma. Oncogene. 2004 Feb 19;23(7):1439-47. PubMed PMID: 14973553.
Kommoss S, Winterhoff B, Oberg AL, Konecny GE, Wang C, Riska SM, Fan JB, Maurer MJ, April C, Shridhar V, Kommoss F, du Bois A, Hilpert F, Mahner S, Baumann K, Schroeder W, Burges A, Canzler U, Chien J, Embleton AC, Parmar M, Kaplan R, Perren T, Hartmann LC, Goode EL, Dowdy SC, Pfisterer J. Bevacizumab May Differentially Improve Ovarian Cancer Outcome in Patients with Proliferative and Mesenchymal Molecular Subtypes. Clin Cancer Res. 2017 Jul 15;23(14):3794-3801. PubMed PMID: 28159814; PubMed Central PMCID: PMC5661884.
Chien J, Ota T, Aletti G, Shridhar R, Boccellino M, Quagliuolo L, Baldi A, Shridhar V. Serine protease HtrA1 associates with microtubules and inhibits cell migration. Mol Cell Biol. 2009 Aug;29(15):4177-87. PubMed PMID: 19470753; PubMed Central PMCID: PMC2715801.
American Cancer Society Research Scholar
The Department of Defense Ovarian Cancer Academy
Summa Cum Laude, Pittsburg State University