Paramita M. Ghosh, Ph.D.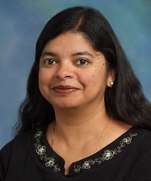 Professor
Room 1132
Oak Park Research Building
2700 Stockton Blvd
Sacramento, CA 95817
Ph: 916-734-7805
e-mail
My chief topic of research over the last six years has been the elucidation of signal transduction pathways leading to the development of androgen-independent prostate cancer. Prostate cancer is a disease of the aging male. In a normal adult prostate, there is a balance between the rate of proliferation and the rate of apoptosis or cell death. In prostate cancer, this balance is lost, resulting in excessive proliferation, decreased apoptosis or both. My current research is based on the initial observation from our laboratory that in poorly differentiated prostate cancers, Akt, a downstream target of the phosphatidylinositol 3-kinase (PI3K) pathway, is highly phosphorylated. Based on these observations, I have investigated, over the last few years, the role of Akt in the progression of prostate cancer to an androgen-independent state. Currently, I am engaged in studying signal transduction pathways both upstream and downstream of Akt. Upstream of Akt, I am studying the effect of receptor tyrosine kinases and their effects on both the PI3K and the MAPK cell signaling pathways, while downstream of Akt, I am studying the cross-talk with the androgen receptor pathway, and the effects of aging on the development of prostate cancer. At present, our targets of investigation include the erbB family of receptor tyrosine kinases, the andogen receptor, the cytoskeletal scaffolding molecule Filamin A which is known to be an androgen receptor coregulator and components of the signal transduction pathways downstream of Ras (including the mitogen activated protein kinases) and the mammalian target of rapamycin (mTOR), including p70 S6 kinase, 4E-BP1 and e1F-4G.
See: Complete list of publications »
D'Abronzo, L.S., Bose, S., Crapuchettes, M.E., Beggs, R.E., Vinall, R.L., Tepper, C.G., Siddiqui, S., Mudryj, M., Melgoza, F.U., Durbin-Johnson, B.P., deVere White, R.W. and Ghosh, P.M. The Androgen Receptor is a negative regulator of eIF4E Phosphorylation at S209: Implications for the use of mTOR inhibitors in advanced prostate cancer. Oncogene. 2017. In Press.
Shih, T.C, Liu, R., Fung, G., Bharadwaj, G., Ghosh, PM, Lam, K. A Novel Galectin-1 Inhibitor Discovered through One-Bead-Two-Compounds Library Potentiates the Anti-tumor Effects of Paclitaxel in vivo. Mol Cancer Ther. 2017 Apr 10. pii: molcanther.0690.2016. doi: 10.1158/1535-7163.MCT-16-0690. [Epub ahead of print] PMID: 28396365
Kiss, Z, Ghosh, PM. Circadian rhythmicity and the influence of 'clock' genes on prostate cancer. Endocrine-related cancer, 2016 Nov;23(11):T123-T134. PMID: 27660402
Chow, H., Ghosh, PM, deVere White, RW, Evans, CP, Dall'Era, MA, Yap, SA, Li, Y, Beckett, LA, Lara, PN, Pan, CX. A Phase II clinical trial of everolimus plus bicalutamide for castration-resistant prostate cancer. Cancer. 2016 Jun 15;122(12):1897-904. PMID: 27019001
Lombard, A. P., Mooso, B. A., Libertini, S. J., Lim, R. M., Nakagawa, R., Vidallo, K., Costanzo, N., Ghosh, P. M., Mudryj, M. miR-148a Dependent Apoptosis of Bladder Cancer Cells is Mediated in Part by the Epigenetic Modifier DNMT1. Molecular Carcinogenesis, 2016. 55(5):757-67. PMID: 25865490.
Vinall, R.L., Tepper, C.G., Ripoll, A.Z., Gandour- Edwards, R.F., Durbin-Johnson, B.P., Yap, S.A., Ghosh, P.M. and deVere White, R.W. Decreased expression of let-7c is associated with non-response of muscle-invasive bladder cancer patients to neoadjuvant chemotherapy. Genes & Cancer, Vol. 7 (3-4): 86-97, March 2016. PMID: 27382433.
Savoy, R.M., Chen, L., Siddiqui, S., Melgoza, F.U., Durbin-Johnson, B., Drake, C., Jathal, M.K., Bose, S., Steele, T.M., Mooso, B.A., D'Abronzo, L.S., Fry, W.H., Carraway, K.L. III, Mudryj, M. and Ghosh, P.M. Transcription of Nrdp1 by the androgen receptor is regulated by nuclear Filamin A in prostate cancer. Endocrine-related Cancer, 2015. Mar 10. pii: ERC-15-0021 PMID: 25759396.
Narayanan KB, Ali M, Barclay BJ, Cheng QS, D'Abronzo L, Dornetshuber-Fleiss R, Ghosh PM, et al. Disruptive environmental chemicals and cellular mechanisms that confer resistance to cell death. Carcinogenesis. 2015; 36 Suppl 1:S89-110. PMID: 26106145.
Goodson, WH, … Ghosh, PM, et al Assessing the carcinogenic potential of low-dose exposures to chemical mixtures in the environment: the challenge ahead. Carcinogenesis, 2015, 36 1: S254-96. PMID: 26106142
Mooso BA, Vinall RL, Mudryj M, Yap SA, deVere White RW, Ghosh PM. The role of EGFR family inhibitors in muscle invasive bladder cancer: a review of clinical data and molecular evidence. J. Urology. 2015; 193(1):19-29. PMID: 25158272
D'Abronzo LS, Ghosh PM. The Akt/PI3K/PTEN pathway as a driver and therapeutic target in castration-resistant prostate cancer. in Medical Treatment of Urological Malignancies, Stief CG, Fizazi K, Evans CP, editors. Lisbon: International Consultation on Medical Treatment of Urological Malignancies; 2015. p.325-336.
Pan CX, Zhang H, Tepper CG, Lin TY, Davis RR, Keck J, Ghosh PM, Gill P, Airhart S, Bult C, Gandara DR, Liu E, de Vere White RW. Development and Characterization of Bladder Cancer Patient-Derived Xenografts for Molecularly Guided Targeted Therapy. PloS one. 2015; 10(8):e0134346. PMID: 26270481
Graduate Courses
PMI 298 Foundations in Research (Fall)
BCB 298 Signal Transduction Pathways (Spring)
Professional Courses for Medical Students
BCM 410A Molecular and Cell Biology (Fall)