Ruiwu Liu, Ph.D.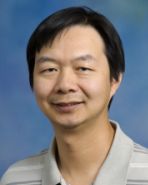 Researcher
Oak Park Research Building
Suite 2301
Sacramento, CA 95817
Ph: 916-734-6414
e-mail
Research Interests
Dr. Liu's research includes developing new methods for combinatorial chemistry and high throughput screening, and applying these powerful technologies to drug discovery. His current research focuses on 1) developing cancer-targeting imaging and therapeutic agents for prostate cancer, ovarian cancer, lymphoma and glioblastoma; 2) discovery of small molecule anticancer drugs from combinatorial libraries; 3) developing peptide-drug conjugates (PDC) and antibody-drug conjugates (ADC) for cancer therapy; 4) developing novel targeted nanodrugs for cancer therapy.
Graduate Group Affiliations