Su Hao Lo, Ph.D.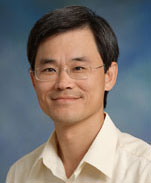 Professor
Research I Room 3002
Ph: 916-734-3656
e-mail
Research Interests
Signal transduction mediated through focal adhesions and their roles in tissue and disease development.
Graduate Group Affiliations
Bruns A and Lo SH. TNS1 regulates Pharyngeal pumping in Caenorhabditis elegans. 2019 pii: S0006-291X(19)32281-8. doi: 10.1016/j.bbrc.2019.11.153. [Epub ahead of print]
Wu, Z. Y., Chiu, C. L., Lo, E., Lee, Y. R., Yamada, S., and Lo, S. H.*. Hyperactivity of Mek in TNS1 knockouts leads to potential treatments for cystic kidney diseases. Cell Death & Disease. 2019 10:871 doi: 10.1038/s41419-019-2119-7. PMID:31740667 PMCID: PMC6861224
Cheah, J. S., Jacobs, K. A., Heinrich, V., Lo, S. H., and Yamada, S. Force-induced recruitment of cten along keratin network in epithelial cells. 2019 Proc. Natl. Acad. Sci 116:19799-19801
Hong, S. Y., Shih, Y. P., Lo, A., Lo, S. H. Identification of subcellular targeting sequences of Cten reveals its role in cell proliferation. BBA Molecular Cell Research 2019 Mar;1866(3):450-458.

Shih, Y. P., Yuan, S. Y., Lo, S. H. Down-regulation of DLC1 in endothelial cells compromises the angiogenesis process. Cancer Letters 2017 398:46-51.
Lo, S. H. Quick guide: Tensins. Current Biology 2017 27(9):R331-R332.
Hong, S. Y., Shih, Y.P., Sun, P., Hsieh, W. J., Lin, W. C. and Lo, S. H., Down-regulation of tensin2 enhances tumorigenicity and is associated with a variety of cancers. Oncotarget 2016 Jun 21;7(25):38143-38153.
Yang, K., Wu, W. M., Chen, Y. C., Lo, S. H., and Liao Y.C. ΔNp63α Transcriptionally Regulates the Expression of CTEN that Is Associated with Prostate Cell Adhesion. PLoS ONE 2016 11(1):e0147542.
Shih YP, Sun P, Wang A, Lo SH., Tensin1 positively regulates RhoA activity through its interaction with DLC1., Biochim Biophys Acta. 2015 Sep 28;1853(12):3258-3265.
Dina C, Bouatia-Naji N, Tucker N, Delling FN, Toomer K, Durst R, Perrocheau M, Fernandez-Friera L, Solis J; PROMESA investigators, Le Tourneau T, Chen MH, Probst V, Bosse Y, Pibarot P, Zelenika D, Lathrop M, Hercberg S, Roussel R, Benjamin EJ, Bonnet F, Lo SH., Dolmatova E, Simonet F, Lecointe S, Kyndt F, Redon R, Le Marec H, Froguel P, Ellinor PT, Vasan RS, Bruneval P, Markwald RR, Norris RA, Milan DJ, Slaugenhaupt SA, Levine RA, Schott JJ, Hagege AA, Mvp-France, Jeunemaitre X; Leducq Transatlantic MITRAL Network., Genetic association analyses highlight biological pathways underlying mitral valve prolapse., Nat Genet. 2015 Oct;47(10):1206-11.
Lo. S.H. C-terminal tensin-like (CTEN): a promising biomarker and target for cancer. J Biochem Cell Biol. 2014, 51:150-4.
Hong, S. Y., Shih, Y. P., Li, T., Carraway, K., Lo, S.H. CTEN Prolongs Signaling by EGFR through Reducing Its Ligand-Induced Degradation. Cancer Res. 2013, 73(16):5266-76.
Shi L, Li, J.R., Shih, Y.P., Lo, S. H., Liu, G. Y., Nanogratings of Fibronectin Provide an Effective Biochemical Cue for Regulating Focal Adhesion and Cellular Structure. Nano Res 2012, 8): 565–575
Li, J.R., Shi, L., Deng, Z., Lo, S. H., Liu, G.Y. Nanostructures of Designed Geometry and Functionality Enable Regulation of Cellular Signaling Processes. Biochemistry 2012, 51, 5876–5893
Shih Y.P., Takada, Y., Lo, S.H. Silencing of DLC1 promotes PAI-1 expression and reduces normal cell migration. Mol Cancer Res. 2012, 10:34-39.
Shih, Y.P., Liao, YC., Lin, Y., Lo, S. H. DLC1 negatively regulates angiogenesis in a paracrine fashion. Cancer Res 2010, 70:8270-8275.
Lin, Y., Chen, N. T., Shih,Y. P., Liao, Y. C., Xue, L., and Lo, S. H, DLC2 modulates angiogenic responses in vascular endothelial cells by regulating cell attachment and migration. Oncogene 2010, 29:3010-3016
Liao, Y. C., Chen, N. T., Shih Y. P., Dong, Y., Lo, S. H. Up-regulation of C-terminal tensin-like molecule promotes the tumorigenicity of colon cancer cells through b-catenin. Cancer Res 2009, 69:4563- 4566.
Upper division courses
192 Internship in Biological Chemistry
198 Group Study
199 Special Study for Advanced Undergraduates
Graduate courses
209 Prostaglandins/Leukotrienes and Related Lipids (offered even years)
214 Molecular Medicine
217 Molecular Genetics of Fungi (odd years)
222 Mechanisms of Translational Control (even years)
230 Practical NMR
231 Biomedical NMR (same as BPH 231)
291 Human Genetics Seminar
298 Group Study
299 Research
Professional courses for medical students
410A Molecular and Cell Biology
410B Cell Biology and Metabolism
414 Molecular Medicine
491 Human Genetics Seminar
497 Tutoring in Biological Chemistry
498 Group Study
499 Research
Current Lab Members
Dr. Ying Tan
Dr. Chun-Lung (Jason) Chiu

Previous Lab Members