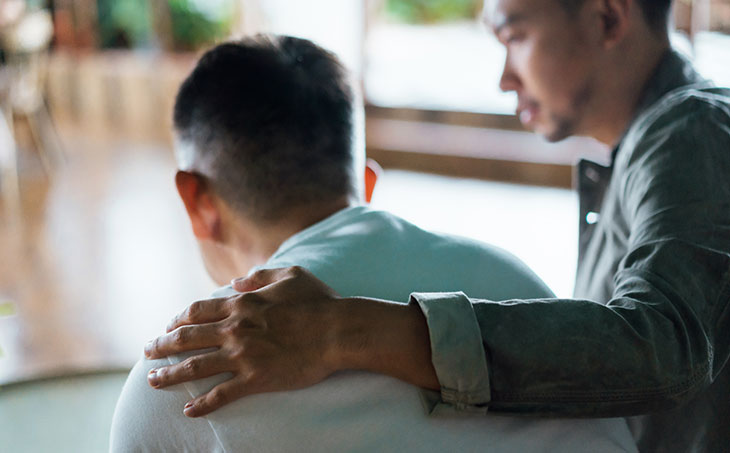 Suicide is a leading cause of death in the U.S., with rates continuing to rise in recent years. According to the Centers for Disease Control and Prevention (CDC), 12.3 million adults seriously thought about suicide and 1.7 million attempted suicide in 2021. More than 48,000 people died by suicide in 2021, which is about one death every 11 minutes.
If you or someone you know is experiencing a mental health crisis or voicing thoughts about being better off dead or harming themselves, call or text the 988 Suicide and Crisis Lifeline. Calling or texting 988 connects you with a trained crisis counselor for free. Your conversation is confidential, and someone is available 24 hours a day, seven days a week.
Who is most at risk for attempting suicide?
Suicide affects people of all ages. In 2021, suicide was the second-leading cause of death for people ages 10-14 and 20-34, according to the CDC. In addition, men ages 75 and older have one of the highest rates of suicide compared to other age groups.
Some groups have higher suicide rates than others. Veterans are at high risk of suicide, in addition to people who live in rural areas or work in certain industries like mining and construction.
Compared to other racial and ethnic groups, suicide rates are highest among non-Hispanic Native American and Alaska Native people, followed by white people. Young people who identify as lesbian, gay or bisexual have a higher likelihood of suicidal thoughts and behaviors than their heterosexual peers.
What causes people to have suicidal thoughts?
There are many factors that may lead a person to have thoughts of suicide. Mental health conditions and depression often – though not always – play a major role.
Many stressful situations and circumstances can lead to suicide, such as relationship problems, bullying, economic hardship, and physical health problems. These are also linked to greater risk for depression.
See the CDC's list of risk factors that can contribute to suicide risk
Know the suicide warning signs
Thoughts of suicide can stem from feelings that life is no longer worth living. They may include either thoughts of wanting to die without a specific plan or specific thoughts and ways to harm oneself.
Below are important warning signs that a person may be at increased risk for suicide:
Expressing that they feel like a burden
Isolation
Increased anxiety
Feeling trapped or in unbearable physical or mental pain
Increased substance use
Looking for a way to access lethal means (such as online searches to buy a gun)
Increased anger or rage
Extreme mood swings
Expressing hopelessness
Sleeping too little or too much
Talking or posting on social media about wanting to die
Making plans for suicide (such as giving away prized possessions)
How can you help if someone you know may be having thoughts of suicide?
If you are having thoughts of suicide or just need to talk to someone, call or text 988 or chat online at the 988 Suicide & Crisis Lifeline.
Some people are afraid that asking about thoughts of suicide can put ideas in a person's head. But research studies have disproven this notion. For most people considering suicide, it can actually be a relief to unburden their feelings.
Family and friends can play important roles in recognizing and supporting those who are at risk of suicide. This can include helping them stay safe, connecting them with professional help, and just being there for them in a compassionate way.
Reducing access to guns is one important and very simple way to prevent suicide. Guns are the most commonly used way to commit suicide.
Read more from UC Davis Health: Machine learning identifies gun buyers at risk of suicide
Read more from UC Davis Health: What are "red flag" laws and how can they prevent gun violence
People who have an actual plan to attempt suicide (for instance, a set date and a means of doing it, like a weapon or stash of pills) are most likely to be in immediate danger. They should be encouraged to seek professional help immediately.
If you know someone who may be at risk for suicide, tell someone who can help right away. You can also do the following:
Encourage the person to safely store or temporarily remove any guns or other weapons from the home.
Make sure the person is not left alone.
Call or text 988 for professional help.
If you are having thoughts of suicide or just need to talk to someone, call or text 988 or chat online at the 988 Suicide & Crisis Lifeline. They provide free and confidential crisis support 24 hours a day, seven days a week. There's also a special line for veterans – just dial 988, then press 1.
Check out more resources from the Suicide Prevention Resource Center
Medically reviewed by Anthony Jerant, M.D.