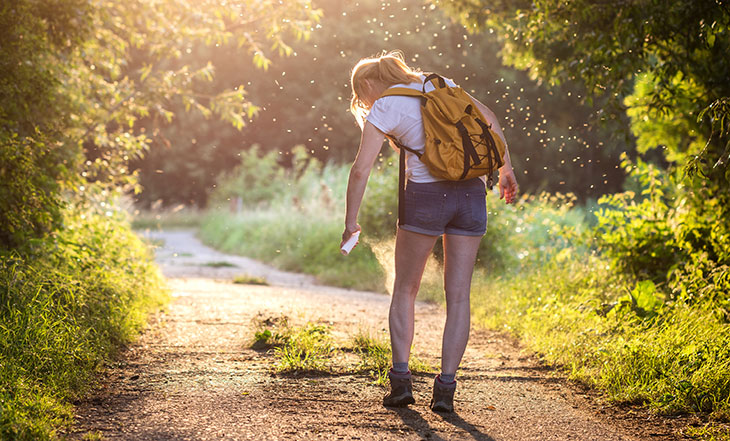 The wet winter in Northern California means we can expect a lot of mosquitoes flying around this summer season. Record-setting rainfall leads to ideal conditions for mosquitoes to reproduce as temperatures heat up.
An increase in mosquitoes may lead to an increase in West Nile virus activity, which is a mosquito-borne disease that was first discovered in Africa. It was found in the United States in 1999 and arrived in California in 2003. West Nile virus has remained an established disease in Sacramento County and surrounding areas.
According to the Sacramento-Yolo Mosquito and Vector Control District in early July, more mosquito samples and dead birds tested positive for the virus in the area.
In 2022 in California, there were 216 human cases of West Nile virus and 15 deaths, according to the district.
See the West Nile virus human disease cases for 2023
The district said the recent heat has led to increased mosquito populations. It added that there is more widespread activity, which they are monitoring.
Another mosquito-borne disease that's been reported in the U.S. is malaria. Several locally acquired cases of malaria have been reported in Texas and Florida so far this year.
There are three things you can do to protect against mosquitoes, West Nile virus and malaria: Cover, control and repel.
1. Cover up
While it may be hot outside, wear loose-fitting, long sleeves and pants when you can. This helps keep mosquitos off your skin. Parents can also cover strollers and baby carriers with mosquito netting.
You can also use 0.5% permethrin to treat clothing and gear (such as boots and tents).
This can provide protection from mosquitoes even after multiple washes. Permethrin is an insecticide that kills or repels mosquitoes. You should never use permethrin directly on the skin.
2. Control mosquitoes around your home
Mosquitos love standing water, such as dog bowls and saucers from plants. Mosquitos can even breed in something as small as a bottle cap with water.
Be sure to get rid of any standing water around your house. The Centers for Disease Control and Prevention (CDC) recommends that you empty, scrub or turn over items that hold water at least once a week.
It's also a good idea to use screens on windows and doors to keep mosquitoes out of your house. Make sure to repair any holes in the screens.
3. Repel mosquitoes
Use insect repellent on yourself and your family when you're outdoors. DEET is one of the most common and highly recommended types of insect repellent.
Insect repellent is safe to use, according to UC Davis Health pediatricians. You can see a list of repellents recommended by the Environmental Protection Agency and the CDC.
Pediatricians recommend that you use insect repellent sparingly on children under 2 years old. Parents should put it into their hands then apply to the child's face. Be sure to always follow the instructions on the label.
If you are using sunscreen with repellent, apply the sunscreen first. Then use insect repellent over it.
Learn more tips for mosquito prevention from the CDC
What should you do if you get bitten by a mosquito?
If you get bitten, avoid scratching the bite area. Wash the area and apply an ice cube or ice pack for 30 seconds. Applying pressure to the bite may also soothe the itchiness. You can use a non-prescription antihistamine cream or calamine lotion.
About 8 out of 10 people infected with West Nile virus don't develop symptoms. The CDC has a list of symptoms for West Nile virus. If you believe you might have West Nile virus, contact your health care provider. There are no vaccines or medications to treat or prevent West Nile virus. Antibiotics do not treat the virus.
Symptoms of malaria are much like the flu. If you think you've been exposed to malaria, tell your health care provider so you can get tested. There are no vaccines for malaria.
With several recent cases of malaria spreading in the U.S., should people be concerned?
About 2,000 cases of malaria are diagnosed each year in the U.S., which are usually connected to international travel. But between May and July 2023, there have been several locally acquired cases of malaria in Texas and Florida.
The recent malaria cases in the U.S. are a concern, but the disease is still very rare.
Learn more about malaria spread and symptoms from a UC Davis Health expert