By Patricia M. Gonzalez, MA Ed
Manager, Office of Student and Resident Diversity
Co-Chair, Community Involvement Committee, Office of Medical Education
Co-Founder, The Pantry at UC Davis Health
The Office of Student and Resident Diversity Reaches Students in the Most Northern and Southern Borders of CA and In Between to Deliver HEALTH at Home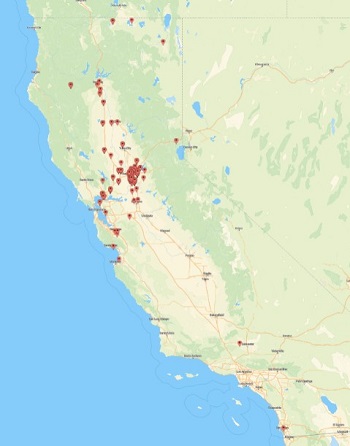 The UC Davis School of Medicine Office of Student and Resident Diversity is no stranger to conducting outreach and recruitment locally and nationally along with hosting pathway programs supporting learners to succeed in pre-medical, medical, and residency training. Among these programs is an early academic program that for some students kicks-off a journey into a career in healthcare, Health Equity Academy - Leaders for Tomorrow's Healthcare (HEALTH). HEALTH is a pathway program for high school students interested in a career in healthcare and in improving their community's health.
Pre-pandemic, students from Sacramento and nearby cities applied to HEALTH as a team with their classmates and friends, and students attended 6 day-long sessions on Saturdays. Students participated in hands-on workshops including suturing and brain anatomy. A heavy hands-on experience was provided to students. With the pandemic, the transition to virtual setting changed the way the program was delivered, yet. prompted an opportunity for innovation and growth.

What first started as a simple move to virtual presentations and activities, quickly opened up doors to include students, parents, healthcare professionals, and career advisors who previously had experienced time and location limitations preventing them from participating in HEALTH. Despite the major change, new opportunities became available due to the virtual setting caused by the global pandemic including:
Expansion of student participation from a local/regional focus to a statewide focus, with special emphasis on inclusion of students in rural areas.
A partnership was established with Shasta Community Health Center in Redding to outreach to local rural students.
The ease and convenience of virtually joining virtual HEALTH sessions via Zoom from the convenience of their own home or office led to a significant increase in health professionals' participation in the program. HEALTH's reach and partnerships spanned from our own UCD community, to the Central Valley, to even the east coast – inviting residents, physicians, medical students, nurses and other professions to share career experiences, present workshops, and lead presentations.
For the first time transportation was not a barrier for student participation. In the past, in one instance a group of students walked 2.5 miles from their school to UCD SOM because they missed the bus, yet they were the first to arrive to HEALTH for orientation day. For the first time, eliminating the need for transportation to and from an on-site HEALTH program addressed a barrier that many participants had faced in the past.
HEALTH at home led to a new approach to the program's hands-on learning activities, with parent and family member participation highly encouraged. Family members were asked to lend their arm or heart so students could learn how to use a blood pressure monitor and stethoscope, both of which were mailed to students as part of their program package. In addition, the students learned how the gastrointestinal system works with the use of simple items including a balloon, slice of bread, nylon, juice, water, and cup, this activity left many students without an appetite for lunch however with a lifelong understanding of how the gastrointestinal system works.
Students were able to collaborate with peers from hundreds of miles away, all across California, to tackle research projects based on shared interests on various public health topics. This allowed students to experience interacting with an incredibly diverse peer population, while practicing leadership, research, communication, problem-solving and teambuilding skills in addition to fostering a respect and appreciation for diversity.
---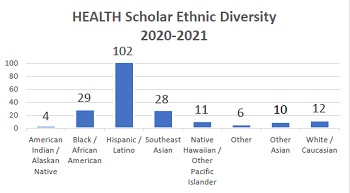 The next HEALTH program will be held in the fall starting in September of 2021, for more information about HEALTH, visit health.ucdavis.edu/diversity/k12_outreach.html or contact Larly Lee, MA, Early Academic Preparation Coordinator at larlee@ucdavis.edu.
---
"The HEALTH program enabled me to learn and ask question about topics that I wouldn't have learned in school. It was a great opportunity for me as a scholar to further my research on topics I would have never been interested in such as neurology and gastrointestinal fields. I also got to work with an amazing team that supported me and the staff that supported my peers and me."
"I got to learn many new things about medicine and it gives me hope that one day I will be able to help my community when I become a doctor or a nurse."
"I applied to the program with the intention of clearing up my decision to go into the medical field and this program has me locked into that career path. This was an amazing and informative program that I am extremely grateful to have participated in."
The mission of the Office of Student and Resident Diversity (OSRD) is to create an environment of inclusion and respect, and to actively recruit and fully foster the development of a physician workforce that reflects the rich diversity of our nation and our world — a workforce wholly equipped to serve and care for all people, vigorously committed to reducing health disparities, and passionately dedicated to the goal of achieving true health equity.