Samer Albahra, MD, Clinical Informatics Fellow
John Paul Graff, DO, Assistant Professor, Hematology and Informatics
Introduction
COVID-19 and the resulting pandemic has forced everyone to rethink when person-to-person interactions are required. Thus, reducing physical interaction such as handshakes, socially distancing, and in many instances meeting remotely. These remote meetings have leveraged often existing platforms, but raising their importance to dependent technologies.1,2
Because of the telehealth bill (Coronavirus Preparedness and Response Supplemental Appropriations Act) and subsequent changes to remote sign out, nearly all pathology meetings (educational or otherwise) have moved to the digital space. In our institution, we have not relied on a single software solution to facilitate the video conferencing, but instead use three major vendors: Microsoft Teams4, Cisco Webex5, and Zoom6. In this post, we outline some of the benefits and consequences of each solution.
Microsoft Teams comes with Office 365 subscription and as a result is typically already available at most institutions. Microsoft's solution is not only a video conferencing tool but also supports text-based communication using channels, direct messages and group messaging. All of the mediums support additional based communication such as using a white board, starting a video call, or using integrations such as polling. Additionally, a wiki is provided to share more static text as well as a files section to upload references for residents. Teams also integrates the Outlook calendar making joining and scheduling meetings straight forward. Teams is limited in the number of video callers that can be active at any given time, which appears to be limited to 20 users.
Cisco Webex is the work horse of most institutions conference extension solution, meaning it allowed remote guests to attend an otherwise in-person meeting. As a result, your institution might already have this licensed and available. Of course, Webex support's video conferencing as well with up to 200 attendees on a single call. Once in a call, Webex also supports a chat room as well as a rich polling feature. However, the chat's do not persist once the call ends for the attendee. Overall, Webex is a session-based solution contrast to Teams which offers continuity between meetings akin to working in an office. Webex is a bit more difficult to use for video conferencing where there is not a single presenter.
Zoom is the current sweetheart to the video conferencing world and for one key reason: ease of use. This used to be true in its initial incarnation which allowed you to join a call by just clicking a link. However, this lack of authorization and security lead to random attendees from the Internet joining each other's call for "fun". This has resulted in a complete lock down of Zoom, requiring you not only to sign in but most now require some sort of password for the conference session. Furthermore, the native applications (iOS, macOS, and Android) have been discovered to use insecure practices so it's highly recommended to only use the web client. Zoom does support up to 100 callers with video and is similar to Webex in that the interaction is session based.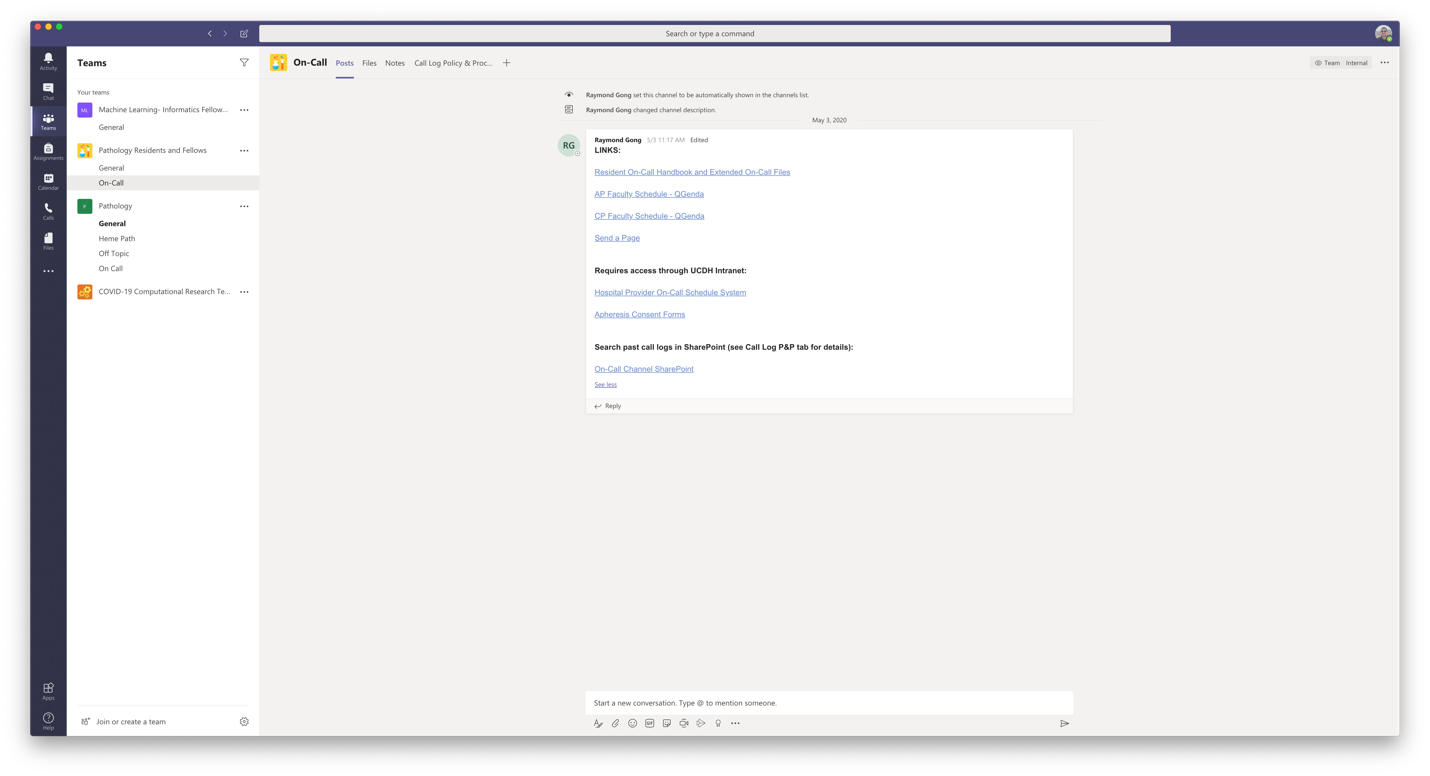 Discussion
Overall, these platforms have allowed work to continue and current demand and utilization is high. Having knowledgeable staff assist and have time dedicated to accelerating adoption of these platforms for all department members is a key factor to success. In addition to hospital VPN and EMR access which should be established and facilitated at the institutional level, with remote desktop protocols as needed to allow seamless workflow remotely. Educational meetings and conferences have performed well through all platforms, with usual hiccups such as inadequate hardware (webcam/microphone/etc.)3, personal home internet speeds, cumbersome security, and version control.
The platforms excel at sharing live microscope images (with practice) and can simulate real time sign-out. We employ two methods, resident driven and attending driven scope sessions. In resident driven sessions, the resident/fellows present the case virtually, during initial review of cases, while the attending comments. During sign-out the attending can share the screen of the prepared report, and make edits changes in real-time, along with final review of the case(s). This workflow also applies to clinical pathology practice by facilitating sharing of flow cytometry histograms, SPEP/IFE, and other clinical test.
It's also worth noting there are other contenders to consider. Almost every person owns a Google account and therefore can use Google Hangouts/Meets.8 This solution allows you to quickly create a meeting and share links with attendees, however calls are limited to 150 users and 10 video users (paid accounts can have 25 video users). Overall, Google provides dependable video conferencing, but it may not be the best quality. Similar to Microsoft Teams, Slack offers a software solution meant to facilitate remote work with a remote office space.7 Slack calling is extremely easy to use and has a feature that stands out from the rest: annotation on the presenting user's display. This feature could be immensely helpful for slide sessions allowing trainees to highlight regions of interest quickly. Also, worth a mention, FaceTime allows group calling now and is a quick alternative for small groups (32 user limit) but of course requires an iOS or macOS operating system. Messages on macOS does also offer a screen sharing option which includes the ability to request remote control and two-way audio.
Finally, HIPAA enforcement has been changed during the pandemic, but will likely return after the crisis. With that said using platforms that have already been validated by your institution for security and have existing business agreements should be explored first. Sufficient to say, there are several technologies that can facilitate remote pathology practice and leveraging the existing platforms at your institution should be prioritized as all the platforms share similar functionality.
References
Marshall CL, Petersen NJ, Naik AD, et al. Implementation of a regional virtual tumor board: a prospective study evaluating feasibility and provider acceptance. Telemed J E Health. 2014;20(8):705?711. doi:10.1089/tmj.2013.0320
El Saghir NS, Keating NL, Carlson RW, Khoury KE, Fallowfield L. Tumor boards: optimizing the structure and improving efficiency of multidisciplinary management of patients with cancer worldwide. Am Soc Clin Oncol Educ Book. 2014;e461?e466. doi:10.14694/EdBook_AM.2014.34.e461
Graff JP, Wu ML. The Nokia Lumia 1020 smartphone as a 41-megapixel photomicroscope. Histopathology. 2014;64(7):1044?1045. doi:10.1111/his.12355
Microsoft, https://www.microsoft.com/en-us/
Zoom, https://zoom.us/
Gofine M, Clark S. Integration of Slack, a cloud-based team collaboration application, into research coordination. J Innov Health Inform. 2017;24(2):936. Published 2017 Jun 30. doi:10.14236/jhi.v24i2.936
Chan T, Joshi N, Lin M, Mehta N. Using Google Hangouts on Air for Medical Education: A Disruptive Way to Leverage and Facilitate Remote Communication and Collaboration. J Grad Med Educ. 2015;7(2):171?173. doi:10.4300/JGME-D-14-00545.1