Trauma surgeon receives congressional award honoring women of the year
Air Force Major Rachel Russo earns recognition as a leader in trauma surgery and visionary in the community
(SACRAMENTO)
Rachel Russo, UC Davis Health trauma surgeon and assistant professor of surgery, received the 2022 Women of the Year award on Oct. 13 from U.S. Rep. John Garamendi. The prestigious award honors women from California's Third Congressional District who are leaders and visionaries in their communities.
The annual Women of the Year event began in 2013, recognizing nine community women. Since then, it has grown significantly, with 57 women, including 26 from Solano County and 11 from Yolo County, recognized during this year's ceremony at Woodland Community College.
"It is a great honor and a privilege to have been selected for the 2022 Women of Year Award," Russo said. "It is my sincere hope that this commendation can highlight the great work that is being done in our community as the result of the long-standing partnership between UC Davis and the U.S. Air Force."
Russo is a major in the U.S. Air Force who also serves as an active-duty trauma surgeon at UC Davis Medical Center while stationed at Travis Air Force Base. Her clinical and research experiences span multiple disciplines including the clinical care of injured patients in shock, the development of intensive care monitoring and therapeutic devices, translational research in large animal models, and military training in combat casualty care. Her long-term research is focused on the development of a comprehensive understanding of factors that influence death from traumatic injury and critical illness, with an emphasis on devices and therapeutics to enhance survival after injury.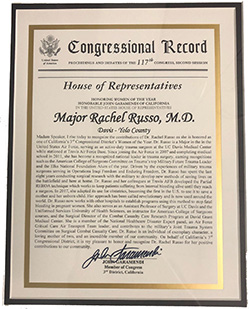 The award recognizes Russo as a national leader in trauma surgery. She helped translate lessons learned from deployed military surgeons in Operations Iraqi Freedom in Iraq and Enduring Freedom in Afghanistan into advancements in clinical care for civilian patients in Northern California and across the globe. She is credited with developing several advancements in a novel technique known as REBOA, which uses an endovascular balloon occlusion to stop life threatening bleeding.
To find out more about the 2022 Women of the Year Award, visit Congressman Garamendi's website.