Dennis Chornenky joins UC Davis Health as first chief AI advisor
(SACRAMENTO)
Dennis Chornenky, former senior advisor and strategy consultant in artificial intelligence (AI) and emerging technology for the White House, has been named chief AI advisor to UC Davis Health.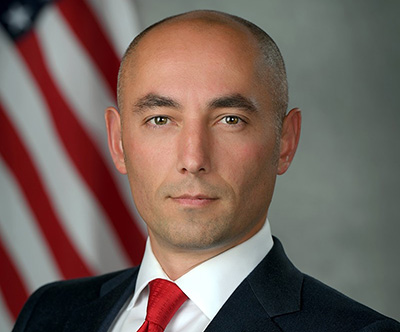 In this newly created key role, Chornenky, with his consulting and technology firm, Domelabs AI, will be leading efforts to establish an AI strategy and governance framework that ensures the UC Davis health system's approach to AI is safe and ethical. Additionally, he will assure all AI efforts meet emerging regulatory compliance standards.
"AI holds tremendous potential in improving access to care, reducing clinician burnout and in fast-tracking research. Dennis is a nationally recognized leader in AI with an impressive track record of bringing organizations together so they can realize the full benefits of this transformative technology, said Ashish Atreja, chief information officer and chief digital health officer. "We are excited to have him at UC Davis Health and build an open-innovation model of validated AI that supports patients, faculty, researchers as well as our academic and industry partners."
Chornenky is an executive with more than 20 years of leadership and business strategy experience at the intersection of health care and advanced technology, with a focus on AI strategy and governance. He has held senior roles at the White House, UnitedHealth Group, and Morgan Stanley.
As a senior advisor and presidential innovation fellow at the White House, Chornenky led initiatives on artificial intelligence policy, digital health, and national security across two administrations. As senior vice president and chief AI officer at UnitedHealth Group's Optum Health, he developed an AI governance framework and managed a portfolio of AI applications for clinical and business environments.
Chornenky has also served as an investment banker at Morgan Stanley and Lazard, as a startup CEO, and as an executive advisor to health care and technology organizations, federal agencies, and startups. As a data scientist and epidemiologist, he has delivered dozens of AI projects for large organizations and conducted pioneering research on digital therapeutic models and responsible AI at Harvard Medical School and the MIT Analytics Lab.
Chornenky holds a Bachelor of Arts in Political Science from UC Berkeley and a Master of Business Administration from the University of Oxford. He also has a Master of Public Health degree from Harvard, where he was trained as an epidemiologist and clinical data scientist. In addition, Chornenky holds a Master of Science in Management of Technology and Business Analytics from MIT, where he was a Sloan Fellow in Global Leadership and Innovation.
UC Davis Health's new chief AI advisor recently shared his excitement to join the health system, his career experience and his thoughts on the power of AI.
Why did you decide to come to UC Davis Health?
I really respect the people and the mission at UC Davis Health. I am excited to collaborate with David Lubarsky, Ashish Atreja, Ron Amodeo and many of other great leaders I have had the pleasure to meet.
UC Davis Health is a great academic medical center that does some of the world's best research and delivers first-class care. It's very well-positioned to develop an AI strategy that accelerates the application of advanced technologies. With recent advancements in generative AI, with large language models and ChatGPT, it is a great time to explore how we can increase the use of this technology to improve patient care.
There has been a major focus recently on AI. What are your thoughts on the potential use of this technology?
Generative AI has progressed to a point where it can help us interact with data and computers in more natural and more productive ways. Language is the most natural way we interact with others, so giving providers and patients an easier way to interact with data and computer systems will save time and make new things possible.
Speaking broadly, AI holds immense potential to revolutionize health care delivery. Predictive analytics can enhance preventive medicine and early diagnosis, potentially identifying health risks before they become serious. AI can also improve patient care through personalized treatment plans based on individual health data. AI can increase efficiency in clinical operations and research, reducing administrative workloads on health care professionals and enabling them to focus more on patient care. Furthermore, machine learning can augment the decision-making capacity of clinicians, improving accuracy in areas like radiology and pathology.
As an epidemiologist, I also tend to think of the potential of AI regarding public health and ways AI can be instrumental in helping us to better manage and predict the spread of infectious diseases and formulating better public health strategies.
Another area I'm passionate about is telemedicine. It can help increase access to health care, especially in underserved areas, but when enabled by AI, telemedicine can start to do much more. AI-enabled telemedicine can expand access even further by optimizing supply and demand with integrations into provider schedules and specialties. It can also improve the quality and continuity of care through more robust patient-provider matching and remote patient monitoring.
How have your career experiences influenced your path to UC Davis Health?
My career experiences have naturally brought me to where I am now — working with innovative providers and health care leaders to improve how we deliver care to patients.
My career has taken me to a few different areas but has always touched on health care in some way. I started out in finance as an investment banker and a portfolio manager, but even then, a lot of the investments that we made were in the health care space.
There came a point, however, when I knew I needed to do something more entrepreneurial, and I launched an AI-driven telehealth and smart-scheduling startup out of Palo Alto. It was a deep dive into applying machine learning to electronic health record data and claims data. The goal was to identify which patients would be the most likely to engage in, and benefit from, telehealth as an added modality of care, and which cases would be the most likely to receive reimbursement.
I have also done a good deal of consulting for large health care organizations and technology companies before an opportunity came along to work for the federal government.
I joined the White House as a presidential innovation fellow to advise on AI strategy and AI policy. I worked on exploring how we could cultivate growth and innovation in AI and machine learning technologies in the private sector and how we could create better data science capabilities and AI governance within the federal government. When the pandemic hit, I applied my experience in telehealth and epidemiology. This skillset suddenly became very important, and I found myself in the unexpected position of formulating and executing our nation's telehealth strategy in response to the pandemic.
These experiences made me more focused than ever on the intersection of health care and advanced technologies. Since leaving the federal government, I've stayed active in supporting several federal committees, policy initiatives, and industry associations focused on AI governance and safety, especially in healthcare. I'm excited to now work with the exceptional team at UC Davis Health to continue to advance the adoption of AI in health care.