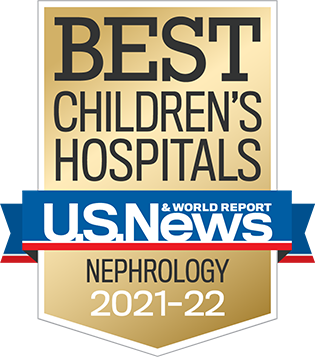 Nationally ranked
Our pediatric nephrology program ranked 25th nationally in the 2021–2022 U.S. News & World Report Best Children's Hospitals survey.
---
Second pediatric kidney stone clinic opens
Our newly opened pediatric kidney stone clinic provides a specialized multidisciplinary team approach including pediatric nephrologists, endourologists and pediatric registered dietitians for children with kidney stone disease. The secondary clinic is a one-stop shop to help manage patients who are at high-risk for kidney stone recurrence, and emphasizes imaging surveillance and dietary and medical prevention for recurrent kidney stone disease.
---
Unique dialysis service provides bridge to transplant
To better serve children waiting for a kidney, our program continues to be the region's only outpatient peritoneal dialysis service for patients under 10 years of age.