Genomic medicine partnership expands care in our region
A long-standing affiliation with the UC Davis MIND Institute and Dignity Health has expanded round-the-clock genomic telemedicine services for pediatric patients at Mercy San Juan and Methodist Hospital of Sacramento. With state-of-the-art telemedicine robots equipped with high-quality cameras, MIND Institute specialists and exceptionally trained genetic counselors can provide consultations to patients 24 hours a day.
---
Tele-physiatry program for rural children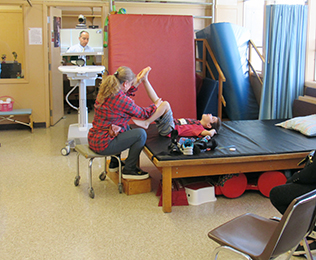 Northern California children with cerebral palsy, spina bifida, spinal cord injuries and other physical disabilities have access to UC Davis physical medicine and rehabilitation physicians, thanks to our STARS telehealth program. Funded by a $2 million, five-year grant from the Agency for Healthcare Research and Quality, the School-Based Tele-Physiatry Assistance for Rehabilitative and Therapeutic Services (STARS) program serves children who receive support through California Children's Services' Medical Therapy Program. The telehealth program provides physical therapy, occupational therapy, and durable medical equipment to children at designated school-based Medical Therapy Units without sacrificing quality care and doctor-patient interactions.
---
Webcam program positively impacts parents
FamilyLink, a NICU webcam program created by neonatologist Kristin Hoffman, allows off-site families to be constantly connected to their infants 24 hours a day through a home computer, tablet or cellphone. Webcams and flexible tripods are mounted on infant isolettes, warmers and cribs in all 49 NICU beds and now features an upgraded web portal with increased security and a user-friendly interface for parents.
---
Improving access to pediatric telehealth
A UC Davis study published in Pediatrics, the official journal of the American Academy of Pediatrics, found that robust, comprehensive telehealth coverage is critical to improving pediatric access and quality of care and services, particularly for under-resourced populations. Researchers have noted that addressing barriers such as language, digital literacy, disability, and access to and payment for technology infrastructure, is required to avoid furthering disparities.