Neurology chair receives Ambassador for Epilepsy Award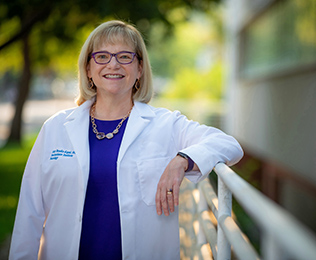 Amy Brooks-Kayal, chair of the UC Davis Department of Neurology, has received the Ambassador for Epilepsy Award from the International Bureau for Epilepsy and the International League Against Epilepsy. Brooks-Kayal is one of 12 individuals around the world to receive this award, which is given every two years to clinicians and researchers who have made outstanding contributions to activities advancing the cause of epilepsy internationally or with international impact. Brooks-Kayal was nominated by the American Epilepsy Society (AES), of which she has been a member for more than 30 years, including in leadership roles.
---
New way to measure brain blood flow with light
A new, noninvasive method for measuring brain blood flow with light has been developed by biomedical engineers and neurologists at UC Davis, and used to detect brain activation. The new method, functional interferometric diffusing wave spectroscopy (fiDWS) offers a less expensive way to assess how well the brain regulates blood flow and could be used for evaluating brain injuries
---
First LITT procedure at UC Davis Health
Our pediatric neurosurgery team successfully completed the first pediatric Laser Interstitial Thermal Therapy (LITT) procedure in our level I Children's Surgery Center and MRI suite. The technique treats brain tumors that can be difficult to reach through surgery, and provides faster recovery times and improved outcomes for pain management.
---
Highest accreditation for epilepsy program
UC Davis Medical Center's Comprehensive Epilepsy Program earned accreditation as a level 4 epilepsy center, the highest rating awarded by the National Association of Epilepsy Centers (NAEC). The program is recognized as providing more complex forms of intensive neurodiagnostic monitoring, as well as more extensive medical neuropsychological and psychosocial treatment.